Reliance Transport Limited
So impressed with Exo's capability, Reliance Transport Limited are first in line for all Exo upgrades
Founded in the 1950's, Reliance Transport Limited services Auckland, Whangarei and Bay of Plenty regions specialising in wharf cartage. Their fleet includes 35 trucks which serves over 100 clients.
The company has been using MYOB Exo since 2006, and are always keen to upgrade when new, suitable products are released. Payroll and reporting facilities have been hugely beneficial for the company in terms of efficiency and time management.
How do I achieve a successful implementation?
A successful implementation depends on managing 3 critical risks:
Software Risk
Implementer risk
Self-Inflicted Risk
You can reduce your risk by selecting the right implementation partner. Although there are many different partners to choose from, you need the one that will work with you every step of the way. Managing risk is an important part of an implementation, selecting a low-risk partner is critical to a lifetime of success with your Business Management system.
Kilimanjaro Consulting ticks all the boxes when it comes to choosing the right partner:
Kilimanjaro Consulting is the largest and most experienced implementer of MYOB's Enterprise-level business management, accounting, payroll, and workforce management solutions: MYOB Advanced and MYOB Exo. We are experienced, low-risk implementers, helping organisations improve efficiency in their businesses through the use of clever, innovative, and proven technology.
Free resources to help you further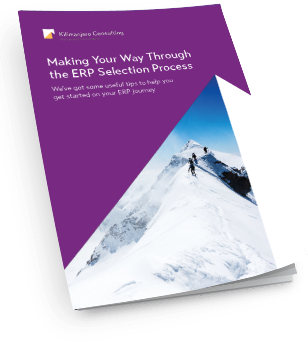 If you are ready to start your Business Management System journey, choose Kilimanjaro Consulting as your trusted implementation partner. If you don't know where to start, download our free E-Book that will take you through everything you need to consider and what to be wary of during this process.
To learn more about how MYOB Advanced Payroll has helped Living My Way to improve visibility and remove manual processes, download the PDF from the panel to the right. To learn more about the MYOB Advanced product, visit the page here. Contact our team at sales@kilimanjaro-consulting.com or call 1300 857 464 (AU) or 0800 436 774 (NZ) to discuss your unique requirements.