Phocas – Business Intelligence Software
Leverage your data with Phocas to improve reporting and analytical capabilities
If your business needs to move faster with more certainty, Phocas can help.
Phocas is an all-in-one planning and analytics platform that has supported Australian and New Zealand organisations in analysing their data for over 20 years. It helps improve data-driven decision-making across your entire company, giving you fast visibility of important data without entering your MYOB ERP. Phocas integrates directly into MYOB Advanced and MYOB Exo. This removes the need for manual data duplication and maintains your MYOB ERP as a single source of truth for your organisation. Phocas solves typical mid-market pain points such as gaining insights, reporting, tracking performance, managing sales teams, planning spend, managing cash flow, building budgets, forecasting and doing month-end.
Phocas is an award-winning business planning and analytics platform with over 20 years of experience,
They have offices in Australia, New Zealand, the UK, and America,
Phocas integrates with both MYOB Advanced and MYOB Exo as well as over 200 other add-on products, maintaining the single source of truth for your data,
More than 2,400 companies across all industries use Phocas Software. This includes manufacturing, wholesale distribution, construction, services, retail, technology, financial services, and more,
The average implementation from signed to live and trained is 12 weeks,
A customer retention rate of 97%.
Phocas Analytics Module
Are you looking to get more out of your data? Phocas Analytics is helping thousands of companies across the globe make better decisions faster.
With its drag-and-drop interface, Phocas makes it easy to create easy-to-read reports and visualisations from your data. Ad hoc analysis lets you follow your thought to answer your questions and uncover far-reaching business opportunities.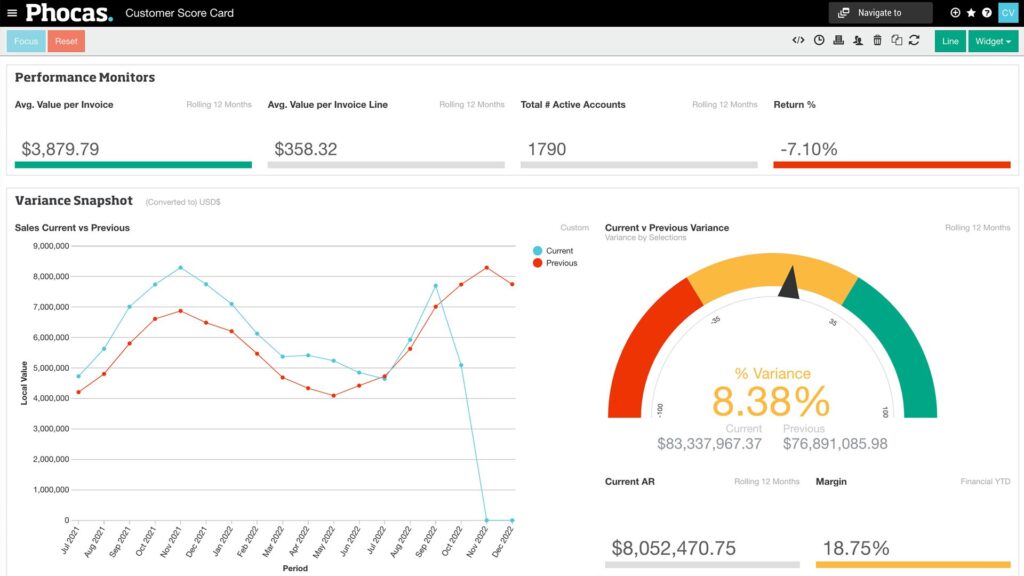 Features of the Phocas Analytics module
The ad hoc analysis layer, or "Grid", allows you to follow your train of thought, answering questions and uncovering new business opportunities,
Phocas allows you to drill down from high-level dashboards into the underlying transactions so that you can get to the truth faster,
Phocas' scorecards and dashboards make it easy to track the full picture of your company's progress at a glance,
Database Designer lets administrators bring in new data sources and configure Phocas to their business needs with drag-and-drop functionality, reducing ongoing costs.
Phocas Financial Statements Module
Phocas Financial Statements modernises your finance function by providing a live and dynamic user interface for your critical financial data. This way, any figure can be investigated, and answers can be found quickly. Be proactive and better informed with your decision-making.
You can customise reports for your audience, making month-end consolidation faster with less need to rework static spreadsheets.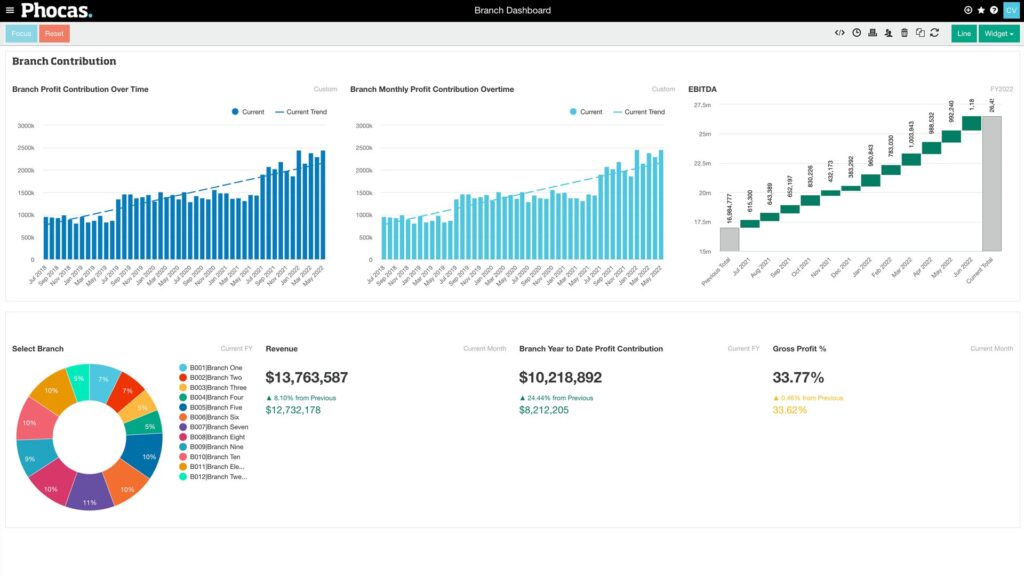 Features of the Phocas Financial Statements module
Get a snapshot view of specific timeframes and areas
Build financial knowledge within your business with impactful charts and prompts so everyone can spot trends and variances
A direct feed of data from your ERP into Phocas Financial Statements saves you time and reduces the need to maintain and rework static spreadsheets
Month-end consolidation is faster, with more time to explore the numbers in the dynamic format
Build dashboards with visualisations and export them to Excel for further modelling
Phocas Budgeting and Forecasting Module
Too often, completed budgets are held back by errors and a lack of room for genuine analysis or insight. The Phocas Budgeting and Forecasting solution is designed for collaboration when building budgets and to allow easy ad-hoc analysis.

This cloud-based solution automates the manual process when building budgets. Due to the complexity of building a budget with a static spreadsheet, it can be almost impossible to review the figures and make changes. Phocas maintains the familiar spreadsheet features and formats. But, with cloud accessibility and real-time updates, allows to you review your budget quickly and accurately. With easy collaboration features and a driver-based financial model, you can budget with confidence.
Features of the Phocas Budgeting and Forecasting module
You'll be budgeting in no time with Phocas' intuitive features
The worksheet maintains the familiar feel of a spreadsheet but with many modern features and shortcuts
Budget and forecast with confidence with a driver-based financial model that incorporates accounting, workforce, sales and operational data
Share workflows with colleagues so they can directly contribute to the budget
Turn your budgets into living, value-add tools and replace the static, outdated versions you create just once a year.
To discover how Phocas can benefit your organisation, email sales@kilimanjaro-consulting.com or call 1300 857 464 (AU) or 0800 436 774 (NZ).