TimeTrak Suite – Job Management Software
A powerful job management solution that enables businesses to mobilise field staff, reduce manual data entry & streamline business processes.
Designed specifically for businesses with staff on the go, the TimeTrak Suite gives your Service Coordinators an easy-to-use tool to manage field staff.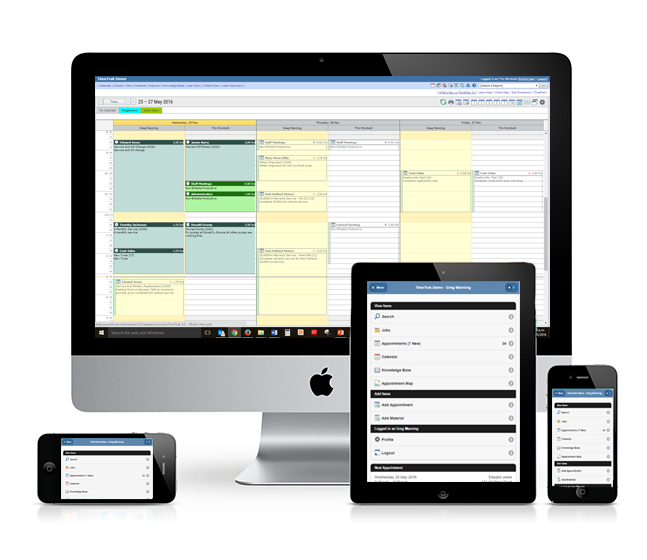 From the service coordinator direct to staff in the field, this product allows your users to keep accurate timesheets, bill time and materials used, and invoice the job while still on site, all from their mobile device.
This end-to-end management product allows your Service Coordinators to make appointments, create jobs or tasks, or even track the whereabouts of staff members' using TimeTrak Professional in the office to ensure optimal efficiency.
TimeTrak is a versatile suite of products that can be scaled to fit your business and will simplify the way you do business.
Drag-&-Drop Jobs & Resources
Manage and oversee jobs from head office with a visual drag and drop editor.
Custom Checklists
Every client and job can be different. Ensure tasks are completed with custom checklists.
Mass Email
Once you've organised your future jobs, you can email staff and contractors in mass from your computer.
Fully Integrated Stock, Jobs, Financials
One source of truth for everyone. All data is accessible in real-time, so there's no re-entering or using multiple systems.
Tablet Access, Anywhere
Field staff can access their jobs, track time, travel, add photos, checklists, etc., from their tablet.
Auto-Track Travel & Job Time
Simply begin tracking your travel time and time on site with the click of a button.
More Features:
Fully integrates with MYOB Advanced Business, MYOB Exo Job Costing & MYOB Exo Serviceable Units
Enter time, materials, PO's from a mobile or tablet
Provides GPS tracking and mapping for field staff
Customer, job, stock, contact and supplier lookup functions
Field service checklists that can be made compulsory and can be emailed to the job manager if required
Access to TimeTrak Knowledge Base enabling users to search or utilise articles, specific site information, schematics and parts lists
Post to job, raise invoice and post or generate straightaway, and receive payment
To find out how TimeTrak Suite can benefit your organisation, email sales@kilimanjaro-consulting.com, or call 1300 857 464 (AU) or 0800 436 774 (NZ).