Level Three: General Ledger Reports
MYOB Exo's built-in utility for reporting
In previous levels of this series we explored ways to report using ExoGrids and Clarity Report builder. This time we look at GL Report Writer – a built-in utility in MYOB Exo Business.
General Ledger reports are fairly difficult to write compared to reports for other areas of ERP database. This is because of accounting conventions with debits and credits, differences in calculations between Balance sheet and Profit and Loss accounts, current year earnings calculations and a few other technical reasons outside of the scope of this digital paper.
MYOB Exo Business offers a neat solution for the hard task – a GL Report Writer utility. This utility is a mature tool, which dates back to early versions of MYOB Exo (then EXONET) software. As result it lacks some of the glamour of more recently added Clarity reporting, but it does its job well and is easy to use.
GL Report writer is quick to learn even for non-technical users. A report is built by specifying row and column groups. Each row group is defined as either a text line, a range of GL account or GL account groups, a total or custom function (e.g. current year earnings). Each column group is defined as an account name, number or balance for the given row group in a single or multiple months.
Effectively, the user selects what they want to see and hit run. GL Report will automatically work out the correct Month and Year to date calculations for Balance Sheet and P&L accounts, Opening / Closing stock position for periodic stock businesses, dollar variance against selected budget. Simple as that.
MYOB Exo Business help file covers GL Report writer functionality in great detail, which makes "playing" with GL Report writer a nice experience.
Below screenshots show how a standard P&L report is set up in GL Report Writer. The reader is welcome to make up their mind as to how difficult the setup is.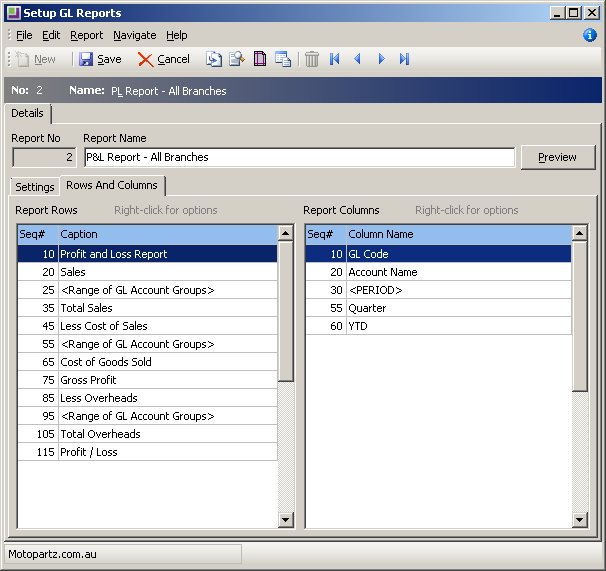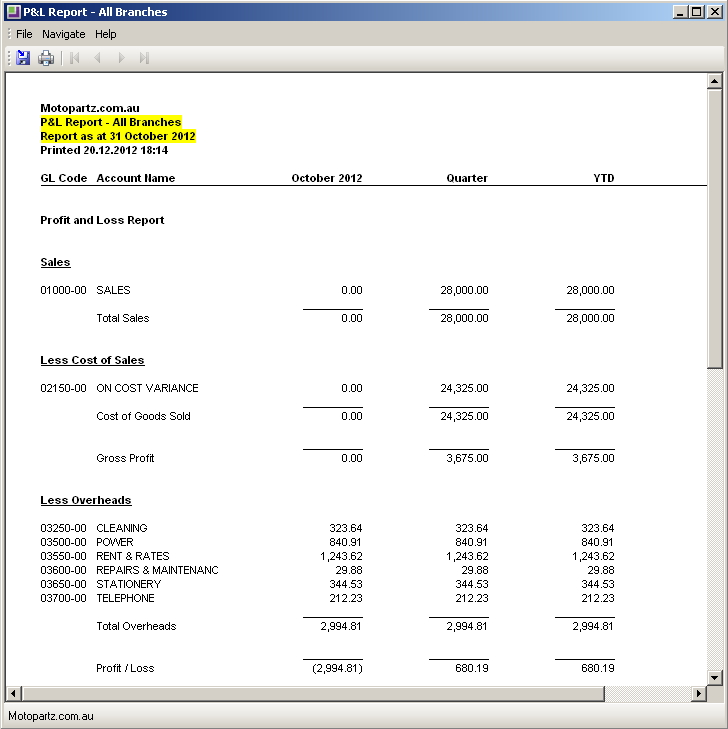 It is possible to print GL Reports individually or create a GL Report Batch and define parameters for each report in the batch. When a full report pack is required, the user then runs a batch.
And, as with most reports in Exo, we can export GL Reports to Excel via Clarity format template.
As with any technology, there are limits to what GL Report writer can do. However, my experience shows that most finance and accounting users find it a good fit for GL reports of medium complexity.
For complex GL reports Kilimanjaro team tends to recommend the SQL Server Reporting Services platform (SSRS).  Next time we will be looking at ODBC reports that allow pulling data from the database into Excel.
If you have any enquiries, please email us at sales@kilimanjaro-consulting.com, or give us a call at 1300 857 464 (AU) or 0800 436 774 (NZ).