MYOB Exo Bank Feeds
How your business can use MYOB Exo Bank Feeds
This article was originally published in October 2019 and has been reviewed and updated in order to provide the most relevant and accurate information.
Bank Feeds in MYOB Exo automatically download and match transactions from your financial institution into MYOB Exo. This can save you time as well as significantly reducing the risk of human error and manual work. If you deal with hundreds or thousands of transactions in your business, make sure you have Bank Feeds set up in MYOB Exo. They are a key step in using MYOB Exo effectively.
Bank Feeds in MYOB Exo
MYOB Exo is a powerful Enterprise Resourcing and Planning system. Built in functionality means that you can easily and securely connect with most mainstream banks to access your Bank Feeds.
MYOB Exo Bank Feeds allows you to automatically match the General Ledger transactions in your MYOB Exo Business database with the transactions in your bank account. As a standard feature, Bank Feeds will automatically match transactions based on the date and amount of the payment. However, you can set up rules to further leverage the power of Bank Feeds. With these rules, you can match transactions based on additional information such as reference numbers and account details. You can also automatically create payments in your General Ledger based off the deposit in the Bank Feed. Our clients really like the autocreation of cashbook entries as they find it to be a big time saver, removing the need to manually enter in these payments to their system.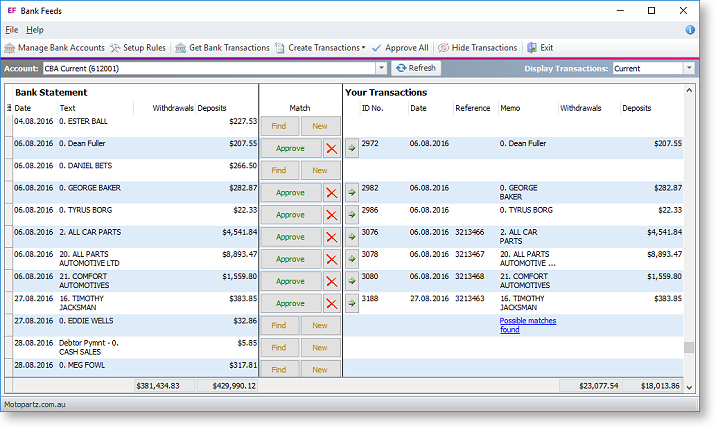 Setting up Bank Feed in MYOB Exo
Before you can begin using the Bank Feeds window to match transactions, you must set up MYOB Exo to allow the importing of bank feeds.
In order to connect to the Bank Feeds service, you will need to set up a "my.MYOB" account.
To set up the MYOB Exo Business system for bank needs, you will need to enter your Business Reference Number (BRN) which uniquely identifies an Exo Business database.
For new MYOB accounts, you will need to contact us (or your own business partner) to arrange the BRN.
Once you have received this, you will be able to set up access to individual bank accounts in MYOB Exo via Bank Feeds.
Finally, you can set up any rules that you want to apply to the matching of bank feeds transactions.
Watch the video below for an introduction to MYOB Exo Bank Feeds:
The full Power of Bank Feeds
Rules and automations are the key to unlocking the full power of bank feeds. By using rules, you can achieve 100% accuracy when matching your General Ledger to bank deposits. However, Kilimanjaro Consulting has gone even further in developing an auto-reconciliation feature for transactions that you have already matched on your Bank Feeds screen. This custom feature saves time by removing the need to manually reconcile the transactions that have already been correctly matched thanks to Bank Feeds and your added rules. Larger companies that rely on automating these manual tasks, will benefit greatly from Kilimanjaro's auto-reconciliation customisation, however, all MYOB Exo clients will benefit from the standard features on Bank Feeds.
Need help with?
At Kilimanjaro Consulting, we are here to understand and improve your business processes. Whether you are already running MYOB Exo or are considering using it in your business, you are in safe hands with our Sherpas at Kilimanjaro. For more information, please get in touch with us.
If you have any more enquiries, please email us at sales@kilimanjaro-consulting.com, or give us a call at 1300 857 464 (AU) or 0800 436 774 (NZ).