Are you onboarding future bad debts?
Find out if your biggest customers are a credit risk
In 2021 perhaps the single most important issue facing business is cash flow. One of the actionable steps in optimising your cashflow is to remove bad debts.
Impact of bad debts
Slow paying customers place a heavy strain on company resources, as staff are reallocated to chase payments instead of generating new sales. Likewise, bad debts are costly to recover and are sometimes never recovered at all. Profits from your unaffected and successful sales can be wiped out with just a single bad debtor.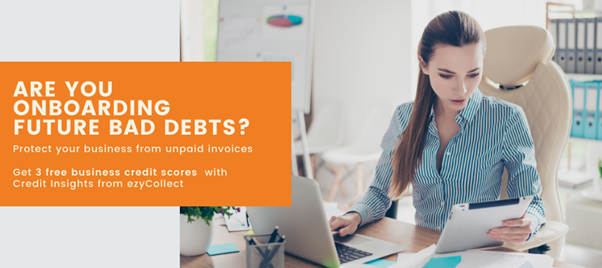 ezyCollect is a suite of solutions that combines collection workflows, different payment options, risk management, and credit applications. Together with the data from your MYOB ERP system, this improves collection rates as well as minimising surprises and bad debts.
Many businesses have very lax processes when onboarding new customers, relying on customer given credit references to determine credit worthiness. It is also uncommon to revisit and evaluate the credit worthiness of your current clients. This leads to some complacency when a customer requests an increase in limit or extended terms, and you may unknowingly be taking on excessive risk.
Is there a better way to onboard new customers?
ezyCollect's Credit Insights and Credit Applications features help to alleviate the risk that both your new and long-term customers represent. The onboarding of new customers and the evaluation of your existing customers is taken to a new level by utilising credit management information to give you an up-to-date view of their payment risk. This information is available via credit reporting, and your own debtor payment history, to provide an overview of how your customers' history will affect you.
Not only are you now ensuring that new customers are credit worthy before they are given terms, but your entire debtors ledger is scored on a monthly basis to make sure that your risk is minimised.
Adding ezyCollect's workflows and payments also makes sure that you have an automated, people centric system to get your cash collected on time and when it is due. ezyCollect automatically sends emails to overdue accounts prompting payment. To learn more about how ezyCollect helps you get paid faster, read here.
ezyCollect provides an end to end solution for all your debtor cash flow needs.
In March 2021, we hosted a webinar with ezyCollect, discussing how to deliver a world class Accounts Receivable experience. Step one of this process is the correct onboarding of new customers. You can watch the full webinar here:
To learn more about how ezyCollect email sales@kilimanjaro-consulting.com or call us on 1300 857 464 (AU) or 0800 436 774 (NZ).