ezyCollect – AR Collection Software
ezyCollect is debtor management software that takes care of chasing overdue debtors, based on the information in MYOB software, ensuring you get paid faster.
ezyCollect is an all-in-one accounts receivable platform to help growing businesses recover cash faster, without the hassle. Improve productivity and customer relationships with tools designed to streamline and simplify the entire invoice-to-payment process.
Streamlined payments and processing
Give your customers a streamlined payment experience and easier payment options so you become a pleasure to interact with
Improve productivity and efficiency
Achieve more with technology designed to take care of the routine AR tasks so your team can focus on what matters most
Debtor transparency
Use AR dashboards to get a company-wide view of money owing, or drill into each customer's account to get the detail
Recover your money, faster
Slash your overdue debtor days with a disciplined collections system that teaches your customers to pay on time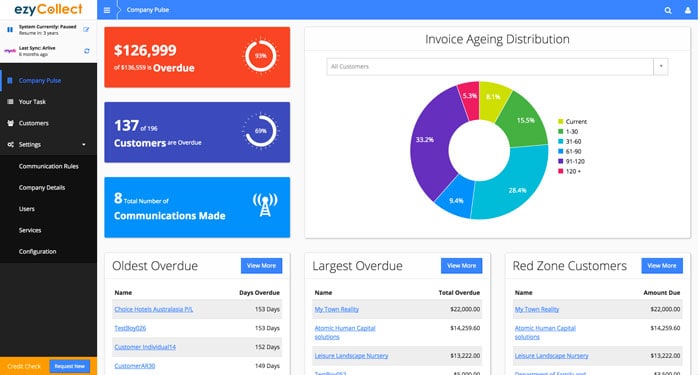 "50% reduction in our overdue accounts
in just 3 months! Wow!"
I am so impressed with ezyCollect!! I used to spend hours chasing outstanding invoices, which was time-consuming and frustrating. I can set the system up to communicate with our customers any way I like and the email & sms reminders even have a payment link so the customers can pay their invoice with the click of a button…too easy!"
VERONICA CAVANAGH
| | |
| --- | --- |
| Seamless integration with MYOB | Beautiful templates included |
| Automated collections workflows & reminders | Easy to use template editor |
| Consolidated reminders | Pause and exclude customers |
| Single-click credit checks | Auto-attach invoices and statements |
| Integrated payment gateway | Automated thank-you notes |
| On-demand legal letters | Automated debt escalation |
| Credit reporting dashboard and analytics | Automated scheduling of statements |
| Dynamic filters for data reporting | Automated legal escalation |
| Communications tracking and reporting | Automated postal mail |
Top features for MYOB Advanced and MYOB Exo users
A payment portal for every customer lets them self-serve to view download, and pay all invoices online.
Credit card payments are automatically allocated to your debtors ledger
B2B Pay Later lets customers buy now and pay back in easy instalments
Choose which debtor contacts receive different types of automated communications
Personalise and customise reminders so they always look and sound like your business
Exclude the customers you do not want to chase
You can be up and running in a few days. ezyCollect works closely with Kilimanjaro Consulting to seamlessly integrate with your MYOB Enterprise software.
Go Transit integrated ezyCollect as part of their MYOB Advanced (Acumatica) system. The integration automated Accounts Receivable processes, cut down on manual work, and improved experience for customers.
The SimplyPaid Portal
SimplyPaid is the online payment hub for ezyCollect. It can supercharge your collections with an enhanced 'Pay Now' button on invoices or statements. This new feature enables your debtors to pay a bulk selection of open invoices all at once and online. SimplyPaid allows your customers to settle invoices in the most convenient way. Overall, the easier it is to pay you, the quicker the funds roll in.
Where previously the 'Pay Now' prompt on an invoice allowed debtors to complete a credit card payment for that invoice only, now debtors click and enter a portal housing all of their open invoices. From here, they can bulk pay all their invoices in a single credit card payment.
The upgraded Pay Now button benefits both you and your debtors.
The benefits for you:
All open invoices are displayed – debtors see alerts on the ones that are overdue
Prompts debtors to pay multiple invoices in a single transaction
Less administration time as payments are collected in bulk
The benefits for your debtors:
The convenience of a 24/7 self-service checkout
Send invoice queries from within the portal
See a record of their transaction history with you
For more information about ezyCollect, download their brochure from the side panel.
To find out how ezyCollect can benefit your organisation, email sales@kilimanjaro-consulting.com, or call 1300 857 464 (AU) or 0800 436 774 (NZ).