SynKit – MYOB Exo Integrator
Synkit seamlessly integrates MYOB Exo with your favourite apps or software.
What is SynKit?
Synkit seamlessly integrates MYOB Exo with your favourite apps or software. It saves you time by synchronising data and workflows so you can focus on the more important tasks in your business. Connectors can be added as your business grows, and the flexibility of API connectivity means functionality and processes can be added as your needs change over time.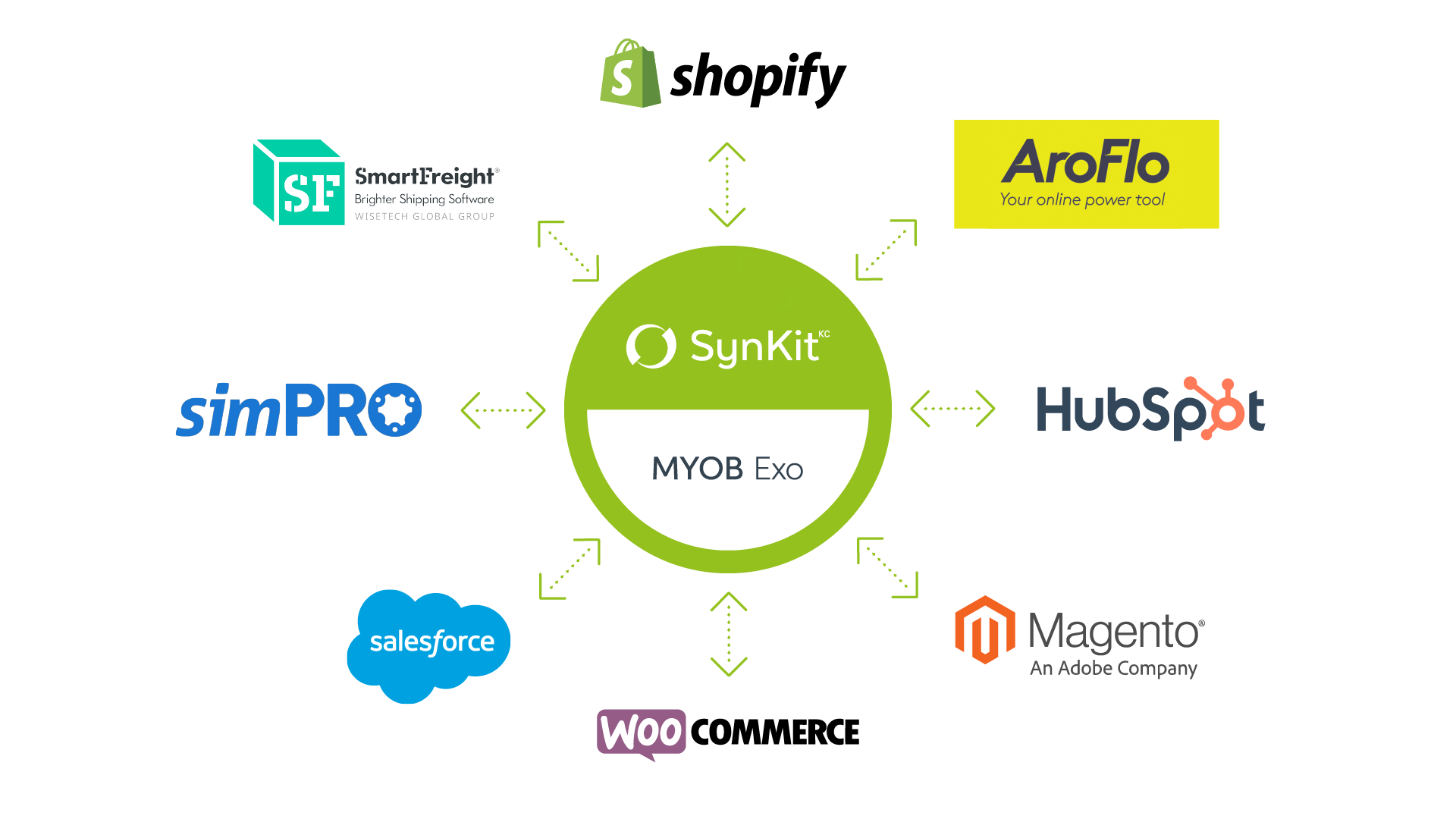 The need for ERP Integration
"For everybody in their busy lives, you need to invest in sharpening your tools, and you need to invest in longevity" – Ryan Holmes.
In other words, it's valuable to understand where there is room for improvement in your business, and targeting this with the right solutions. Often, businesses will work with several applications to create efficiency in their organisation. However, working with multiple solutions creates communication barriers. To take advantage of your systems' full potential, applications must talk to one another in order to present a unified platform of data. If they don't, you might end up making uninformed decisions for your business.
What can SynKit give your business?
Automates processes
Removes the manual labour of data entry
Provides regular data updates
Seamlessly integrates between systems
Who is SynKit for?
As MYOB's largest Australian partner, we often see our MYOB Exo users are not able to make the most out of their system because they are still juggling stand-alone applications. SynKit can streamline processes, save you hours a day of manual work and open up transparency within your organisation by pushing and pulling the data for you. This means your whole team has access to the right information at the right time.
Looking for an integrator to bring together your favourite stand-alone applications and your ERP? Or maybe you are wondering whether or not an application can be integrated? We have all the information you need.
See below some of the most popular applications that SynKit can integrate with your ERP.
To find out how SynKit can benefit your organisation, email sales@kilimanjaro-consulting.com, or call 1300 857 464 (AU) or 0800 436 774 (NZ).