MYOB Exo Business Modules – a fully integrated suite
MYOB Exo Modules provide added functionality and allow you to customise your software completely to your organisation's needs.
MYOB Exo Business is an adaptable ERP platform for growing businesses. It provides the flexibility to build an entire business management solution for all your customer management, manufacturing and service management, finance and payroll needs. MYOB offers a variety of additional modules to further shape yofreur MYOB Exo software to your unique business needs. These modules cover industry and organisation-specific functionality.
The MYOB Exo Modules available:
MYOB Exo Business Finance
MYOB Exo's Finance Module offers accounting, sales order processing and reporting functionality. It allows complete visibility across your entire organisation, assisting you in making educated, timely decisions essential to the success of your business.
What is the MYOB Exo Finance Module?
This is the core module of the MYOB Exo suite of products. It provides state-of-the-art management dashboard functionality and real-time analytics to give you the best possible view of your data. It enables you to effectively manage your business processes, data, staff, customers, and suppliers in an efficient and organised manner.
How does MYOB Exo Finance work?
MYOB Exo is built to deliver your organisation with a complete package to handle all your accounting requirements. Designed to accommodate businesses with multiple users, your team can access your database from multiple sites worldwide anytime. MYOB Exo Finance provides your business with enhanced features, including a highly functional General Ledger enabling customised reporting and consolidation. The solution has advanced stock management capabilities, including serial numbers and batch tracking across multiple warehouse locations. MYOB Exo can support integrations to handle even more complex stock requirements. The module tracks and manages all your multi-currency requirements with variances in exchange rates automatically accommodated in your system.
Who would benefit from the MYOB Exo Finance module?
The MYOB Exo Finance module is a powerful business accounting and distribution management solution. Medium to large-sized organisations would benefit from implementing the module, particularly if you want to be able to:
Track and manage all your foreign currency transactions using dedicated sub-ledgers,
Give access to hundreds of users at any given time.
Extract Real-time data for analysis from any area of your business.
Improve the visibility of how your business is performing with powerful management dashboards.
Set Multi-Stock locations within your warehouse to always keep track of your stock.
Provide your business with real-time integration across multiple locations around the globe,
Keep track of your products through their life cycle, from production to sales and distribution,
MYOB Exo Business Job Costing module
Every business has different requirements for cost control and analysis. MYOB Exo's Job Costing Module provides real-time financial information so you can easily access all your project information and make decisions quickly.
What is the MYOB Exo Job Costing module?
When creating a job or project, laying out the foundation and setting realistic goals to achieve maximum profitability is important. MYOB Exo Job Costing is an additional module that can be integrated with your MYOB Exo Business system. The MYOB Exo Job Costing module helps you manage the profitability of your jobs and projects in real time by providing direct visibility over your system. The module allows for the customisation of all of your inputs, processes and time costs to meet the requirements of your business.
How does the MYOB Exo Job Costing module work?
MYOB Exo Job Costing makes invoicing easy for businesses using time costing, billing, or a high proportion of direct purchases relating to a specific client's project. Each transaction can be manipulated and formatted to a high degree. This results in a customer invoice with varying levels of detail while simultaneously holding onto the true picture of the primary costs.
Who would benefit from the job costing module?
MYOB Exo Job Costing is designed to accommodate all aspects of a job or project. From quotes and budgets to profitability analysis and variance reporting, the module will help improve efficiency with your job costing processes. Businesses in the construction, manufacturing and retail industries are just some of the organizations that would benefit from using the job costing module. Some of the advantages your organisation could expect include being able to:
Determine your current profitability and forecast the final profitability of any job.
View simple and easy-to-use dashboards and reports that can be customised to your needs,
Effectively Plan your resources, track equipment and labour hours and inventory used on jobs and projects,
Invoice jobs individually or in batches for more efficient job billing
Capture all of your costs to give you greater cost control,
Customise features such as automatic job creation and audit tracking on key job fields
Gain clear visibility of your organisation.
In project-based industries, it is common for a significant proportion of a business's financial position to be tied up in Work in Progress jobs. Using the MYOB Exo Job Costing module, these costs can be included in the financial reports covering the period that they were incurred, making the business's current financial position even clearer and the ability to make decisions from that data even easier.
The MYOB Exo Job Costing module can be used to estimate, set budgets, quote, and manage your budget. When it's time to invoice, you can easily identify variances and charge appropriately. Multiple billing methods are available, including quoted time and materials and milestone or claim schedules.
MYOB Exo Serviceable Units
Integrated with MYOB Exo Job Costing, Serviceable Units allows businesses to control and track the full-service history of any item. Businesses that require serial tracking, repair, maintenance, or warranty and repair management need a solution that can keep up with the end-to-end processing of your items.
What is the MYOB Exo Serviceable Units module?
MYOB Exo Serviceable Units is a fully integrated and customisable module within the MYOB Exo Business suite. Serviceable Units refer to items on which work may be required, either now or in the future. These could be your company assets, such as field vehicles or machinery, or the assets owned by your clients. This module provides users with a platform to efficiently manage Serviceable Units with all data fed directly into your core MYOB Exo system.
How does the MYOB Exo Serviceable Units module work?
MYOB Exo Serviceable Units gives you a fully featured services module. This leads to better management of the end-to-end servicing process. Serviceable Units can maintain a significant amount of information and history for each unit. To that extent, they could be considered technically similar to Contacts but apply to asset items rather than people. A Serviceable Unit may also optionally be associated with a stock item code and may even be associated with a serial number of that stock item.
Who Would benefit from the MYOB Exo Serviceable Units module?
The Exo Serviceable Unit Management module is well suited to various businesses, including Vehicle Repair Centres, Repair and Maintenance Businesses, and those that manage repairs under warranty. It is a module that provides you with the ability to:
Control the full-service history of any item,
Track the purchase and the sale of any item, plus any applicable warranties, service schedules and post-sale client communications,
Link warranty items and attach the relevant documents to an item,
Use a scheduling tool to see what items are due for a service or have expiring warranties,
Store a complete history of units, with all the jobs performed,
Set up Dashboard alerts to notify you of upcoming items,
MYOB Job Costing and Serviceable Units are complementary integrations that can boost efficiency when implemented. With these modules, you'll be able to save time and reduce the need for manual input by automatically creating jobs in your systems based on your service schedule. Learn more about ways to harness the power of Job Costing on our website. For further information, please look at the Serviceable Unit Management Factsheet.
MYOB Exo Business: Fixed Assets
MYOB Exo's Fixed Asset Module gives you direct control of your assets through visible, real-time information. Fixed Assets Management in MYOB Exo makes it easier to manage company assets and provides complete visibility and depreciation calculations in your system.
What is the MYOB Exo Fixed Assets module?
MYOB Exo Fixed Assets is an add-on module to the MYOB Exo Business system. It is an asset management system that is linked to Exo Business and can access the required information from the Exo Business database. MYOB Exo Fixed Assets is integrated with MYOB Exo Finance's General Ledger to ensure that financials are always updated.
How does MYOB Exo Fixed Assets work?
MYOB Exo's Asset Register controls your assets through visible, real-time information. Fixed Assets account for depreciation with automatic postings to the MYOB Exo Business General Ledger (GL). It also posts journal entries to the GL whenever assets are revalued or sold while enabling the ability to also print asset and depreciation reports.
Who would benefit from the Fixed Assets module?
The Fixed assets module provides better visibility of assets for users of MYOB Exo Business. The module provides you with all the tools you need to:
Depreciate by book and tax value for up to seven years.
Group by hierarchy and/or type
Locate and track assets and allocate staff to manage or maintain them.
Recognise the purchase and disposal of assets.
Report by depreciation, groups, maintenance, revaluation and more.
Set and manage maintenance schedules.
Efficiency enhancements for your organisation
The Fixed Assets module integrates directly with the General Ledger and allows you to manage all your assets in one location. It also provides the ability to track tax values for up to seven years in the software. The GL integration enables you to make depreciation tax calculations and post those depreciation schedules directly, improving reporting capabilities and efficiency.
MYOB Exo Business: Intercompany Reporting
Many companies operate several different legal entities or branches for a variety of reasons, including compliance purposes or shareholding differences. However, this organisational structure leads to additional accounting needs far above what you can accomplish with your internal team. By leveraging the Intercompany Module in MYOB Exo, you can consolidate your various entities into one entity for reporting purposes.
What is the MYOB Exo Intercompany Reporting module?
MYOB Exo Intercompany Reporting enables a business to consolidate its various entities into a single consolidated entity for the purposes of reporting. The consolidation process can happen as frequently as necessary to perform group-based reporting. The Intercompany module simply expands on the reliable and robust core finance module of MYOB Exo, giving you the power to manage all your entities from a single source of truth.
How does the MYOB Exo Intercompany Reporting module work?
This module removes the manual tedium of accounting for expenses that cover your entire group and lowers your error rate when reconciling and consolidating your different accounts. The Intercompany module is tightly integrated into your core MYOB Exo platform, so your data flows seamlessly across the entire system keeping all modules up to date.
The overall group account is regarded as an entity, so you have access to all the typical General Ledger and reporting functions. However, the entities are only consolidated for the purposes of building reports and are still regarded as separate companies. As a result, individual General Ledger transactions and reporting functions are still available within each individual entity, so their teams can continue with the same information they have always accessed.
Who would benefit from MYOB Exo Intercompany Reporting?
The intercompany reporting module provides improved visibility and ease of reporting for multi-entity organisations. It will be exceptionally beneficial for those wishing to:
Prepare profit or loss reports by a company or cost centre,
Enter a single AP invoice and expense it across multiple companies,
Consolidate unlimited companies as frequently as you like,
Define contra accounts and use the elimination wizard to identify and manage elimination transactions,
Gain complete visibility across all companies with a Hierarchical Chart of Accounts
Enter a single General Ledger journal to multiple companies.
Consolidate accounts from your overseas businesses.
Improvements for consolidation processing
The MYOB Exo Intercompany module can also be used to consolidate and convert foreign subsidiary balances and transactions into the currency of the group company. These balances can also be re-valued at any time to reflect updated currency rates, giving you a clearer picture of the entire organisation's position.
The Intercompany reporting module also allows for automatic calculation and posting of the Other Equity Interest (Minority Interest) portion of the current year's profit. It has built-in controls to ensure data is accounted for correctly, ensuring that transactions and data are loaded into the Group Company once only. The module can handle elimination entries at the time of consolidating into the Group Consolidation Entry.
Learn how MYOB Advanced can improve Intercompany Reporting
While MYOB Exo features a slew of intercompany functionality, MYOB Advanced provides even more cutting-edge features to help manage your entities. With access to the cloud, you can manage your branches from anywhere at any time. When completing an intercompany sale, eliminate the need to fill out an AP document with automatic data input and streamline your business processes.
MYOB Exo Business: Customer Relationship Management (CRM)
MYOB Exo's CRM is the perfect solution for managing your clients, contacts, and sales. The sophisticated system manages all prospect and customer information derived from activities, tasks, emails, quotes and sales in one centralised system, then allows you to use this information to build your business.
What is the MYOB Exo CRM module?
The MYOB Exo CRM module is a Customer Relationship Management (CRM) tool that is fully integrated into MYOB Exo. It allows you to manage all of your organisation's interactions with both existing customers and potential customers. The CRM module provides a focus on nurturing, building and maintaining the relationships your organisation holds with customers. A CRM module lets you gain full visibility and control over your end-to-end sales workflow and will help you manage your customer relations.
How does the MYOB Exo CRM module work?
Through its integration with MYOB Exo, all your customer information from activities, tasks, emails, quotes, and sales histories are available in one centralised database. Flexible customisation allows you to set varying levels of access for users in your organisation. This means you can give discretional access to users who need administrative rights as opposed to the user who only needs access to customer information. Within the CRM module, you can set pricing/discounting groups for a customer within CRM and that data will flow to the rest of the system and modules (for example, the point of Sale, Finance, or OntheGo for the Sales team).
Who would benefit from the MYOB Exo CRM module?
The MYOB Exo CRM module provides integration, accuracy, and flexibility. By integrating this module, you would benefit from the ability to:
Create a comprehensible view of all your customer information.
Easily capture the details of sales opportunities, including key contacts, the source, and the value of the lead,
Measure the performance of your sales with fully configurable sales tracking,
Set realistic and accurate sales budgets using historical sales data,
Manage marketing campaigns and social media from one system,
Track sales against budgets and extract data to understand your results,
MYOB Exo Business: OntheGo
Enable your sales team to work from anywhere with the MYOB Exo's OntheGo module. This application empowers your team to quickly make and convey key decisions, optimising the order process and improving customer satisfaction.
What is the MYOB Exo OntheGo module?
The MYOB Exo OntheGo mobile application allows your team to securely connect and access business information on the go. This leads to improved system visibility, management of the quote and order process, and customer service levels.
How does MYOB Exo OntheGo work?
The MYOB Exo OntheGo app enables your team to access the information they need on the road. The app provides greater visibility and improved productivity, all leading to improved client satisfaction. The OntheGo module empowers sales teams to quickly make and convey key decisions, optimising the order process. The app contains the complete end-to-end sales process – enabling you to create customers and contacts as well as enter or amend orders from outside the office.
Who would benefit from the MYOB Exo OntheGo module?
Organisations that want to enable their team to securely connect and access business information while out on the road would benefit from this module.
With the software, you can benefit from the:
Simple design and helpful coach notes improve usability; only minimal training is required for staff to get up to speed.
Create new quotes and orders or amend existing ones on the spot. Increase order processing efficiency and reduces back-office administration.
Manage sales by area with Apple Maps integration.
Generate accurate sales orders on sight, reflecting current stock on hand. Exo Business OnTheGo uses accurate pricing that includes current discounts and promotions.
Access real-time item details and inventory status to better collaborate orders with the customer.
Efficiency enhancements across the board
MYOB Exo OnTheGo provides sales staff with the information they need when they need it. Enabling secure connection to MYOB Exo Business and the ability for sales staff to view, enter and update customer records and orders – on the go.
MYOB Exo Business Point of Sale
MYOB Exo Point of Sale is a powerful extension that ensures that your business can be a single source of truth for all of your processes. Its interface can be specifically configured to suit your individual business unique needs.
What is the MYOB Exo POS Module?
MYOB Exo POS is an additional module that you can use to customise your MYOB Exo system. It provides automatic updating of stock levels as sales are transacted, support of multiple warehouse sites, access to customer orders, and delivery times. The point-of-sale (POS) functionality means that you can run your entire business, from end to end, on the same integrated system, with complete transactional visibility.
How does MYOB Exo POS work?
MYOB Exo's stock management system will give you full control of your inventory management with automatic updates of stock levels, and access to customer orders. The POS module improves user experience with the ability to generate invoices and create sales orders at the point of sale itself. You are able to know exactly where your stock is with Multi-Stock functionality to help manage your retail inventory requirements.
Secure login features give the flexibility to customise workflow and workstation settings. Permissions that are configured for each user mean you have total control over your software. Control who can apply discounts, including automatic notifications and pop-ups when certain discount thresholds are exceeded. With the seamless integration of the MYOB Exo platform, all discounts and promotions configured across your system are applied at POS automatically.
Who would benefit from the MYOB Exo Point-of-Sale module?
MYOB Exo Business Point of Sale software would benefit businesses in customer-facing retail and sales environments, both online and face-to-face. This module provides a range of POS capabilities that integrate directly into your MYOB Exo Business software. By using this module, you will be able to:
Able to make better rostering decisions with a full transactional log, end-of-day reports and banking for all your staff,
Set up your stock across multiple stores and different locations,
Convert your transactions to a quote, sales order, or an account sale,
Manage all your pricing and promotions from one system,
Consolidate your transactions in one place with enhanced reporting capabilities,
Create customisable menus and workflows to accommodate your needs,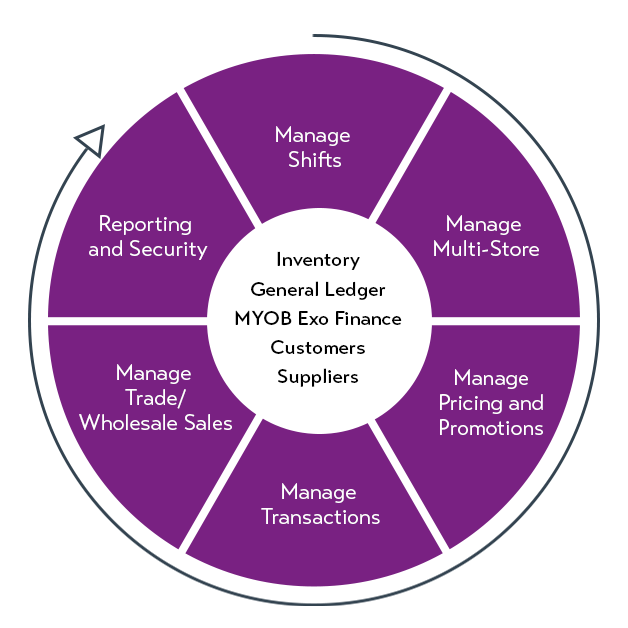 By combining all these features with an easy-to-use retail interface, the software can be configured to suit your business need. The module accommodates all retail hardware 'must haves' such as barcode scanners, cash drawers, EFTPOS terminals and docket printers as standard.
What if my business needs more functionality
There are many ways to improve efficiency in your business. Modern economic environments pressure businesses to digitise processes and adopt smart and innovative solutions. The time to innovate is now, and we are here to assist you along the journey of climbing the technology mountain. MYOB Exo is a powerful solution that can be customised to your business needs.
The MYOB Exo Cloud Solution
MYOB Exo has long been established as on-premise software, limiting system access to a VPN from outside your office. However, the team of experts at Kilimanjaro Consulting have developed ExoHosted as a cloud-based solution for MYOB Exo. By hosting your MYOB Exo Business software in the Cloud, you can be sure that your server is in a highly reliable environment managed by our hosting division. ExoHosted combines the classic MYOB Exo Business software with our cloud-based technology, allowing uninterrupted, 24/7 service. It gives your team on-the-go access to MYOB Exo from any device. The fixed monthly hosting fee will ease your cash flow and reduce the operational costs of expensive server maintenance.
Integration and customisation for MYOB Exo
As businesses grow, they become more complex and develop a competitive advantage over others in their industry. It is impossible to develop one single system that can manage the varied processes of every organisation in the market. Each complex company requires configuration, customisation, and sometimes even a bespoke solution. Out-of-the-box systems simply cannot do the job.
One of MYOB Exo's strengths lies in its integration with third-party (add-on) products. These products are designed to enhance the functionality of your system, extending and supporting native functionality so that you can make better decisions. Integrating these products into your system removes the need for manual data duplication and reduces overall error rates.
Build a truly custom MYOB Exo system for your organisation by integrating add-on products and leveraging technologies that meet your specific, additional requirements. Kilimanjaro Consulting recommends and supports integrations with the following connected services:
The integrator for MYOB Exo – SynKit
If you already use a 3rd party web-based application for specific functionality but want it integrated into MYOB Exo, then SynKit is your solution. Developed by the experts at Kilimanjaro Consulting, SynKit leverages the application's open API to push and pull live data between your two systems. With SynKit, you can take advantage of unique integrations that your competition will be unable to access, such as:
HubSpot or Salesforce as a best-of-breed CRM,
Shopify, Magento, or WooCommerce for your e-commerce platform,
SmartFreight to automate and streamline distribution and shipping, or
simPRO or AroFlo for job management, time capture, and field services.
SynKit can integrate MYOB Exo with any 3rd party application with an open API. Contact our team to learn more.
A solution for more complex organisations
If you feel like your business needs a more powerful cloud solution, then consider MYOB Advanced. MYOB Advanced is an end-to-end business management system built for the cloud and supports access to your data from any location and at any time. Whether it is reduced administration time, greater inventory control, or real-time reporting, MYOB Advanced can be configured to improve efficiency in your business.
It is a full Software as a Service (SaaS) product built on the fastest-growing cloud ERP solution in the world – Acumatica. The Acumatica Cloud ERP platform is one of the most flexible and adaptable enterprise software solutions available to the global midmarket. By building on the best features of Acumatica, MYOB has forged a cloud ERP system to rival and surpass their competition for complex medium to large organisations. The strength of MYOB Advanced lies in its ability to automate repetitive and mundane procedures and the live flow of information throughout your organisation.
If you would like to learn more about the MYOB Exo business modules and how to create a custom business management solution with your software, please contact our team. Kilimanjaro Consulting is the largest and most experienced MYOB Exo partner. To learn more, email sales@kilimanjaro-consulting.com or call 1300 857 464 (AU) or 0800 436 774 (NZ).