MYOB Advanced: What Can It Do?
For businesses who have outgrown traditional off-the-shelf accounting software
Editor's Note: This article was originally published on 20th February 2015. It has been updated as of the 20th January 2021 to provide the most relevant and up to date information
What is MYOB Advanced?
For over 25 years, more than a million businesses have used MYOB for their accounting and business needs. This has made MYOB one of the most trusted brands in Australia and New Zealand. MYOB's portfolio of solutions covers all businesses from small to large. One of their top tier systems, MYOB Advanced, is transforming the way larger Australian and New Zealand businesses work. MYOB Advanced (powered by Acumatica) is intelligent cloud-based Enterprise Resource Planning (ERP) software that helps improve efficiency within larger, more complex businesses. Now Australia and New Zealand's number-one cloud-based software, MYOB Advanced, has been designed to take care of business processes, both now and in the future, without limiting your growth. Read more on the history behind the fastest growing cloud ERP system.
What does MYOB Advanced give businesses?
The MYOB Advanced Business suite delivers an end-to-end business management system that provides ERP and payroll functionality on a single SaaS platform. This unified system exchanges information between functions, reducing duplication of effort, manual data entry and real-time business insights. Breast Cancer Network Australia benefited from the reduction in data entry and risk of errors by implementing the MYOB Advanced platform. Choosing MYOB Advanced means you get a fully-featured business management system that covers your entire business operation, from administration to warehouse to Human Resource Management, and everything in between. Whether it's reduced administration time, greater stock control or real-time management reports – the gains are considerable and extensive for every area of your business
MYOB Advanced has flexibility for you to choose which modules your business needs, with the option to scale up as your business requirements change. This means you only pay for the features you need and use. These include:
Finance
Inventory Management
Customer Management
Sales and Purchasing Management
Field Services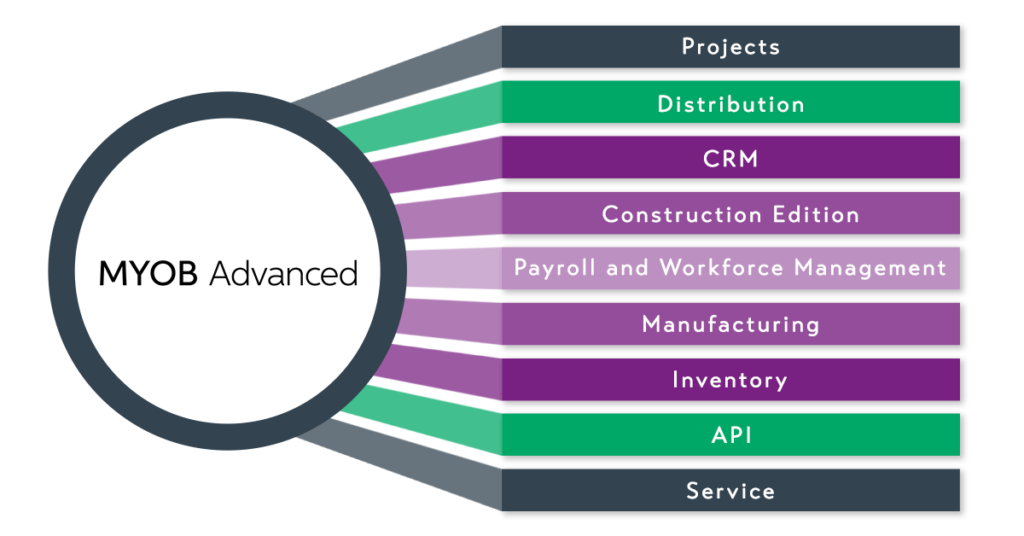 Benefits of MYOB Advanced
Enterprise Resource Planning (ERP) systems allow businesses to move beyond accounting software and grow into a functional and efficient future. MYOB Advanced provides all of this and more with several benefits, including:
Convenient monthly pricing plans – you decide what features your business is using and pay accordingly
No hardware to maintain – MYOB Advanced is a complete cloud solution; therefore, you don't have to maintain your hardware to have your ERP running.
Grows with your business – As businesses grow, they become more complex and so do their requirements. MYOB Advanced will grow with your business giving you the flexibility to scale up and choose extra features to support your new demands.
Work anywhere, anytime – You don't have to be in the office to work with your ERP as it gives you the freedom to connect anywhere at any time securely. Give your team the freedom to work from any device with access to a web browser.
MYOB Advanced Payroll module
In addition to the powerful Finance and Distribution suites of MYOB Advanced, a fully-featured, online and compliant payroll solution is built into the ERP that encompasses your payroll requirements and improves efficiencies even further. If you are a leading business that wants to take advantage of a modern payroll solution that is embedded in your ERP system, MYOB Advanced with the MYOB Advanced Payroll (formerly MYOB Advanced People) module is for you. MYOB Advanced Payroll can be a comprehensive solution to your MYOB Advanced software, or as a stand-alone payroll solution. Read more about MYOB Advanced Payroll here (or can we put a PDF download?)
What benefits will MYOB Advanced Payroll bring to your business?
Fully integrated with all Advanced Business editions, so all your data is in one place. This leads to automated processes like allocating payroll expenses to various projects and accounts. 
MYOB Advanced Payroll ensures you are always using the latest tax rates, 
Powerful configuration options catering to many employee scenarios, 
Allows for multiple employee pay groups across several pay frequencies, 
Employee self-service allows employees to update personal details and apply for leave and managers can approve these leave requests,
Enhanced payroll reporting, transaction history, audit tracking and more, 
Pay workflow runs through, time entry, variable entry, to GL posting, payment creation, tax agency submission and payslip distribution.
Success Stories: MYOB Advanced
As MYOB's largest partner, we are proud to have implemented MYOB Advanced in many well-known, recognised businesses, including MYOB themselves. We have seen MYOB Advanced give businesses the freedom to grow, provide relief from difficult tasks and give a more unobstructed view of the data they need most.
An example of how a business may look before and after would be:
Before
Too much manual work
Staff time consumed with data requests
Difficulty tracking budgets
Confusing and difficult reporting
After
75% reduction of paperwork
Empowered staff having access to own data
Detailed live budgeting information
Easily customisable reports
Cloud data stored in Australia
To hear from other businesses how their processes have improved with MYOB Advanced, visit our case study page
If you would like to learn more about MYOB Advanced, download our free guide below for everything you need to know. If you have any questions or would like to talk to our Sales Team about your current requirements and the best fit for you, give us a call for a non-obligatory chat on 1300 857 464 (AU) or 0800 436 774 (NZ), or send us an email at sales@kilimanjaro-consulting.com. Our friendly team is always here to help. If you are looking for an on-premise solution rather than the cloud, we suggest looking at MYOB Exo. We break down the key differences between the two types of software here.