Breast Cancer Network Australia
The nationwide charity sees the benefit of upgrading to MYOB Advanced
The Breast Cancer Network Australia had seen great success with their MYOB Exo system. However, as they began to outgrow it, they realised there were other MYOB Enterprise options for them to consider, and MYOB Advanced gave them everything they were looking for.
Who are the Breast Cancer Network Australia?
Breast Cancer is the most common cancer affecting Australian women. The BCNA is the leading national organisation for Australians affected by breast cancer. They are a large network and have grown to accommodate over 150 000 members. They reach over 70% of Australians who are newly diagnosed with breast cancer and support them on the journey that no one wants to take.
What catalysed the switch to MYOB Advanced?
As the BCNA continued to grow, its revenue streams and the detail they were required to provide became substantially more complex. Their previous MYOB Exo system had been perfect when their business was smaller, however, it could not handle the various fundraising projects and outgoing costs. Because there were so many projects on the go at once, they wanted a system that could both break down their accounts in detail and integrate with their CRM system.
What changes followed the decision?
The reporting and integration capabilities of MYOB Advanced were an immediate standout for the BCNA. The system was also well designed to meet their needs now and as they continued to grow. The scope and functionality of MYOB Advanced meant that they could update their old processes and find greater efficiency. The cloud-based platform of MYOB Advanced is also saved on the server infrastructure and data migration costs.
How are they now?
The BCNA has been able to achieve detailed project costing across its system. They can now deliver transparent information and handle future growth, thanks to the structured accounts setup and drill-down reporting capability. Their CRM integration reduces data entry and the risk of errors, all while maintaining a clear audit trail. The BCNA has embraced a digital future and will rely on MYOB Advanced to take them forwards as they continue to grow and become more complex.
How do I achieve a successful MYOB Advanced implementation?
A successful MYOB Advanced Implementation depends on 3 critical risk:
Software Risk
Implementer risk
Self-Inflicted Risk
You can reduce your risk by selecting the right implementation partner. Although there are many different partners to choose from, you need the one that will work with you every step of the way. Managing risk is an important part of an implementation; selecting a low-risk partner is critical to a lifetime of success with your Business Management system.
Kilimanjaro Consulting ticks all the boxes when it comes to choosing the right partner:
Kilimanjaro Consulting is the largest and most experienced implementer of MYOB's Enterprise-level business management, accounting, payroll, and workforce management solutions: MYOB Advanced and MYOB Exo. We are experienced, low-risk implementers, helping organisations improve efficiency in their businesses through the use of clever, innovative, and proven technology.
Free resources to help you further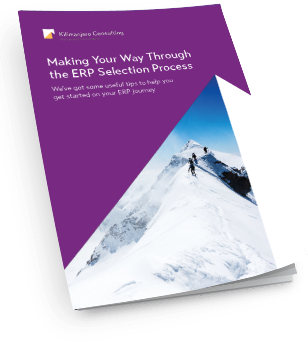 If you are ready to start your Business Management System journey, choose Kilimanjaro Consulting as your trusted implementation partner. If you don't know where to start, download our free E-Book that will take you through everything you need to consider and what to be wary of during this process.
Kilimanjaro Consulting is the largest implementer of MYOB's Business Management Software across Australia and New Zealand. We take the time to understand your business and only recommend the products that can meet your needs. To start a conversation about how MYOB Advanced can improve efficiency in your organisation, email sales@kilimanjaro–consulting.com, or call 1300 857 464 (AU) or 0800 436 774 (NZ).