Take Control of Stock Control
Capital in the bank is better than it sitting in your warehouse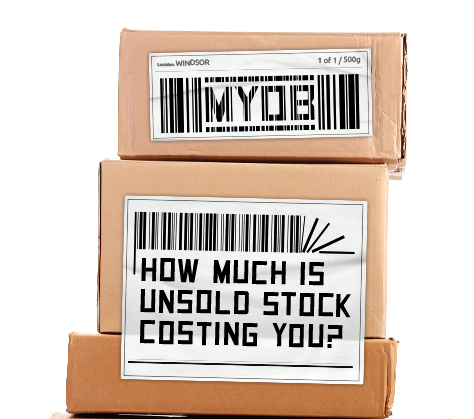 This page was last updated on June 20th, 2018
There is nothing more frustrating than seeing capital sitting in unsold warehouse stock. So why do so many managers continue to sign off on the same $50,000 stock order every month? Because they believe that's the safest thing to do to ensure there is always enough stock. However, it doesn't need to be this way.
MYOB's range of bigger business solutions has helped thousands of larger businesses take control of stock and it can help yours too.
If you can relate to these issues, the first question to ask is "Where does the problem stem from?"
Consumers expect that when they are shopping for an item, it is in stock. The question from a retailer's point of view is: How does a business uphold this reputation without carrying too much stock that results in a negative return on inventory investment?
Industry experts agree that the most significant factors that impact profit in an inventory-based business is overstocks and stock-outs. By automating the inventory planning process, businesses are able to understand purchasing patterns. Therefore, by generating accurate forecasts, inventory levels are optimised. Ultimately, taking the guesswork out of purchasing will optimise sales and profit.
Implementing better inventory optimisation in your organisation will give you the one critical thing for every business – improved cash flow.
How can software solutions improve real businesses?
The Arcadia Corporation successfully transitioned into the cloud and achieved a single, efficient platform from which they now manage Accounts, Inventory Management and CRM. Moving from MYOB Exo to MYOB Advanced improved functionality and provided end-to-end management of its products. Additionally, integrations with their core business management system enhanced visibility and simplified reporting for the finance and sales teams.
Find out more about taking out the guesswork of purchasing to optimise sales and profit by downloading the factsheets to the right. If you wish to speak with one of our specialists, feel free to fill out the form below or contact us at sales@kilimanjaro-consulting.com or by calling 1300 857 464 (AU) or 0800 436 774 (NZ).