eveXso – Warehouse Management System
Streamlining Warehouse Operations for Unmatched Efficiency
eveXso is a cloud-based Warehouse Management System (WMS) that streamlines the picking and packing of orders, bin management, and receipting of goods. Available on both mobile and desktop, it creates real-time information flow from the warehouse to the office. It gives management anytime, anywhere visibility to track their staff and resolve issues. eveXso seamlessly integrates with both MYOB Advanced and MYOB Exo to help you expertly manage your warehouse operations.
Available on both Android and IOS.
Get started quickly with a user-centric training program.
Pickers get up and running within 10 minutes.
Introducing eveXso as a WMS in your organisation leads to a smarter logistics process.
What are the benefits of eveXso?
Streamlined warehouse operations by automating tasks and letting you pick and pack multiple orders at once,
Have complete confidence in your stock levels with barcode scanning and real-time inventory tracking, ensuring supplied products are correct and even validating that the correct stocking factor has been scanned,
Work entirely from your mobile device from any location in the warehouse,
Access up-to-date, real-time distribution information integrated with MYOB Advanced and MYOB Exo,
Complete visibility of your deliveries with real-time tracking and route optimisation. Keep your customers up to date with automated SMS or email updates.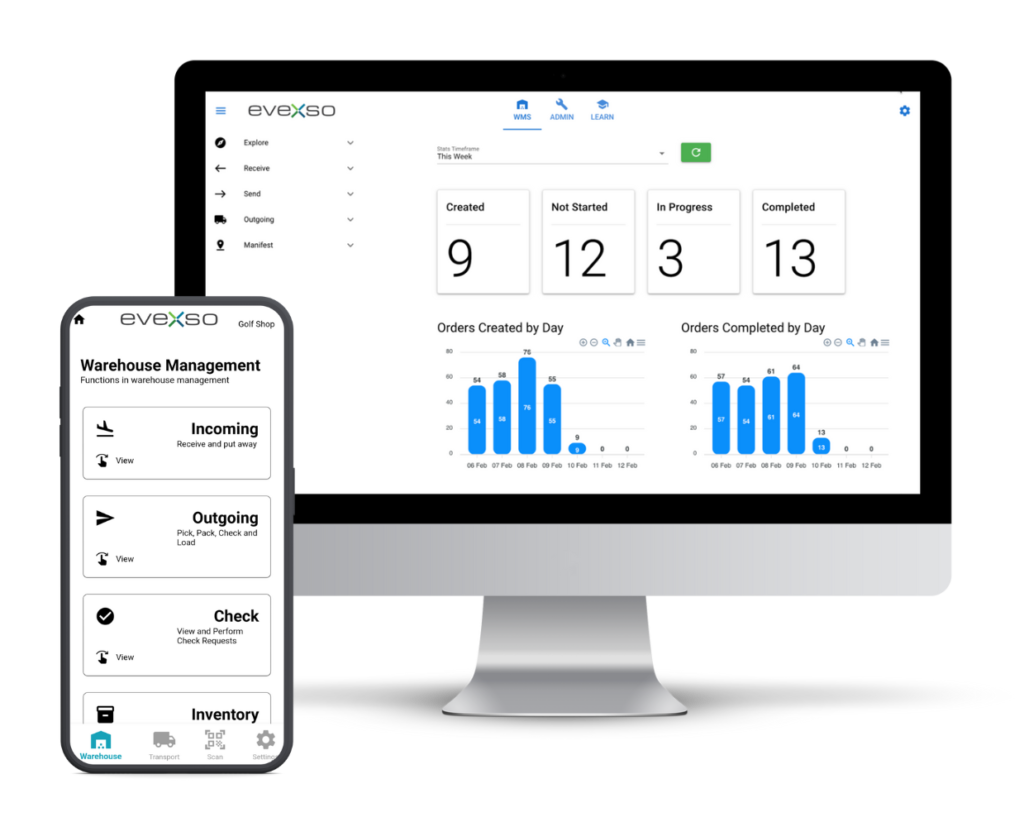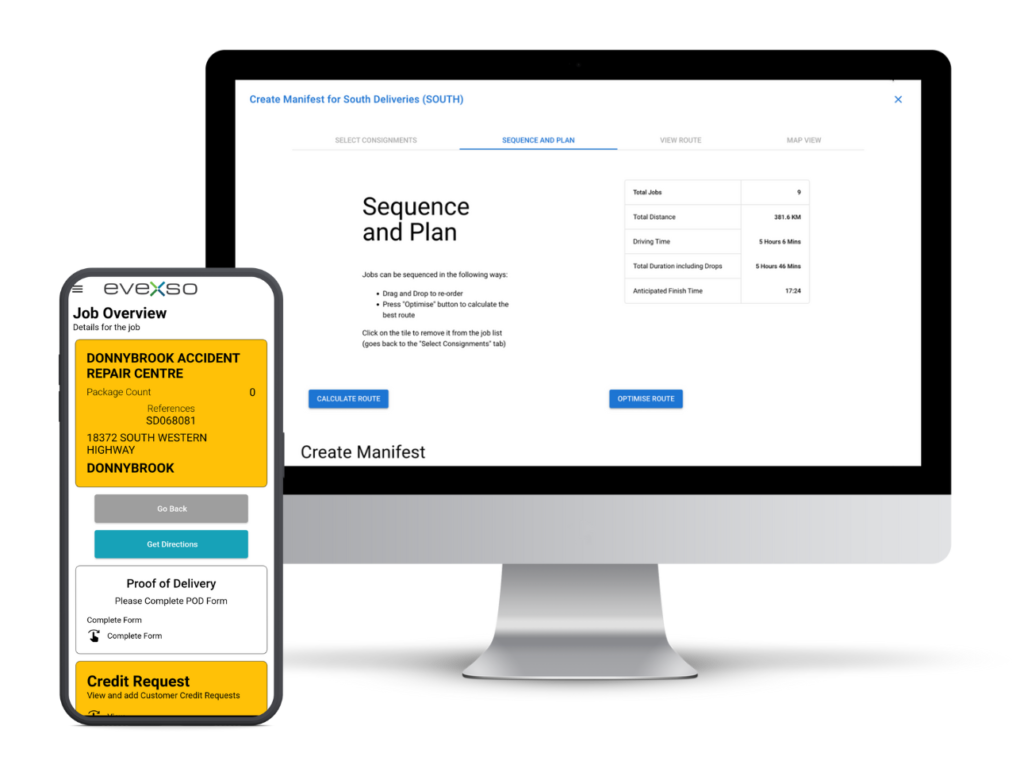 See a day in the life with eveXso for yourself
Key Features of eveXso
Support for Electronic Data Interchange (EDI). Receive ASN documents from your clients to improve your receiving process,
Serial Shipping Container Code (SSCC) label generation and Advanced Shipping Notice (ASN) preparation approved by many major supermarkets and retailers,
Increase efficiency with task automation, including quantity entry and invoicing,
Use wave picking to reduce the walking distance by picking many orders at once,
Control your supply chain by distributing work through zones, prioritising picks, and assigning tasks to specific users,
Expand your capabilities with seamless integrations with leading apps, such as freight management, MYOB Advanced, and MYOB Exo,
Optimise your routes using Google, create postcode zones for specific routes, ensure the right goods are close to the door when the driver needs them with sequenced vehicle loading and even set temperature zones,
Ensure drivers are prepared with pre-start forms, and set reminders such as collecting and returning keys for specific customer sites,
Complete your Government Compliance reporting by creating vehicle registers, tracking permits and certificates, managing roadworthy checks, and reporting faults on vehicles.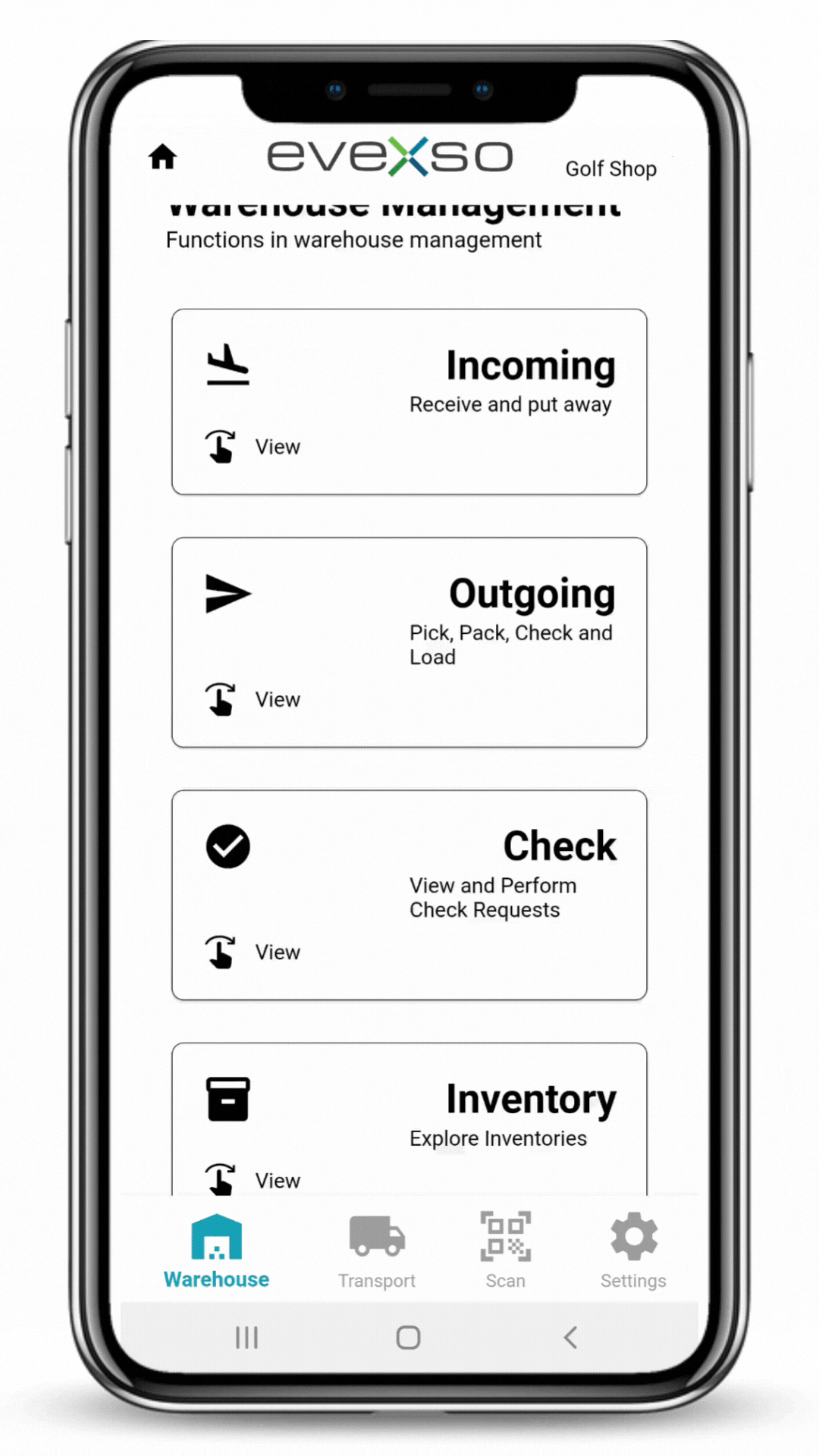 Pick, Pack and Despatch with eveXso
About eveXso
eveXso is a Warehouse Management system provider, constantly innovating new ways to improve usability and efficiency through task automation. The solutions they develop integrate with both MYOB Advanced and MYOB Exo. MYOB Advanced can support Wholesale Distribution organisations to improve efficiency with tailored, industry-specific functionality. eveXso combines user-centric design, familiar devices, and cloud technologies to deliver a new style of WMS embraced by both users and management. They are constantly looking for new ways to improve usability and efficiency through task automation.
To discover how eveXso can benefit your organisation, email samacs@kilimanjaro-consulting.com or call 1300 857 464 (AU) or 0800 436 774 (NZ).