My MYOB Exo account is locked!
Don't panic! Try this before calling our support line
Editor's Note: This article was originally published in October 2013 and has been reviewed and updated in October 2022 to provide the most relevant and accurate information.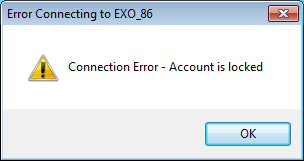 No need to break out in panic or fear when you receive the 'Account is Locked' error message on your screen when trying to log in to MYOB Exo. At Kilimanjaro Consulting, we have a philosophy of making our clients as self-sufficient as possible, so read on to learn what to do when your MYOB Exo account is locked.
If you are still in need of assistance, don't worry, we are always here to chat. Just give us a call on 1300 857 464 (AU) or 0800 436 774 (NZ).
Rest assured that 99.99% of the time there are three basic reasons as to why your MYOB Exo account is locked:
You have incorrectly entered your password one too many times (99%)
Someone has manually changed the status of your account to locked
Your password has expired (0.99%)
MYOB Exo Locked Account Tips
If your account has been locked for one of the above reasons, there is an easy fix. You will need to find someone in your organisation who has Administration permission for MYOB Exo. Ask them to log into their MYOB Exo account and follow these 4 simple steps:
Select Setup>Setup Staff
Double-click on your MYOB User account
To reset your password, click "Change Password", follow the prompts, and change the expiry date
To remove the "Account Locked" error message, on the Account Status: drop-down list, select Account OK
Click Save
Once this has been completed go to your computer and reopen the MYOB Exo Business Exe and try to log in. The error message should now be gone, and you should be able to log in correctly.
If you follow these above steps and are still not able to log into your account, please ask your administrator to contact the support desk. We can investigate further and resolve this issue for you.
Call our team at any time on 1300 857 464 (AU) or 0800 436 774 (NZ).
Are you using MYOB Exo effectively?
Although MYOB Exo may be working adequately to your needs, you may be missing out on key functionality that could improve your efficiency and facilitate growth. Business Process Improvement is a continuous journey, and we are always ready to help with your changing needs and requirements.
Some of these opportunities to improve include:
Comprehensive online training courses for MYOB Exo Business and Payroll
Access to Free Webinars focused on developing your MYOB Exo skills and expertise
Special invitations to the MYOB User Groups, a knowledge sharing forum that connects you to experts and other users.
Learn more about the opportunities to utilise MYOB Exo more effectively.
Need some helpful tips to get more out of your MYOB Exo?
if you are also looking to improve your knowledge, we have put together some of the top quick tips and tricks so you can upskill yourself in a matter of minutes. Here is a couple that can assist you in improving efficiency during your day-to-day use of MYOB Exo software:
Need more help with your MYOB Exo account?
Kilimanjaro Consulting is the largest implementer of MYOB's Business Management Software across Australia and New Zealand. We take the time to understand your business and only recommend the products that can meet your needs. To see if there are any enhancements that could be made to your MYOB Exo system that might improve efficiency in your organisation, email sales@kilimanjaro-consulting.com, or call 1300 857 464 (AU) or 0800 436 774 (NZ).