My MYOB Exo account is locked!
Don't panic! Try this before calling our support line
Editors Note: This article was originally published in October 2013 and has been reviewed and updated in May 2019 in order to provide the most relevant and accurate information.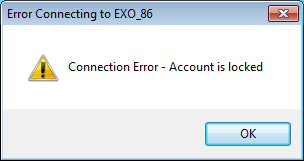 PANIC. FEAR. I NEED URGENT KILIMANJARO SUPPORT!
Is this how you feel when you receive the above "Account is Locked" error message in MYOB Exo? Kilimanjaro has a philosophy of making our clients as self-sufficient as possible, so take a read of some our handy tips to help you when your MYOB Exo account is locked. If you still need help, don't worry, we are always here to chat. Just give us a call on 1300 857 464
Before you contemplate the latter, rest assured that 99.99% of the time it comes down to two basic reasons as to why your MYOB Exo account is locked:
You have incorrectly entered your password one too many times (99%)
Someone has manually changed the status of your account to locked or your password has expired (0.99%)
MYOB Exo Locked Account Tips
The fix is even more basic.
Make sure that your access has not been denied for one of the above reasons… if not? Try to find a person in your organisation who has administration permission in MYOB Exo. If you are able to be in contact with that person, kindly ask them to log into the MYOB Exo account and follow these 4 simple steps:
Select Setup>Setup Staff
Double click on your MYOB User account
To reset your password, click "Change Password", follow the prompts and change the expiry date
b. To remove the "Account Locked" error message, on the Account Status: drop-down list, select Account OK
Click Save
Once this has been completed go to your computer and reopen the MYOB Exo Business Exe and try to log in. The error message should now be gone and you should be able to log in correctly."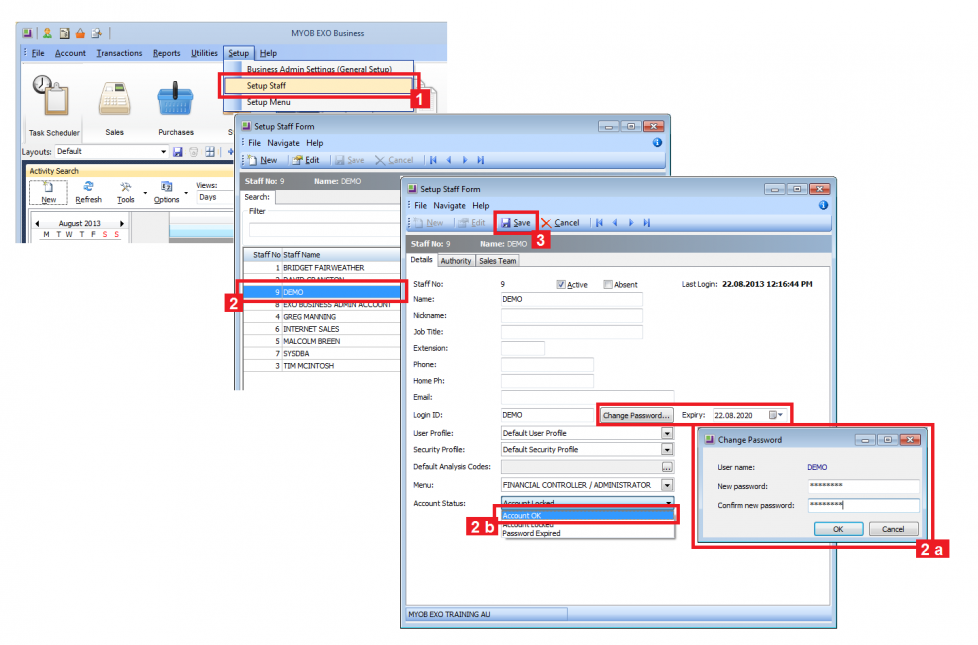 If all the above has been followed and you are still not able to log in, please get your administrator to contact the support desk and we will look into this issue for you.
Need more help with your MYOB Exo account?
Has this helped you? Please feel free to give us a call on 1300 857 464 (AU) or 0800 436 774 (NZ) for any further questions. Or, if there are any other tips or hints you would like us to cover, email us at sales@kilimanjaro-consulting.com.