Bank Feeds in MYOB Advanced
Stop manually reconciling bank transactions and join the bank feeds movement today!
MYOB Advanced (powered by Acumatica) moves businesses to the cloud, allowing users to get the benefits of flexibility, scalability and mobility. This ERP software is designed to put all your processes in one place. Now, with Bank Feeds as the latest significant feature, users are able to connect to MYOB's bank feeds service which links you to both Australia and New Zealand's leading financial institutions.
Bank Feeds automatically imports transactions from your bank or financial institution directly into the MYOB Advanced database. This eliminates the need to import transactions manually. Thus, your business can save precious time and effort by having this process taken care of automatically.
Benefits of Bank Feeds in MYOB Advanced:
Save valuable time with more secure transactions
Speed up reconciliations – eliminate manual tasks. Synchronise your accounts and import both your credit card and business transactions with a simple click
Create your own rules – bank feeds rules speed up data entry and save you time
Accurate and secure details – all customer details are secure as Bank Feeds are completely compliant with ASIC and banking rules
How do I access Bank Feeds in MYOB Advanced?
Bank feeds are accessible to all MYOB Advanced users. They are a great innovative software tool to make better use of your time and to improve efficiency in your business.
To access bank feeds, register for two-factor authentication (2FA) account. 2FA will maintain your security and safeguard your bank details and transactions. If you are an MYOB Advanced user and aren't already using 2FA, you can click here and follow these steps to register. Alternatively, you can, of course, contact our MYOB Advanced team for further assistance.
Bank feeds step by step
Step 1:
Apply for Bank Feed, as per the instructions in the below screen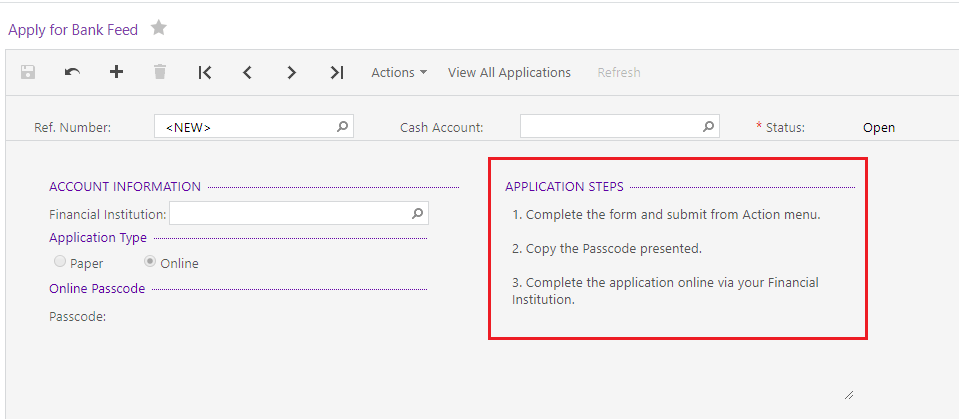 Step 2:
Track Bank Feed Application by refreshing until it reaches Bank Feed Ready status

Step 3:
Once the bank feed application is ready, select the required Bank Feeds and import bank transactions by clicking Import Selected Feeds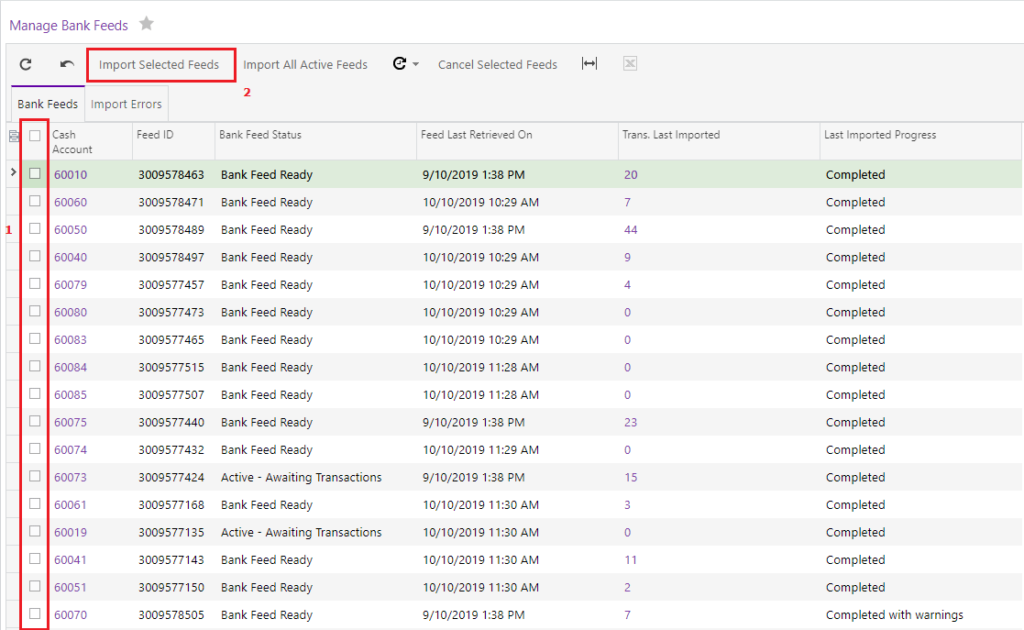 Alternatively, you can access bank feeds via import back transactions screen as well as process bank transaction screen to make bank reconciliation process more efficient.

Automate notifications to your customers.
Enhance your business automation capabilities with Business Events in MYOB Advanced. A Business Event monitors specified Generic Inquiries and then processes certain actions based on changes or schedules. These processes can include sending automated notifications, creating tasks, or automatically updating records. Use these powerful features to automatically notify debtors when you receive and match their payment using Bank Feeds.
Lastly, ensure that you are an authorised MYOB user. Above all, if you are not sure, don't worry. We can help you out with this too! Just give us a call on 1300 857 464 (AU) or 0800 436 774 (NZ), or send us an email and take this step towards managing the complexity in your business.
For even more information, watch the video here.