What's new in Dataline
New features for your Accounts Payable Automation
Dataline is an Accounts Payable Solution that has been serving growing businesses for over 30 years. Their deep knowledge of Accounts Payable processes combined with the workflow automation that the solution provides gives customers a Payables Advantage. They are consistently making improvements to ensure the solution is always scalable to your business. Here are the newest enriched features that all users can enjoy in Dataline!
What's new in Dataline?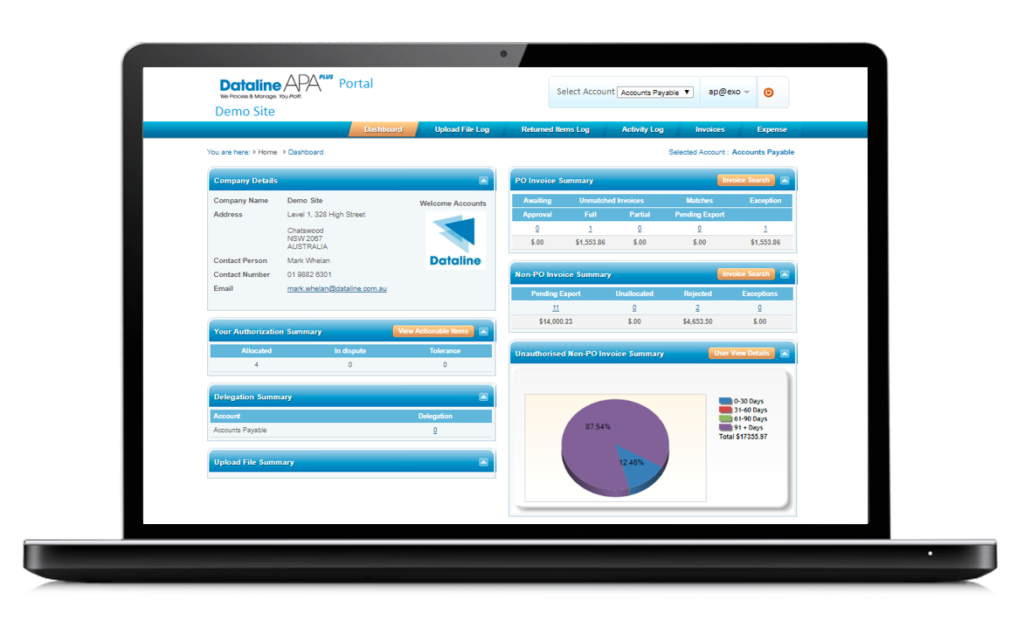 The new functionalities allow users to create an even more efficient workflow and automate processes faster than ever. See below for the latest features and learn how they can benefit your business now and in the future!
Invoice to Purchase Order Matching with approval workflow
The Solution has been enhanced to support Invoice to Purchase Order matching where a customer doesn't typically receipt goods or services into MYOB Advanced. What currently happens is that the receipts happen at time of invoice receipt. Invoice go to a company's finance department which are then required to be manually processed. The finance team have to figure out who requested the goods of service and send the invoices for receipting and approval. Our solutions remove these steps by automating them.
Invoice to Purchase Order Receipts matching (three-way Matching)
Provides massive time savings. Allow creditor invoices to be passed through to MYOB with zero manual intervention. We can provide up to 90% straight-through processing of these invoices allowing finance teams to focus on exceptions.
Web expenses module
Capture all costs including expenses, Corporate Card receipts and general invoicing via the one solution. Excellent best of breed mobile receipt capture. Import bank Visa/Mastercard file and reconcile transactions.
Support MYOB Advanced Projects and Tasks
Allow correct allocation of costs
Creditor Invoice images uploaded to MYOB Advanced
Invoices images are viewable within MYOB Advanced at the same time of creditor invoice posting.
Working Capital Solution
Dataline provides a gateway to assist clients to make better use of their funds by providing access to supplier invoice financing and extended terms options. Turn Accounts Payable into a profit-making stream.
LITE version of APA+ for MYOB Advanced
For those customers who are looking for a simple invoice digitation and OCR solution which interfaces with MYOB Advanced.
Features
Loads Images and header data directly into MYOB as an "on hold" transaction
Benefits
Allowing all workflows and approvals to be done within MYOB Advanced licenced users. Utilise the MYOB Advanced Mobile Application for approvals.
The Benefits of Invoice Automation
Automates many of the existing manual processes
Associated with invoices processing within a company, freeing up the time of the finance team to focus on other core activities
Provide improved visibility of liabilities
To help manage cash flow and accelerate month-end P&L close off
Remove Data Entry
Automate the digitisation of your invoices and Dataline software will extract the invoice data that syncs to your accounting system
Match creditor invoices automatically
To purchase orders driving touchless creditor invoice processing
Faster approvals
Automate for seamless processing with no human intervention. Integrated workflow to remote staff for approvals
No need for filing
Dataline digitally stores your invoices securely, providing you with fast search retrieval with complete audit trail
Streamline your processes
Reducing the overall cost of invoice processing
Compliance
Audit trails provided that will meet the most stringent compliance requirements
The Dataline Difference?
Dataline offers the digitisation of your creditor invoices as a service, where they review each document to ensure OCR capture is correct and document quality
Support – Dataline provides support with a financial transaction approach rather than a document scanning approach
Dataline has worked with a certified MYOB Advanced partner to develop their MYOB Advanced interface
The solution's flexible design as an enterprise solution enabling customisations to meet individual customers accounts payable requirements.
Dataline understand every business is different and focused on providing real-world AP outcomes
Automated Supplier recognition and duplicate Invoice detection reduces fraud potential
Options for extended payment terms via our Working Capital Finance solution
For more information on Dataline as a connected service that we recommend, visit the Dataline page here or download the brochure below.
If you have any enquires, please contact us at sales@kilimanjaro-consulting.com, or give us a call at 1300 857 464 (AU) or 0800 436 774 (NZ).