5 time saving reporting features for MYOB Advanced
Use Velixo to save time when building reports in Excel
MYOB Advanced collects data from across your organisation. This is what makes it so valuable for growing, complex organisations – it gives you the real-time data you need to make better decisions and drive your growth. By leveraging an integration with Velixo, MYOB Advanced can create a connected software ecosystem for your organisation.
Making sense of all the data in your system can be difficult for your team members who are unfamiliar with MYOB Advanced. There is a way for MYOB Advanced users to access their live ERP data within the familiarity of MS Excel® – Velixo.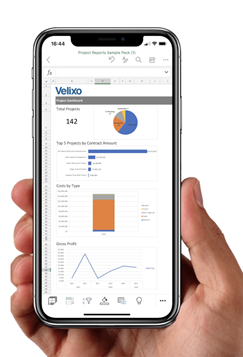 Simple formulas and functions to manipulate data
The beauty of working in Excel is that you are using the software you know and love. You can easily create totals and averages or use MS Excel® formulas to manipulate the values in any way you need. With MS Excel®, you can create dashboards, graphs, slices, and filters to enhance your reporting.
MS Excel® is great at reporting, analysis, planning, and modelling, and its simplicity of use means that most other financial report writers that come with ERP solutions don't come close to it. MS Excel® is used by 750 million + users worldwide, and its flexibility and ease of use are unparalleled.
Smart Refresh and Smart Drilldown
If you use MS Excel® for reporting purposes then you need to manually export your data from MYOB Advanced, and import it to MS Excel®. This needs to be done every time you build a new report which is a time-consuming and avoidable process.
With Velixo (An Excel-based reporting application) all you need to do is to create a financial or project report once. The Smart Refresh feature will load the data in your MS Excel® spreadsheet in seconds. Not only is this convenient and easy, but you and your team can work with confidence knowing that this information is accurate and up to date.
Another great feature is Smart Drilldown. This allows you to drill through the data that makes up your reports. You can see both the information that makes up each specific calculation, as well as the ability to view the original document in MYOB Advanced.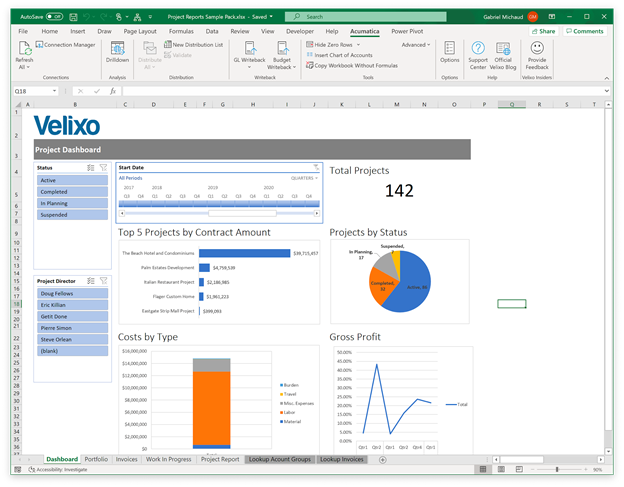 Automated Report Distribution
Automation is what separates the wheat of efficient organisations from the chaff of smaller businesses. Taking advantage of automation in your financial software helps your team to take care of tedious tasks quickly and efficiently and lets them focus more on tasks that can grow the business. With Velixo you can automatically email, export, or share multiple versions of the same report with a single click. Report distribution is customisable so you can include different tabs or set specific parameters based on who is going to receive it. Easily output your reports as MS Excel®, PDF, or simple values. Additionally, exported documents can be password protected, and configured by each recipient – so that they are only viewing information that is relevant to their position.
60+ Extra MS Excel® Functions
Velixo Reports adds over 60 new functions to your MS Excel® package. These functions are designed to work with your MYOB Advanced General Ledger (GL), Projects, and Generic Inquiries (GI). Microsoft 365 users have access to even more functions that take advantage of the new Dynamic Array capabilities built into MS Excel® 365. These additional functions can take the place of long formulas and complex arrays, allowing you to quickly create the reports you need without consulting a complex MS Excel® manual.

With these additional functions, you can create a GL Writeback report that takes the downloaded information and automatically creates detailed transactions for you, including all the account, subaccount, and branch details you need.
Make your life easier with sample reports.
If you work in Project Management, Velixo has tools that will help with Project Reporting. A major benefit to Velixo is that you get access to sample reports, which you can easily manipulate if needed. This way you can build reports that look the way you like without requiring customisation to your ERP reporting suite.
Click here to download a Project Reports Sample Pack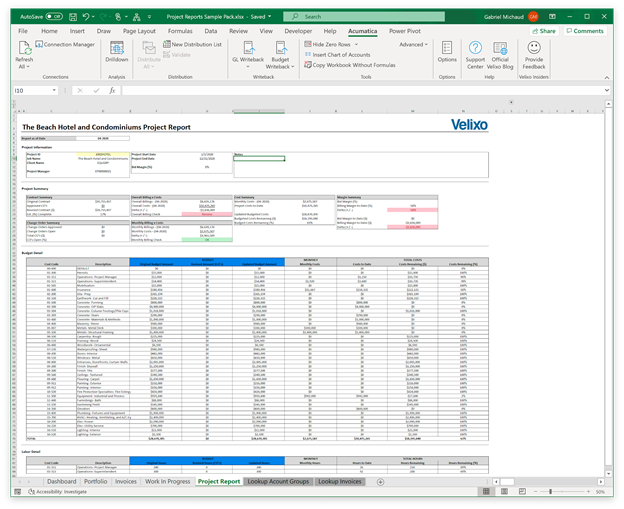 Watch the full demo here:
Integrated Excel Data Analysis for MYOB Advanced
To start a conversation about how Velixo could improve efficiency in your business, contact us by emailing sales@kilimanjaro-consulting.com or call 1300 857 464 (AU) or 0800 436 774 (NZ). To learn more about Velixo and how it works with MYOB Advanced and Excel to strengthen your reporting functionality, watch the full recording of our recent webinar. For more interesting content visit our youtube channel.