Velixo – MS Excel® Based Reporting
Seamlessly connect your MYOB Advanced with MS Excel®, and enjoy flexible financial reporting at your fingertips
Velixo is an Excel-based tool that seamlessly connects MYOB Advanced with Microsoft Excel® and gives MYOB Advanced users flexible financial reporting at their fingertips. The Velixo Excel® add-on provides more than 45 functions to pull through general ledger and project data from MYOB Advanced.
Velixo speeds up Financial Reporting
Velixo gives you instant access to real-time financial information in your business. Whether you are an accountant or a finance manager, Velixo has you covered with building complex Excel® reports.
Why you should use Velixo
Benefits
A seamless MYOB Advanced integration – no more manual exports
Fast, simple, and secure connection to Excel®
User-friendly – Velixo adds a toolbar with 45 functions to Excel®
Accuracy – Work with data from MYOB Advanced with all team members.
Smart Refresh – Any changes in data are applied to reports immediately
Consolidation – Combine data from multiple data sources
Spreadsheet updates – Changes to formulas and cells reflect immediately
Permission Control – Modify access for different users with full control over roles and permissions
Secure – Password-protect files and remove formulas used in reports to protect sensitive data.
Should I still be using Excel®?
Microsoft Excel® is a convenient way to manage your financial statements and accounting data. Using Excel® as your reporting tool allows your team members to continue using familiar software while at the same time maintaining MYOB Advanced as the ultimate source of truth.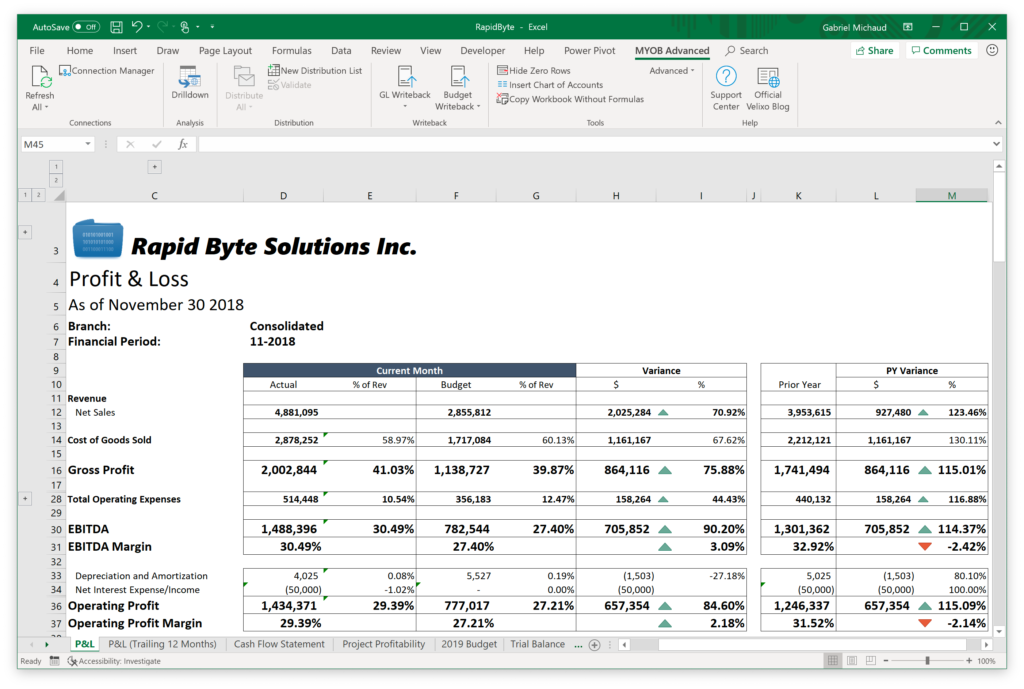 With the Velixo add-on to Excel®:
Data becomes more manageable by using familiar tools for both end-of-month and ad-hoc reporting
Reports are more dynamic and well-structured, enhancing MYOB Advanced's capabilities
Reports are more attractive and easier to read with graphics, borders, colours, graphs and conditional formatting.
You can present data across multiple tabs in one file.
If you are interested in building financial and project reports in Excel® directly out of MYOB Advanced, with live data in less than 5 minutes, our team are certified in Velixo and ready to assist.
How does Velixo work?
Kilimanjaro Consulting is proud to be Velixo's largest partner across Australia and New Zealand. To learn more send an email to sales@kilimanjaro-consulting.com or call 1300 857 464 (AU) or 0800 436 774 (NZ).