Top 5 Lesser-known features in MYOB Advanced
Get the most out of MYOB Advanced with these helpful tips and tricks
MYOB Advanced is a complex yet, powerful system; augmented with many features that can make your organisation more efficient. The standard accounting features of MYOB Advanced are well documented, but you may not know about other useful functions that can save you time. Realise your organisation's ambition and make your team more efficient than the competition, with these 5 lesser-known functions.
1. Scheduling and Automation
One of the powerful features of MYOB Advanced is the ability to schedule processes and to have them run at designated times. These schedules can be created in every Module of MYOB Advanced. Every single process can be either run immediately or scheduled to run later.
For example, in Distribution, it is beneficial to get all the shipments created by night and perhaps print the pick slips in the morning.
How do I create a distribution schedule in MYOB Advanced?
To create schedules for shipments, select Process Orders under the Sales Order module. Select Create Shipment as the Action item and click on the Schedule icon.

Select Add button to add a schedule.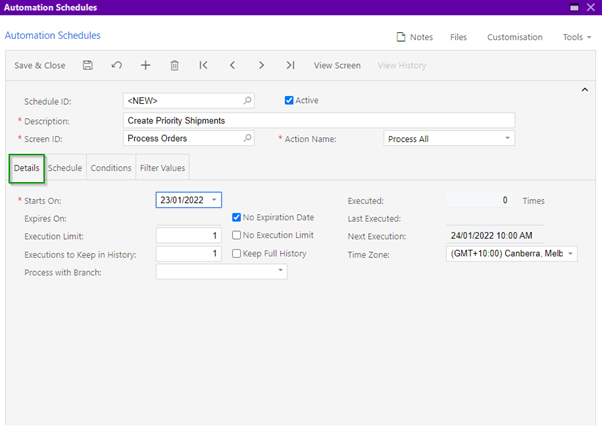 The execution limit field allows you to run these schedules many times. This is most often used in the case of recurring Bills. You can decide how much history you would like to keep and choose a specific Branch to run the schedule if you have multiple companies or branches.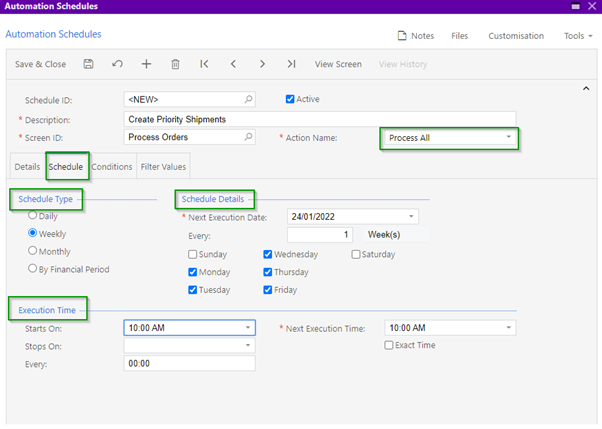 You can specify the Schedule Type, Schedule Details and Execution time. Although you can select Process All, you can also set conditions on these schedules. These conditions will allow the orders to go through the priority line.
The Filter Values tab allows you to define the required action which is relative to the schedule. In this case, it can show information such as the shipment date.
The Automation Schedules Statuses screen lists all the schedules that are currently active.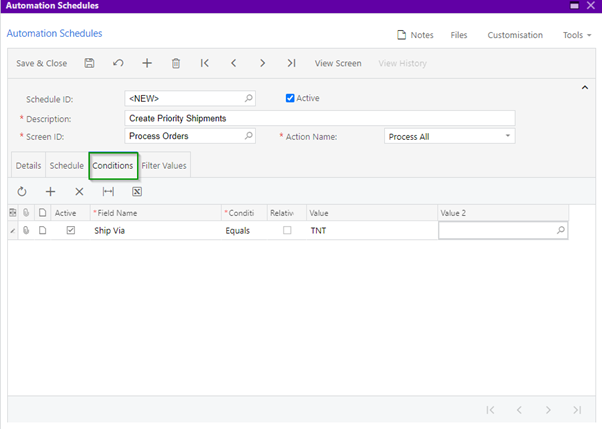 2. Side Panels in MYOB Advanced (or how to add side panels in MYOB Advanced)
Adding a side panel to any Generic Inquiry will display detailed information about each line of the GI in MYOB Advanced. For instance, in a list of purchase orders, you could show the purchase order details or display the supplier record details on the side while you are on the same screen. This is instead of having to separately go into Vendor's screen and searching for the supplier id to get the supplier details for that PO. This will save you multiple clicks and avoid you falling into rabbit holes.
As of the 2021.1 release, Side Panel functionality has been extended to include CRM, Primary Lists of Opportunities, Business Accounts, Contacts, and Cases screens. These side panels can be configured to show a wide range of information. Business Account records, Contacts, Opportunities, Sales Order information, Receivable account balance information, or Projects are all examples of what can be displayed for a Side panel on a Business Accounts screen. This information can be displayed as a related screen, a Generic Inquiry, or as a dashboard widget.
Side Panels may be one of the most underused features in MYOB Advanced, yet they represent a significant opportunity to further improve your efficiency. Read our full page of tips and tricks to learn how to get more out of MYOB Advanced.
How do I set up Side Panels in MYOB Advanced?

On the Navigation tab, click the plus sign under Navigation Targets and select the magnifying glass to get the screen selection list. Select the Purchase Order detail screen Id and assign Side Panel as the Window Mode.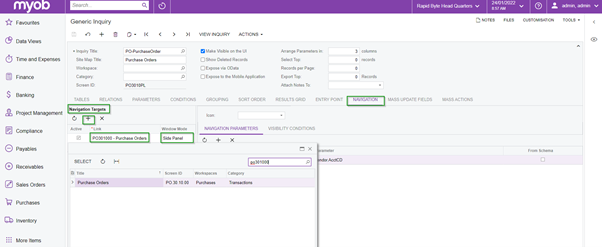 On the Navigation Parameters, set up the Order Type and Order Number field parameters.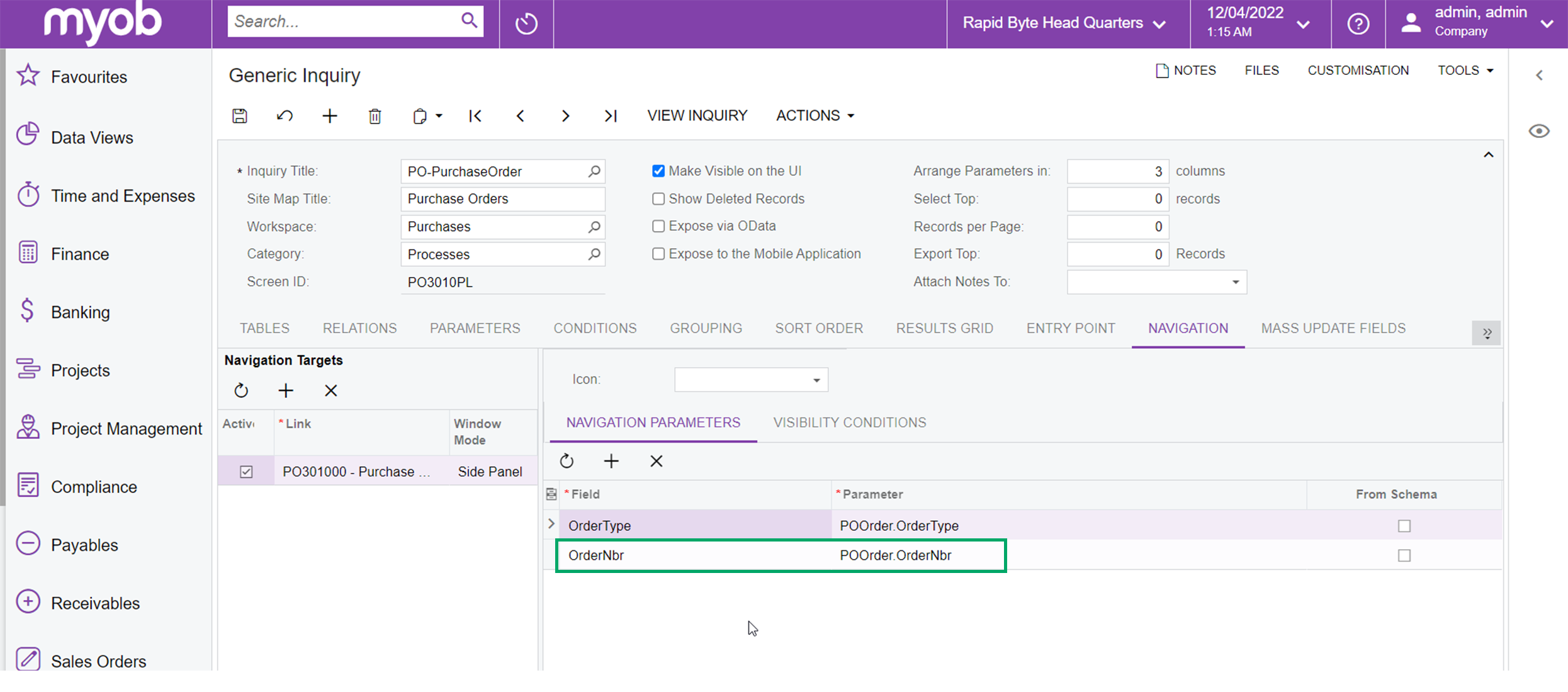 To set up the supplier side panel to Purchase Order Generic Inquiry, add the Supplier screen under the Navigation Targets and assign the Side Panel as the Window Mode. Add the navigation parameters for the supplier screen as per below on the right-hand side.

In Purchase Order Generic Inquiry, click the left arrow icon to view the side panel. You also switch between the PO details screen and Supplier details screen.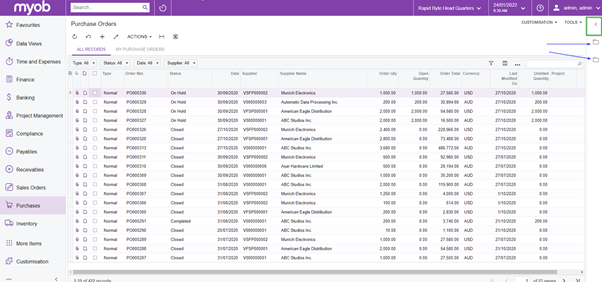 As you go down the list of PO records, the side panel view changes accordingly.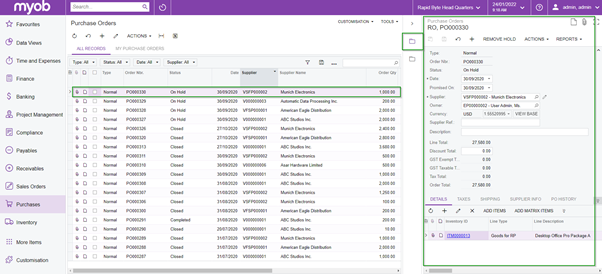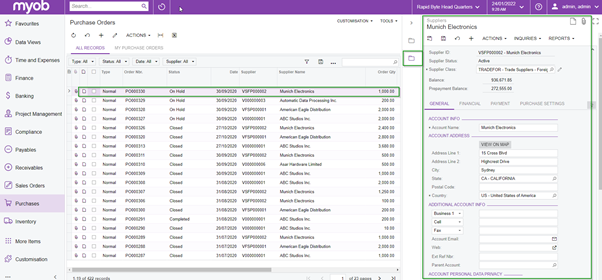 3. Speed up document creation with templates
Do you ever have similar documents you need to recreate? Most accounting work consists of repeatable transactions. Having the ability to copy or re-create previous transactions such as Bills and Adjustments is beneficial. This will save time and avoid the risk of typing something incorrectly. MYOB Advanced provides a powerful copy and paste tool and gives users the flexibility to easily create a template from any document or report. This drastically speeds up data entry while also maintaining accuracy.
Easy steps to creating templates
Templates are located under your clipboard. Select a document you want to re-create and click the copy icon. Then save this document as a template.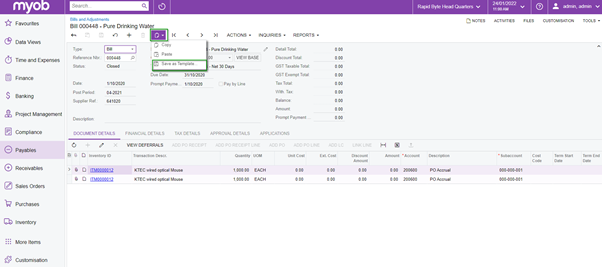 Clicking save will open the new Document template. Enter a description and click the Save icon.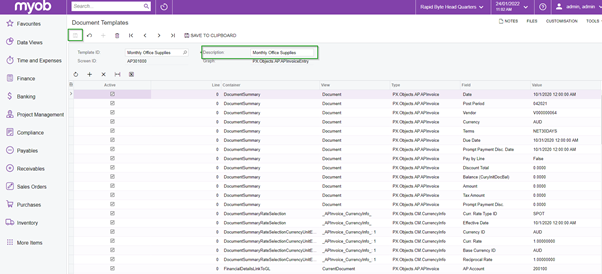 Now create a new Bills and Adjustment form and Paste from your new template (in this case Monthly Office Supplies) to automatically fill the information. You can then update the amount and set the new date.

4. Conditional Formatting for improved visibility
MYOB Advanced provides the ability to highlight different rows or cells of information within a Generic Inquiry based on their data. This is just like the Conditional Formatting setting in Excel. By highlighting certain data thresholds automatically, you are more aware of the information that matters most. Make reading dashboards and reports simple and easy by customising your GIs with Conditional Formatting.
How do I add Conditional Formatting to General Inquiries?
Go to the Generic Inquiry and select the Inventory Items. As an example, you want to highlight all the stock items with the base price over $400 to orange.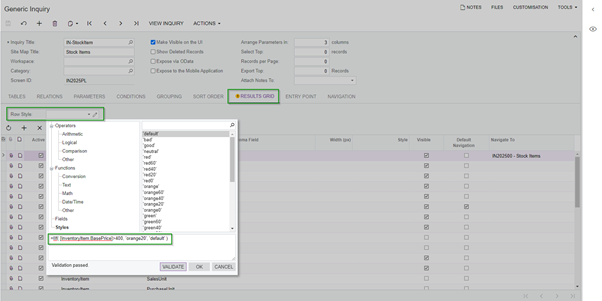 Now to the same thing but just for columns, do the following.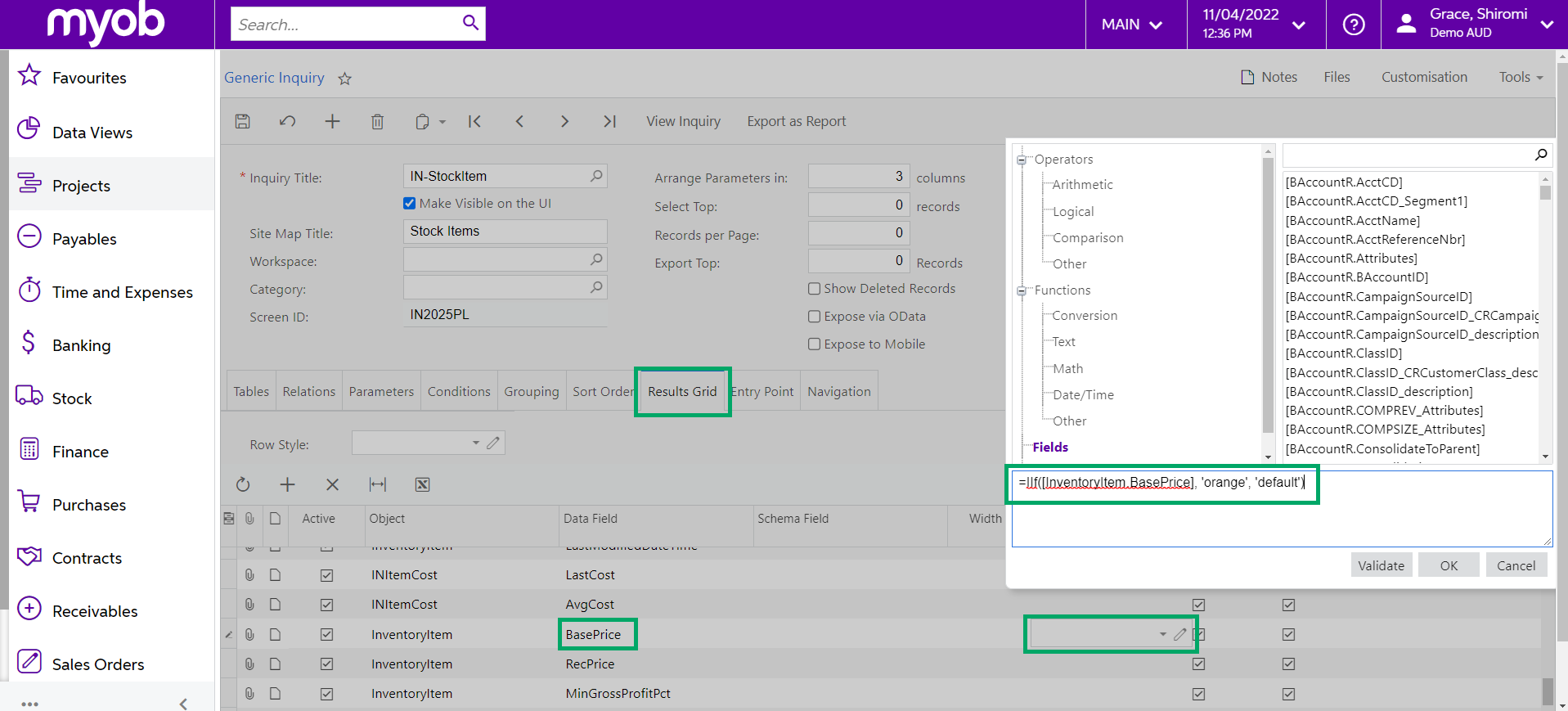 Conditional Formatting can be applied in a range of different ways. Contact our team at any time if you need something more specific to be configured in your system.
5. Filtering
Filters in MYOB are great ways to trim the fat, and only see the information you need on each screen. When you can only see the important, relevant information you immediately see the scope of your operations – and take the right action.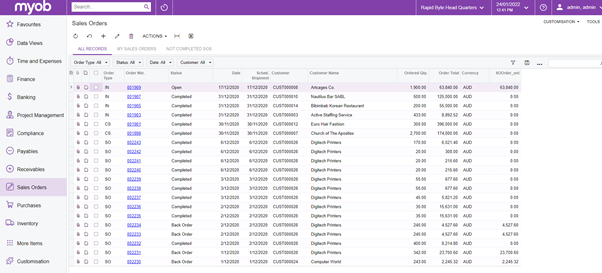 How do I engage filters in MYOB Advanced?
Here is how you set up a filter to list all the orders that are on a Backorder status.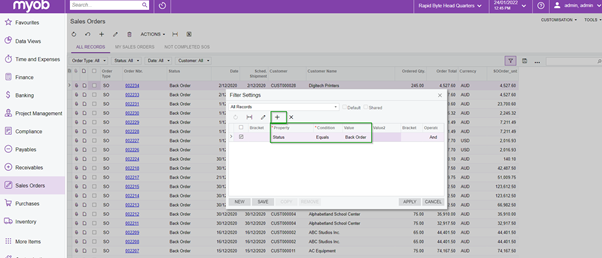 Click the Save button and enter a name for the filter. Tick the Shared tick box if you want to share this filter with other users.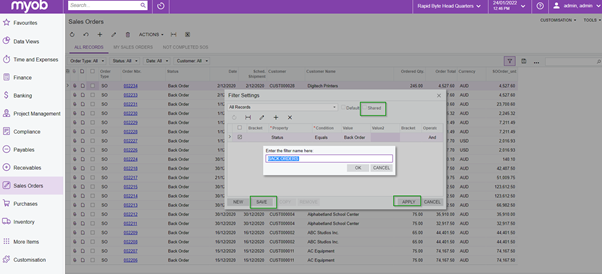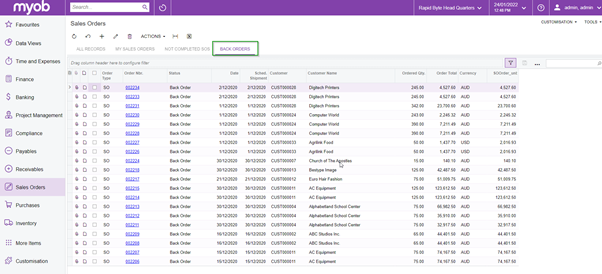 MYOB Advanced will now display all the back-order lines whenever this filter is selected. You do not have to waste time continually configuring the filter each time, simply click across to the named tabs to see the change in the GI.
It is near-impossible to fully understand the scope of MYOB Advanced, there are always new or under-used features that you can use to your advantage. By leveraging these handy features, you can become more efficient, improving your employee experience, and lifting your bottom line.
Should you Seize the Advantage at the MYOB User Groups?
There is always more to learn about your Business Management System, and you will never know what gaps you have in your knowledge until you hear how others have optimised their systems. At the User Groups, you can interact with other users and experts to learn what has worked for them and see what you can take back to your business. With a focus on the digital experience and building a unified business across finance, accounting, payroll, and workforce management systems, you will learn how to maintain your competitive and technological advantage in your market. Learn more about the MYOB User Groups here:
Kilimanjaro Consulting has a philosophy of making our clients as self-sufficient with their Business Management systems as possible. Having the right help, tools and knowledge can make the difference between a good and bad day.
If you require any assistance setting up any of these features or functions, please contact our friendly team. Send an email to sales@kilimanjaro-consulting.com or call 1300 857 464 (AU) or 0800 436 774 (NZ). To learn more about different ways to optimise your MYOB Advanced system, explore our Tips and Tricks page.