Maori Language Commission
MYOB Advanced lifts the audit capability of a Government institution to a 30 year high
The Maori Language Commission are responsible for the growth and commonplace use of the Maori language across New Zealand. After an audit highlighted significant shortfalls in their financial processes, MYOB Advanced was implemented, and has led to vast improvement in their performance.
Who are the Maori Language Commission?
The Maori Language Commission was set up as part of New Zealand's Maori Language Act (1987) to promote the use of Maori as a living language and as an ordinary means of communication. They provide education and certification for translators and interpreters, as well as policy development to further the parallel use of Maori in New Zealand (Aotearoa).
What catalysed the switch to MYOB Advanced?
Following an audit carried out in 2016, it was found that the Commission's management control environment, financial information systems and controls, performance information, and associated systems and controls were in need of improvement. Their financial reports were being produced manually, which had the potential for incorrect data and developing a lack of trust in their old system. They needed a more automated solution for producing financial statements, particularly when reporting to the board.
What changes followed the decision?
MYOB Advanced Education is a market-leading option to meet the enterprise-level accounting and financial reporting needs of education organisations. Building and managing dashboards inside the software was a key requirement, and MYOB Advanced offered this functionality. Due to the implementation of MYOB Advanced, staff have seen an increase in productivity and a significant reduction in individual workloads. This allows staff to focus on higher-value tasks and grow the influence of the Maori Language Commission.
How are they now?
After moving to MYOB Advanced, audit ratings for the Maori Language Commission have improved for the first time in 30 years. They hope to continue improving their financial performance and reporting into the future, with MYOB Advanced's capability to support them. The board also has higher confidence in their produced data thanks to up-to-date dashboard reporting.
How do I achieve a successful MYOB Advanced implementation?
A successful MYOB Advanced Implementation depends on 3 critical risks:
Software Risk
Implementer risk
Self-Inflicted Risk
You can reduce your risk by selecting the right implementation partner. Although there are many different partners to choose from, you need the one that will work with you every step of the way. Managing risk is an important part of an implementation; selecting a low-risk partner is critical to a lifetime of success with your Business Management system.
Kilimanjaro Consulting ticks all the boxes when it comes to choosing the right partner:
Kilimanjaro Consulting is the largest and most experienced implementer of MYOB's Enterprise-level business management, accounting, payroll, and workforce management solutions: MYOB Advanced and MYOB Exo. We are experienced, low-risk implementers, helping organisations improve efficiency in their businesses through the use of clever, innovative, and proven technology.
Free resources to help you further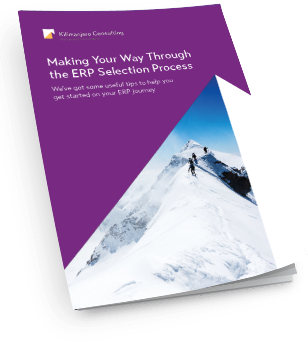 If you are ready to start your Business Management System journey, choose Kilimanjaro Consulting as your trusted implementation partner. If you don't know where to start, download our free E-Book that will take you through everything you need to consider and what to be wary of during this process.
Kilimanjaro Consulting is the largest implementer of MYOB's Business Management Software across Australia and New Zealand. We take the time to understand your business and only recommend the products that can meet your needs. To start a conversation about how MYOB Advanced can improve efficiency in your organisation, email sales@kilimanjaro-consulting.com, or call 1300 857 464 (AU) or 0800 436 774 (NZ).