What to Expect From Your Enterprise Partner
A guide to selecting the right implementation partner for your business
Editors Note: This article was originally published in April 2016 and has been reviewed and updated in order to provide the most relevant and accurate information.
For small and mid-sized businesses, it's not matter if they will need Enterprise Resource Planning (ERP) software but when. ERP systems offer businesses a centralised hub to manage data from a variety of company departments and functions. Selecting the right enterprise resource planning (ERP) software is important, but an equally important decision that is often overlooked is the choice of your enterprise partner.
Businesses should be aware of the "implementer risks" before making a large investment. With the right partner, ERP implementation should flow into ongoing assistance and Business Process Improvement (BPI). Outlined below are the key considerations businesses should look for in their enterprise partner.
1. Experience
Your enterprise partner should have rich experience, coupled with the right attitude. Stick with the "tried-and-true" rule. Experienced partners are usually better qualified to provide you with knowledge and support. Newer, inexperienced partners are still cutting their teeth. You may be paying for their education. Experienced partners will know the strengths and shortcomings of the ERP system and won't be shy to convey this to you.
As new partners compete to gain market share, they are tempted to quote low. You may gain a financial advantage by opting for newer, less savvy partners but it is often a case of "penny wise, pound foolish". ERP implementations have a habit of blowing the budget, and this is more likely to happen with a less experienced partner than with an experienced one. Your investment includes the "insurance premium" you pay to reduce the risk of a blow-out.
It is always safer to select a partner with proven ERP industry experience and a positive reputation, giving you peace of mind.
Kilimanjaro Consulting has over 16 years of proven experience across a range of mid-sized companies. Our company operates nationally with offices across Australia and New Zealand. Our Testimonials indicate that we are a trusted and reliable enterprise partner.
At Kilimanjaro, our employees are equipped with the skills to guide you through the various phases of the lifecycle of MYOB implementation (see graph below). We have a combination of skills in business consulting, accounting and IT. Read on the benefits of working with the number one partner.
2. Structured Methodology
Some enterprise partners lack a structured implementation, support or BPI methodology. Good implementers will follow a systematic framework which will guide clients and the implementer step-by-step through the process. Without a structured methodology, the speed and sequence of steps will be confused. This results in confusion and dissatisfaction. A methodology incorporates the lessons learned from past experience, ensuring that the same mistakes cannot be made again.
At Kilimanjaro, we follow a systematic and structured framework developed over 16 years, to guide our current and prospective clients through the implementation phase and beyond. Our goal is to improve efficiency in our clients business through the use of clever, creative and innovative technology.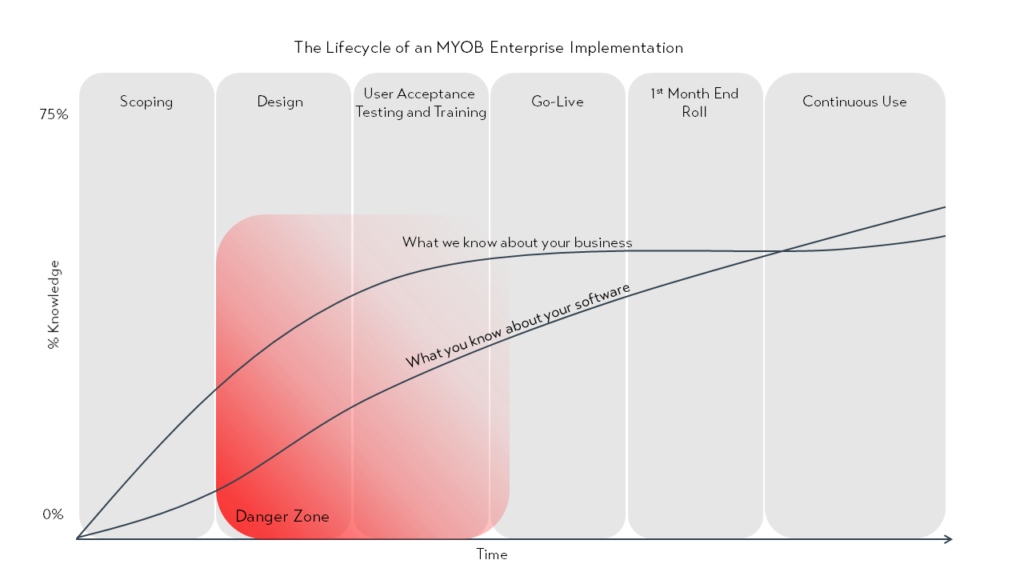 3. Training and Support
The right enterprise partner should provide you with continuous training and support. Make sure that trainers have sophisticated education experience and are qualified. Using a technical person to do training does not always work. Even post-implementation, when getting help-desk support, the person delivering the support should be teaching you. A teaching and training support network with refresher courses and continuous learning for your business is important.
Kilimanjaro offers comprehensive training courses in a variety of areas including:
Attendees are provided with on-site or classroom-style sessions presented by qualified trainers. This allows for face-to-face interaction and a practical learning experience. Remote training is also available to suit individual requirements. Kilimanjaro has also developed an online platform for everyone who wants to accomplish training at the convenience of their own desk Up-to-date manuals are provided, and call-in support is easily available. Every interaction with the support team is used as an opportunity to train users. Our team is equipped with the skills and knowledge to improve efficiency and maximise user experience within your ERP system
4. Accounting Skills
Due to the nature of most ERP systems, accounting skills and knowledge are essential of a good enterprise partner. Partners that lack accounting skills will struggle to provide even basic support to clients.
As the first and longest-standing Diamond partner in the MYOB partner channel, we at Kilimanjaro differentiate ourselves from other partners. Our experienced professionals are equipped with in-depth accounting knowledge and skills which can guide you through the most complex technical and accounting problems. We have access to both internal and external qualified accountants to advise when required.
5. Business Process Improvement (BPI)
Continuous improvement in any company is as important as a new system.
Companies that do not engage in BPI generally lag behind their competitors. Continuous improvement means identifying, analysing and refining your own processes.
Not only will good partners understand the software, they will deliver the thought leadership needed to help improve your business. The right enterprise partner should deliver BPI to leverage the ERP solution. They should work to build employee skills to improve procedures and workflows. The adoption of BPI has a direct positive outcome for clients and an overall user experience, as well as an increase in employee performance.
At Kilimanjaro, we are forward thinkers. We utilise a phased approach to continuously learn about our clients' business to optimise efficiency. We provide ongoing technical support from qualified experts. Kilimanjaro uses BPI to identify areas of improvement in your business and to show you new technologies that can benefit your overall strategy. This is particularly important in an ever-more-connected world. For more information about BPI, learn the benefits and Kilimanjaro's approach here.
6. Relationship with Vendor
One of the most important factors to look for in an implementation partner is the long, ongoing relationship between a partner and its vendor (the Software house). An enduring relationship indicates trust and continuing communication.
As the first Diamond partner in MYOB's partner channel, Kilimanjaro has a proven established relationship with MYOB. We are proud to be directly engaged with the MYOB product managers as we have the opportunity to influence the direction of product development as well as share feedback from our clients who matter.
7. Integration Skills
The ability to integrate multiple systems is becoming as important as specialised technical knowledge. Your enterprise partner should be able to provide connected services by being able to integrate "best of breed" software to your core ERP system. We have countless examples of clients of being badly "burned" by purchasing so-called "integrated" products from high-pressure sales people, only to find it wasn't quite what they expected. Make sure you speak to a trusted advisor if you are considering a third party product.
8. Team Stability
Businesses need to be aware of the risks posed by an implementer leaving mid-project. Look for a stable team when selecting your partner. There should be a high level of cohesion and low staff turnover.
Maintaining a positive workplace culture is a significant goal at Kilimanjaro.
Our unique and tribal culture creates a positive team environment. Our employees value our clients, building long, ongoing relationships, in the spirit of a true alliance. Our team is stable. This ensures low risk. Our clients can contact their implementer, not only during the implementation process but post Go-Live as well.
9. Hunters or Farmers
Your software is a platform for growth for your business. Businesses do not change software often (maybe every 7-10 years), so a long-term partner is essential.
Those partners who merely provide implementation services and do not nurture their clients in growth and support are known as "hunters".
"Farmers", on the other hand, are those who support the growth of businesses over the length of a relationship.
At Kilimanjaro, we pride ourselves on being "farmers not hunters". Having sown the seed of efficiency improvement, we are here for the long haul, nurturing through good and lean times as your needs evolve. We keep pace with new technology that can benefit your business.
Enterprise Partner Checklist
In addition to the characteristics discussed here, also look for the following:
Dedicated support desk
Business analyst on team
Training course portfolio
Information about new versions
Development and integration capabilities
Includes Payroll or Employer services in their portfolio
"Critical Mass" of qualified consultants
Looking for a Partner you can trust?
Switching to Kilimanjaro as your enterprise partner is simple. Our Connected Services Team and Business Process Improvement department will guide you through every step of the way. There are many differences that help us stand ahead of other software partners:
Our people are our greatest asset. We're sure they'll be yours too.
For more information about your ERP selection process, download our Free E-book here or download our risk flyer below.
If you have any more enquiries, please email us at sales@kilimanjaro-consulting.com, or give us a call at 1300 857 464 (AU) or 0800 436 774 (NZ).