expensemanager – Expense & Spend Management Software
No more paper receipts, credit card statements or supplier invoices. Automate each step of these processes. Work anywhere, anytime from any device.
Smart automation for all spend. One platform to manage expenses, supplier invoices, purchase orders, and travel spend. All with budget visibility and seamlessly integrated with MYOB Advanced and MYOB Exo.
About expensemanager
Designed, developed and supported locally in Australia, expensemanager is a service-first spend management company that builds software designed to revolutionise business processes. As a company, we are passionate about what we do and how our technology can better support our client's success, such as seamless integration with MYOB Advanced and MYOB Exo.
Why do leading brands love expensemanager?
One seamless platform offering smart automation for all areas of spend
Trusted by leading finance teams and loved by users
Live and local support and committed to customer service excellence
Seamless integration with leading ERP systems like MYOB Advanced and MYOB Exo
Continuous innovation and enhancements with an agile and local development team
Low cost solution that has been proven to boost ROI effectively and efficiently
Seamless integration with all MYOB Products
expensemanager integrates with both MYOB Advanced and MYOB Exo to make your Accounts Payable even easier. Connections can be via cloud API's or simple, flexible CSV files, with custom connections available that make this integration second to none.
Support of all MYOB versions and products
Accounts, items, customers, suppliers, locations and departments
Export of all receipt images as a PDF file along with a direct link back to expense for detail view and audit history
Replicating existing company structure as it appears in MYOB
Enhances functionality with reporting on budgets and tracking spend with reporting via expensemanager and exportable to excel
Option to export reimbursable or non-reimbursable expenses as either a draft G/L or a bill
Easy retrieval of historic exports with common reference fields between systems
Powerful products and features
Our products and features allow businesses to harness the power of automation through our industry leading software whilst integrating directly with your MYOB system. Our modules work together to bring all your spend processes in one powerful platform. Say goodbye to maintaining multiple software solutions. Take all modules or just one, the choice is yours.

Credit cards
Import any credit card type – company, business or personal cards and claims are created automatically

Cash claims
Easy and quick cash claims can be created from mobile app, desktop or from personal card import

Mobile App
Snap receipts on-the-go, create expenses and approve claims on any mobile device

Smart receipts

Receipts on the go with OCR technology to auto-scan, fill expense details and smart match to expenses

Digital receipts

Hands-free receipts – as a result of no paper, no emails, no scanning. Receipts direct from merchant to expense

Invoice scanning

Supplier invoices are scanned, data is extracted and payment requests automatically created – eliminating manual entry
Supplier database

Invoices are validated when received and alerted to A/P if the supplier is unknown. Therefore only valid suppliers are approved and paid

Purchase orders

Take our optional purchase order that integrates with our supplier module for a complete procure-to-pay solution

Email alerts

Configurable reminders for submit and approval of expense claims keeps the process flowing quickly

GST/FBT wizard

Auto allocation to general ledger code for FBT reporting and GST options at expense type level

Receipt vault

User unique receipt vault for the storage of all documents, including PDF. With auto clearance of receipts after claim submit

Approval workflow

Configurable approval workflow options with both multi-level and approval limits
Join brands that use expensemanager
Yum! Restaurants (KFC)
Guide Dogs
Ronald McDonald House Charity Australia
Peoplebank
Ardex
QSL
Many, many more
Small, growing and large companies all rely on expensemanager to manage their spend


"When we looked for an expense solution expensemanager definitely ticked all the right boxes. The implementation was so quick and they did all the work. There was instant take up from our staff, it's so easy and they can do it on the go. We would recommend expensemanager to other businesses"
Janice Bert, Financial Controller Rockend Software, Sydney
"The expensemanager invoice module helped us to automate our accounts payable process and be more efficient. We saved hard dollars in printing, filing and storing invoices and soft dollars in man-hours. The return on our investment was absolutely there"
Gavin Finn, Senior Financial Accountant Peoplebank, Sydney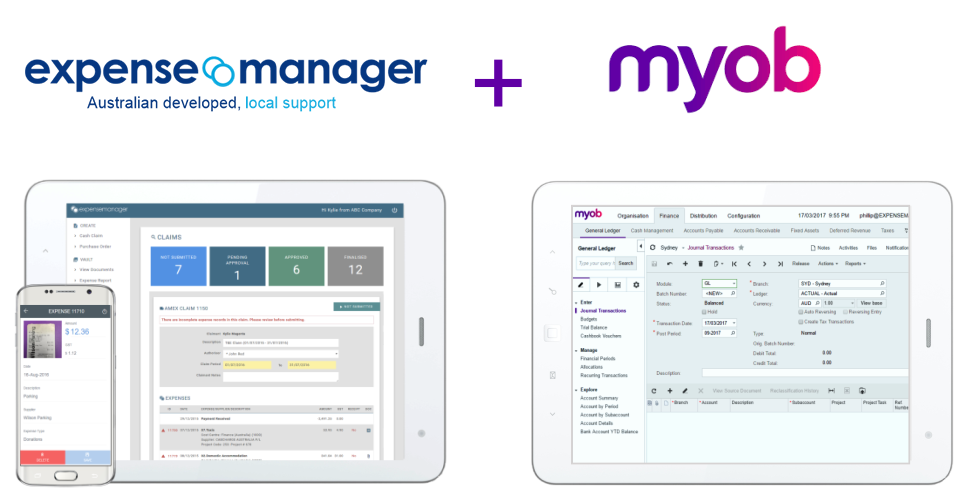 Thus, approved data in expensemanager is sent to MYOB. No more manually entering expense claim and invoice information or clunky exporting, it flows through to your accounting software.
To find out how expensemanager can benefit your organisation, email sales@kilimanjaro-consulting.com, or call 1300 857 464 (AU) or 0800 436 774 (NZ).