Extend the Scope of your Business Management Software
Best-of-breed add-on solutions can extend the functionality of your system, with specialised features to meet your needs.
With the growth of technological innovation, there has been a proliferation of 3rd-Party add-ons or companion products for MYOB Advanced and MYOB Exo. Like a downloadable app for your phone, new and competitive products have become available within the ERP space at much better price points than previously.
The best-of-breed add-on market has evolved because a single standalone Business Management software system cannot fulfil your organisation's needs. Even when customised and properly configured, you may still require sophisticated and specialised functionality to fulfil your industry's or unique business needs. Add specifically developed MYOB add-on products to your system and create a connected software ecosystem.
These add-on products should be best-of-breed solutions, built to integrate with your Business Management software, boost efficiency, and deliver actionable data. Do not just choose any software that is available on the market. The software developer, ongoing support, and system longevity are factors to consider, as is the size of the installed base. Add-on products can also move your on-premise system into the cloud, accessing your data anywhere, anytime.
What are the best-of-breed add-ons for my industry?
Each add-on solution is specifically developed to solve a problem for its target market. Whether you are looking for better stock management or a debtor management solution, the informed Sherpas at Kilimanjaro Consulting can help you select the best solution to meet your specific business needs. Explore the range of different add-on solutions and the problems they solve below:
Inventory – Better Stock Management, Refills, and Cashflow
Netstock
With the proper inventory in the right place at the right time, growing your business has never been easier with Netstock. This affordable cloud solution helps companies produce new orders in minutes, minimise stock-outs, and reduce excess inventory.
Key features of Netstock are:
Dashboards to manage your stock by exceptions
Item classifications to focus your resources and act quickly
Forecasts to easily visualise future stock levels
Place orders at the click of a button
Ability to procure centrally and distribute to other locations
Netstock can also be leveraged by manufacturing companies. It helps keep track of your raw materials and produces orders to meet your customers' needs. Order the right raw materials at the right time to fulfil the forecasted demand for your finished items.
Ensure raw materials and components have the appropriate safety stock, considering supplier delivery and forecasting the performance of finished goods.
Factor in the risk of inaccurate forecasts for the next level-up products in the BOM structure and avoid running out of components and raw materials needed to keep production running.
Flag phantom assemblies make the production process more visible to blow through that demand without building stock.
Explodes demand from finished goods forecasts through multi-level bills of materials to components and raw materials.
Shows dependent demand consumption by contributing finished goods and total for the raw material/component.
With Netstock, you can improve cash flow and reduce wasted money in slow-moving stock. Always have the right items on hand when your customers need them. Netstock enhances MYOB Advanced's Inventory Management module and the core MYOB Exo Inventory functionality.
Find out more about NETSTOCK's Inventory Management capability here.
Distribution and Warehousing – Better Picking and Packing Efficiency
eveXso
eveXso is a Warehouse Management Solution (WMS) that monitors your inventory for more efficient distribution. With eveXso, you can add bin management to MYOB Exo, extending the scope of the system for warehouse management. MYOB Advanced Wholesale Distribution combines with eveXso to build an efficient warehouse process. It combines user-centric design, familiar devices, and cloud technologies to deliver a new style of WMS embraced by both users and management. Users love the speed and simplicity of the interface; Management like real-time issue reporting and information to drive efficiency.
eveXso improves the service across your organisation by:
Grouping operators into teams or shifts – you can distribute work evenly across the teams or allow specific teams to deal with exceptional customer groups.
Allowing the re-deployment of resources to where they are needed within the supply chain.
Flagging issues in real-time, allowing faster investigation and resolution of those problems.
Filtering order options by Company, Sales Team or just your orders. You can filter orders by date and range or only see orders with issues.
Colour coding so that the progress of the order or any issues are immediately clear.
Immediately notify staff when errors crop up without manual input from the warehouse operators, then answer or communicate with the customer quickly.
Consider a Warehouse Management System (WMS) to streamline your processes and lead to a paperless warehouse. eveXso's warehousing functionality helps your organisation operate faster, easier, and smarter.
TIG Freight
TIG Freight is a cost-effective shipping solution that prioritises customer experience and satisfaction. It is a full-service freight solution that helps you efficiently manage shipping and distribution across a range of freight management models. You can use the TIG Freight service to streamline a smarter logistics process, leaving your team free to focus on your core operations.
Part of the TIG Freight offering includes OpenFreight. OpenFreight is a purpose-built shipping integration that links your warehouse to your distribution network, with real-time data flowing back into your ERP.
With TIG Freight, you can expect to:
Process a higher number of orders per day, improve delivery to your customers,
Make more informed decisions and better manage supply chain operations,
Receive customised, relevant, and accurate reporting to help identify and act upon areas for continuous improvement,
Reduce human and manual key-in errors to less than 0.1%,
Get a complete view of the entire supply chain in real time,
Avoid getting bogged down in the details of your freight; focus on your core operations.
BlueEchidna
BlueEchidna provides a one-stop solution for supply chain and warehouse management. With a local development team in Hobart, Tasmania, and distributors across Australia, Blue Echidna is focused on improving warehouse efficiencies by providing several warehouse-friendly modules and solutions.
Kilimanjaro is a proud distributor and implementer of the many Blue Echidna solutions available, which include:
Delivery Sign-Off
Goods Receipted
Picking
Stock Management
Stocktake
Mobile Merchandising (in development)
Warehouse Management (in development)
Find out more about BlueEchidna's warehouse and supply chain management functionality here.
Manufacturing – Helping you Deliver On Time and In Full
MORE MX
MORE MX began as a bespoke manufacturing add-on to manage manufacturing operations and improve visibility. It has since been developed into an add-on solution specifically for MYOB Exo (and later MYOB Advanced) to assist in planning and executing your manufacturing plan.
Demand-based work order generation.
Automatically generate backwards scheduled work orders to fulfil minimum stock, incoming sales orders, or Multi-level Bill of Materials (BOM) components required for other jobs.
Full-featured product recipe configuration
Build dedicated product routes and bills of materials that map to your business for anything from single-run custom jobs to hierarchical multi-level BOM complexity.
Drag and drop multi-routing step capacity planning.
Automatic colour highlights mean you know what's really going on at each stage of your busy production environment.
Delivery In Full, On Time (DIFOT).
Whether delivering to customers on time or ensuring production orders are completed with the most efficient use of finite resources, MORE Manufacturing meets these needs and means that the real-time situation can be managed and balanced to optimum levels.
Accounts and Finance
ezyCollect
ezyCollect is an all-in-one Accounts Receivable platform to help growing businesses recover cash faster, without the hassle. Improve productivity and customer relationships with tools designed to streamline and simplify the entire invoice-to-payment process.
Streamlined payments and processing
Give your customers a streamlined payment experience and more accessible payment options so that interacting with you becomes a pleasure.
Debtor transparency
Use AR dashboards to get a company-wide view of money owing, or drill into each customer's account to get the details.
Improve productivity and efficiency
Achieve more with technology designed to take care of routine AR tasks, so your team can focus on what matters most.
Recover your money faster
Slash your overdue debtor days with a disciplined collections system that teaches your customers to pay on time.
SimplyPaid is the online payment hub for ezyCollect. With an enhanced 'Pay Now' button on invoices or statements, it can supercharge your collections. This feature enables your debtors to pay a bulk selection of open invoices all at once and online. SimplyPaid empowers your customers to settle any outstanding invoices conveniently. The easier it is to pay you, the quicker the funds roll in.
Learn more about automatic debt collection and simple payments with ezyCollect.
ProSpend (formerly expensemanager)
ProSpend (formerly expensemanager) gives you smart automation for all your spending. One platform manages expenses, supplier invoices, purchase orders, and travel spending—all with budget visibility and seamless integration to MYOB Advanced and MYOB Exo. Extend the capability of your MYOB Advanced and MYOB Exo system by automating invoicing, expenses, and spending.
Designed, developed, and supported locally in Australia, ProSpend is a service-first spend management company that builds software to revolutionise business processes. As a company, ProSpend is passionate about what they do and how the technology can better support our client's success, such as seamless integration with MYOB Advanced and MYOB Exo.
The features of ProSpend that can help your organisation to become more efficient are:
The ability to import any credit card type – company, business or personal cards and claims are created automatically,
A mobile app to snap receipts on the go, create expenses and approve claims on any mobile device,
OCR technology to scan Supplier invoices. Data is extracted, and payment requests are automatically created – eliminating manual entry.
Invoices are validated when received and alerted to A/P if the supplier is unknown. Therefore, only valid suppliers are approved and paid,
A configurable approval workflow option with both multi-level and approval limits.
Find out more about OCR, automation and Accounts Payable with ProSpend.
Dataline
Automate your Accounts Payable and process invoices faster with Dataline. Since 1987, the Dataline Group has been at the forefront of making accounts management easy for organisations across the Asia Pacific region. Dataline is committed to providing the best, most efficient market solutions, whether that is designing and building its services or partnering with some of the world's leading accounts processing suppliers to bring their products and services to local markets. Dataline has made efficiency easy for 350 companies, from major banks and government organisations to small and medium organisations. Auckland-based MOTAT was able to go paperless and move its entire invoice process online by integrating Dataline with its business management platform.
A Simple Three-Step Process
Invoice Capture: Automate your supplier invoices to be emailed to our system, and our intelligent software, backed by our bureau staff, will ensure accurate, straight-through processing.
Invoice Approval: Invoices are matched to purchase orders, and customised workflows send emails seeking approval to review invoices on a secure platform.
Invoice Ready for Payment: Invoices posted for payment in your accounting system, invoices securely stored for fast search retrieval, or our platform to generate discount offers to suppliers for early payment.
Find out more about Dataline here.
Business Intelligence and Reporting – for better data visibility and decision-making.
Phocas
Phocas Software is a business intelligence company that lives by its 'get results' mantra. Phocas provides a web-based solution that allows users access to critical data on any internet-enabled device. Phocas seamlessly integrates into your ERP system to unleash your data's full potential, whether you are using MYOB Exo or MYOB Advanced.
The software does much of the heavy lifting so you can present your results on interactive dashboards and share knowledge with colleagues and customers. By using a visual presentation, more people understand the numbers. Phocas allows you to immediately see the big picture and drill into the underlying details.
Phocas is useful to visualise and understand your data, especially if you are not an active user of your company's Business Management system. Give your entire organisation the power to act on the insights from your system with an easy-to-use, collaborative, cloud-based platform.
Click here to learn more about visualising and communicating your data with Phocas.
Velixo
Velixo is an Excel-based tool that seamlessly connects MYOB Advanced with MS Excel® and gives MYOB Advanced users flexible financial reporting at their fingertips. Microsoft Excel® is a convenient way to manage your financial statements and accounting data. Fundamental changes to Microsoft Excel™ have provided rich ecosystems for developers to create solutions. In 2010, Excel was expanded to support a million rows on a single worksheet. The introduction and subsequent upgrading of Dynamic Arrays in Excel 365 was a ground-breaking move in working with data. Using Excel® as your reporting tool allows your team members to continue using familiar software while at the same time maintaining MYOB Advanced as the ultimate source of truth.
The Velixo Excel® add-on provides more than 60 functions to pull through general ledger and project data from MYOB Advanced. It speeds up financial reporting by giving you instant access to real-time financial information in your business. Whether you are an accountant or a finance manager, Velixo has you covered when building complex Excel® reports.
Velixo is the missing link between MYOB Advanced and MS Excel, meaning you get the best of both worlds! Supreme reporting functionality and ease of use are at your fingertips. Velixo is an add-on to MYOB Advanced and MS Excel, allowing the live flow of data from the General Inquiries in your ERP straight through to your spreadsheets.
Find out more about Velixo and how to better leverage Excel in your reporting here.
BI4Cloud
BI4Cloud is business reporting in the cloud for MYOB Exo. The effortless business intelligence enables you to tailor reports and charts to meet your needs without programming. The system includes over 60 template reports that you can tweak, export to Excel, share and email. Empower your team to discover trends and deal with issues immediately and easily. BI4Cloud will save your business time and money as it can be implemented in less than 1 hour and is easily accessible with web-based training and on-demand consultancy.
Out of the Box Intelligence: Just plug into your MYOB Exo data for instant results.
Dashboard to Detail: Spot trends in high-level and dashboard reports, then drill down to detailed transactions to investigate the cause.
Prebuilt Reports to get you Started: Get up and running fast with many prebuilt reports.
Available in the Cloud from any Browser: Access your MYOB Exo data from any browser anywhere.
Simple to Create your Own Reports: Users with no technical skills can easily tweak the standard reports, filter, change dimensions or create their own.
Schedule Reports to Auto Email: Save time and effort by having reports and alerts automatically email users daily, weekly, or monthly.
Customers with Problems find Solutions: BI4Cloud built for the real world
Learn more about BI4Cloud, and how you can simply tailor your reports and charts here.
e-Commerce – sell to your customers at anytime
Dealers Online
Dealers Online is a live, web-based inventory portal for online Business-to-Business transactions tightly integrated with MYOB Exo. If your customer has done business with you before and is set up as a Debtor in your Exo system, this Webstore is the most powerful you will find in its class. It gives customers the power to view up to date stock information, view their account details, and place orders based on individual contract pricing rules – all without your sales team having to lift a finger. Customers on stop credit or over their credit limit are automatically identified in real time.
When using the Dealers Online webstore, your customers can:
View your product catalogue online
Check stock levels in real-time
See incoming or available stock information
OCI punchout functionality
Place sales orders
Track existing orders
View their previous transactions
View their account, outstanding balances, and other details, or
Read about specials or new incoming lines via the "Company News" section.
Dealers Online is an extension of MYOB Exo and is fully integrated into your database. This integration means that your online portal is always up to date, as data feeds directly from MYOB Exo. Your customers are not only seeing your up-to-date data through the portal, but their buying behaviour will also write back into MYOB Exo, updating numbers across your entire database. Orders placed will instantly appear in the Sales Order screen and can be processed or dispatched by your warehouse within minutes. MYOB Exo can also be set up to automatically notify the customer via email that the order has been placed or dispatched.
Dealers Online is ideal for MYOB Exo users in B2B stock-based wholesale businesses with a high volume of sales and multiple locations. It is equally suitable for smaller B2B businesses that need to transact online.
Find out more about how you can better sell to your existing customers with Dealers Online.
SynKit – The synchronisation tool for MYOB Exo
You may have additional requirements above and beyond the add-ons listed above. For MYOB Exo users, SynKit is a tool developed by Kilimanjaro Consulting to synchronise the data between your Exo database and cloud-based web applications. You can now leverage powerful best-of-breed solutions that were not designed to integrate with MYOB Exo and benefit from improved efficiency. With SynKit, you can:
Automate tedious processes
Remove the manual labour of data entry
Provide regular data updates to your system and team
Seamlessly integrate data between systems
SynKit can streamline processes, save you hours a day of manual work and open up transparency within your organisation by pushing and pulling the data for you. This means your whole team has access to the right information at the right time. If you use the following applications but cannot integrate your data with your ERP system, consider MYOB Exo and SynKit:
Hubspot
Salesforce
AroFlo
simPRO
SmartFreight
Woo Commerce
Magento
Shopify
Find out more about leveraging the data from web-based applications with SynKit.
What are the next steps to enhance my software?
As your company grows it becomes more complex; it is important to always look for ways to improve your efficiency. To stay ahead of your competitors, you and your team need to have 24/7 visibility of your business's operations and data. Integration of these add-on products is the key to building a fully Connected Business. With integration you remove the need to manually re-enter data across disparate systems, and free up your team to focus on more important tasks.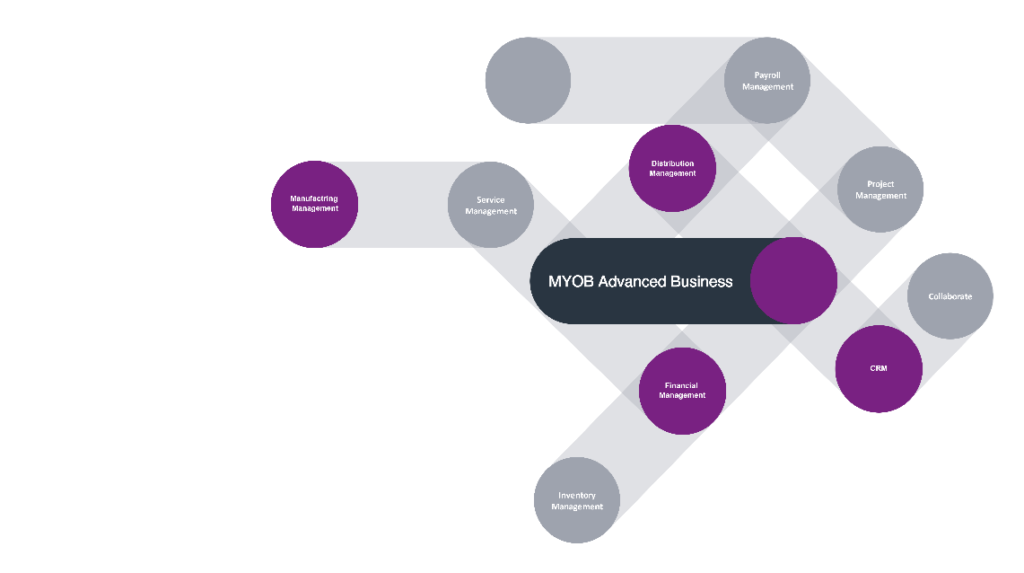 Integrated, best-of-breed add-on solutions can extend the functionality of your system, with specifically developed features to meet your needs. If you are interested in extending the scope of your Business Management software, then talk to our expert team. We can understand your needs and can recommend a solution from our network of solution partners. Send an email to sales@kilimanjaro-consulting.com or call 1300 857 464 (AU) or 0800 436 774 (NZ) to learn more about how these solutions can improve efficiency in your organisation.