MYOB Advanced & Excel
Harness the full power of MSExcel in MYOB Advanced
Regardless of how much time, resources and money you invest in your ERP implementation, Microsoft ® Excel will always have a place in your organisation. Hence, MS Excel® is a fantastic tool for entering, calculating and analysing financial data. Rather than try to replace it, it makes sense to harness the full power of MS Excel®.
MYOB Advanced (powered by Acumatica) is fully integrated into MS Excel®, therefore, it has a range of inbuilt functions that can save time and money for your organisation.
Easily upload records to MYOB Advanced
Data in MS Excel® or CSV format can be uploaded as line records into transactions such as bills, journals, etc. Transactions with fixed or complex allocations can be prepared in MS Excel® using a predefined template, for example, to apportion expenses.
Benefits: Fast track data entry while minimising data entry errors.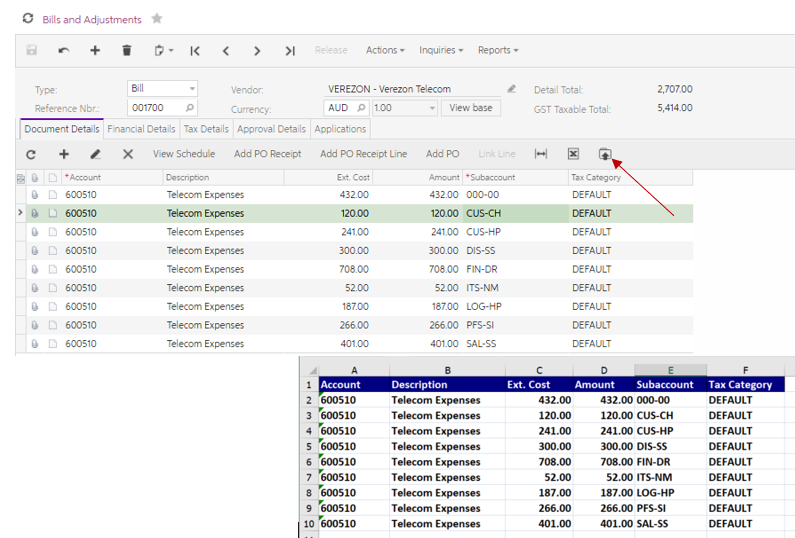 Export records
Line records within transaction or inquiry screens can be instantly extracted for analysis using the Export to Excel button. A file with all the visible fields on the grid including the headers and parameters used is created in xlsx format to solve common queries.
Benefits: Simple to use context-sensitive reporting. This file can subsequently be used as a source for importing data.


Import scenario
The Import Scenario function allows users to synchronise data between MS Excel® and MYOB Advanced. Import scenarios are commonly used to load master files and transactions. Or, to manipulate existing data in bulk like changing terms on a range of customers. Fields between the spreadsheet and the data in MYOB Advanced are mapped accordingly. As data is imported, it is validated to preserve data integrity throughout the process.
Benefits: Eliminate time-consuming data entry and minimise data entry errors.
Export Scenario
Export Scenarios allow users to extract data from MYOB Advanced to MS Excel® in a user-defined format. Where a report or inquiry screen is missing needed information, an Export Scenario may be an ideal way to extract data without the need to build complex or expensive reports.
Benefits: Fast access to large amounts of customisable data to suit requirements.
Generic Inquiry
A Generic Inquiry is a tool that allows users to build intricate queries to isolate selected data for those without programming skills. As a result, generic inquiries can be used to filter, sort, calculate, aggregate and summarise data in list form which can be exported to MS Excel®. To help you analyse and interpret important information captured in MYOB Advanced, consider our Generic Inquiry Writers Course.
Benefits: You can build sophisticated reports to suit requirements.
OData
Simply put, Odata (Open Data Protocol) is a live link between MYOB Advanced and MS Excel®. An OData feed in MS Excel® can seamlessly source data directly from MYOB Advanced using the framework of a Generic Inquiry. The spreadsheet can be refreshed to ensure data is always up to date with current information.
Benefits: Give users access to data without having to log into MYOB Advanced thus saving user licence numbers. Reports within Excel can be highly customised to include graphs & pivot tables without needing a working knowledge of MYOB Advanced.
Report Designer
In most organisations, it is common practice to run reports in their ERP. Open them in MS Excel® and, using a text to column wizard, separate the data into columns. This is because most report designs look "pretty" on paper, screen or PDF. They are not necessarily built to be opened in MS Excel®.
Benefits: The Report Designer in MYOB Advanced eliminates the time consuming & repetitive process by allowing users to embed the column structure within the report that is only called upon when it is pushed to MS Excel®.
Need fast access to data, want to cut down on time-consuming tasks or the ability to build sophisticated reports? Microsoft ® Excel and MYOB Advanced are a perfect pair.
Velixo
Velixo was built from the ground up for MYOB Advanced, by MYOB experts. Their reports are the only reporting tool of its kind designed exclusively for MYOB Advanced. Above all, Velixo used their extensive experience with MYOB to craft a user-friendly MS Excel® plugin. Finally, it is lightning fast and leverages the unique capabilities of your cloud ERP. Contact us today for more information about how MYOB Advanced is helping more and more growing businesses thrive.
If you have any more enquiries, please email us at sales@kilimanjaro-consulting.com, or give us a call at 1300 857 464 (AU) or 0800 436 774 (NZ).