Why MYOB Software is Not Only For Small Companies
Discover the MYOB Enterprise Solutions for larger, more complex companies
Learn more about the power of your software
The MYOB User Groups sessions are a great opportunity to meet, connect, and share experiences with fellow MYOB users and experts. This September, the half-day events are happening in Melbourne, Sydney, Auckland, and Online for MYOB Advanced and MYOB Exo. The theme of these events is Analyse! Uncover Insights. Discover how to leverage hidden insights in your MYOB system, use data to make better decisions, and stand apart from your competition.
Brief History of MYOB
MYOB software had its origins in the late 1990s during the time when GST was about to place a huge administrative burden on small companies in Australia. The reporting requirements meant that without accurate accounts, a company would not be able to comply with the GST legislation. This encouraged large numbers of small businesses to move from paper-based systems to computerised accounting. This coincided with the fear of the Y2K bug. Consequently, businesses moved into a new era of computerisation or upgraded their existing systems.
MYOB was at the forefront of this wave, having developed software for small Australian businesses. Not only was MYOB's software easy to use, but it cut through accounting jargon by converting debtors and creditors to "spend money" and "receive money". This meant that you no longer had to be an accountant to keep books for your small business. MYOB developed a deep understanding of how small Australian businesses work. The software was localised, meaning that the language and the business processes used were in line with conventional Australian practices. Because their products were tailored to an Australian market, MYOB was compliant with all taxation requirements, including GST.
Progression of MYOB software
MYOB continued to develop the software and a pathway evolved for businesses to easily migrate from the basic versions to the more complex versions of MYOB. A business would be able to move from MYOB Business Basics to Account Right Standard, Account Right Premier and Account Right Enterprise. As internet connectivity and speeds improved, MYOB took advantage of this. They developed products that leveraged off the power of the cloud. Products such as Live Accounts and Account Right Live were introduced into the market.
MYOB is regularly in touch and connected with their users. As users requested more functionality, the products became more complex and robust. The "top of the range" product became MYOB Account Right Enterprise which allowed multiple users to access the software at the same time.
Software constraints were not going to prevent Australian entrepreneurs from growing. As businesses grew and became more complex, so did their software requirements. In 2004, MYOB acquired Solution 6. This was the start of its journey into software for larger, more complex organisations. The existing MYOB business software provided solutions for small to medium-sized businesses. The focus then expanded to include medium to large businesses which is where MYOB ERP came in. Enterprise Resource Planning (ERP) refers to software that organisations use to manage day-to-day business activities. Nowadays, a complete MYOB ERP suite includes enterprise performance management, software that helps; plan, budget, predict and report on an organisation's financial results.
Transition Phases
As businesses grow, they go through several phases. We call the first phase the start-up phase. The accounting requirements in this phase are fairly basic. Following establishing a business, the accounting requirements need to cope with increasing transactional volumes and provide reporting to management for decision-making purposes. Tax compliance is essential in all phases of a business' growth.
Once a business reaches a turnover of about $6m a year, or about 20 employees, it undergoes quite a dramatic transition. In this first transition, reporting and financial control become important (as opposed to bookkeeping or accounting). As soon as a financial controller or finance manager is appointed to the team, the nature of the software used needs to change. Not only is the business looking at their financials, but they are also looking at non-financial indicators. Directors or managers need to understand the financial impact of their actions and at the same time, legal compliance must be maintained. It is at about this point that companies would look for an ERP system as opposed to an accounting system.
The second major transition is when the company has grown to the point where multiple people are doing multiple tasks. There is a separation or segregation of duties. For example, the accounts function now splits into Accounts Payable and Accounts Receivable. A person may be responsible for raising purchase orders, but another person would be responsible for approving them, and a third person responsible for receipting them. This segregation of duties and responsibilities is embedded in larger software systems. Small companies cannot operate using these systems as one person is still performing multiple functions.
When looking at MYOB's portfolio for medium to larger businesses, you will find a range of MYOB ERP solutions that suits every business size and type.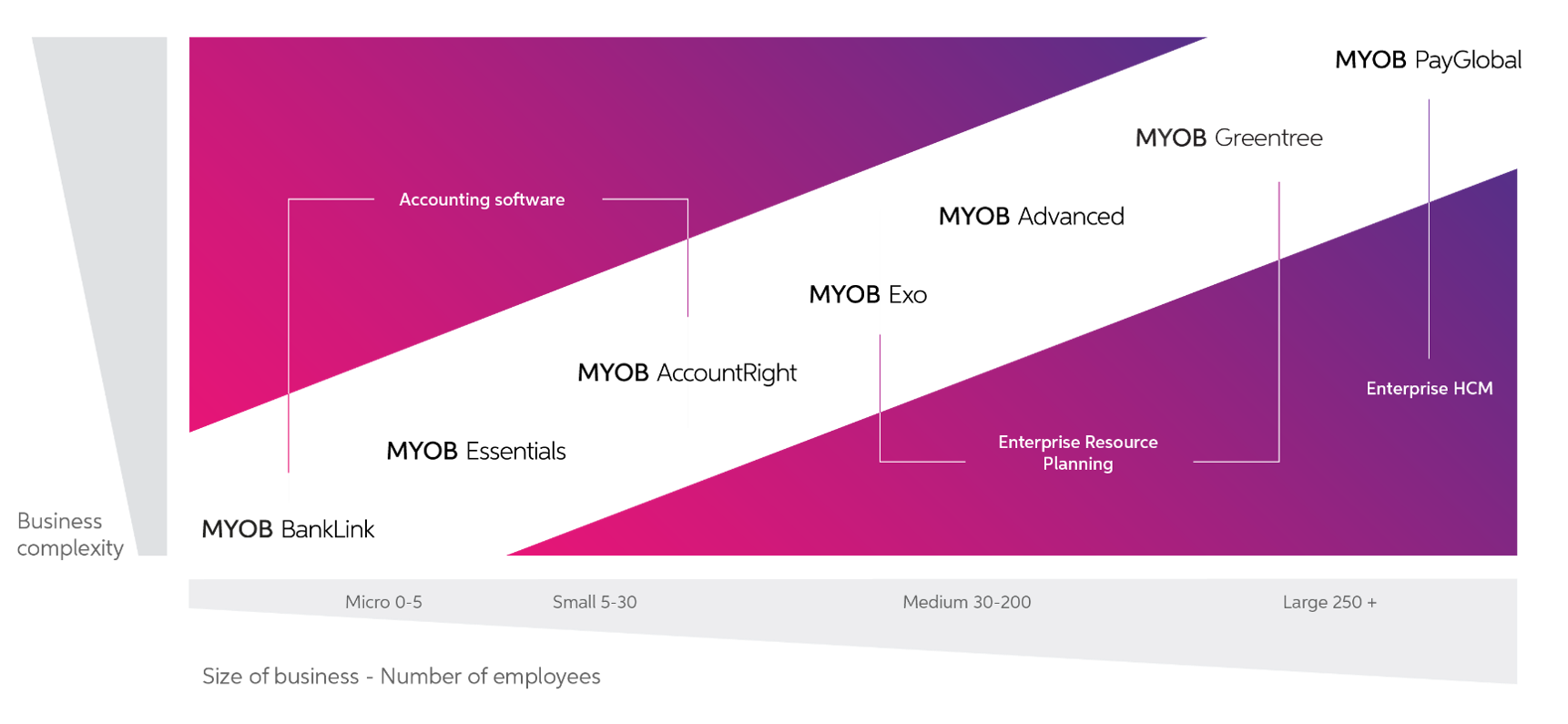 MYOB Advanced for Larger Companies
Companies that are moving towards, or have moved into this separation or segregation of duties phase, would be well advised to look at cloud-based ERP, MYOB Advanced. An example is our client Museum of Australian Democracy, who found the system to be the perfect fit for them. MYOB Advanced has a sophisticated general ledger system with many segments to suit the requirements of every organisation. It allows multiple profit and loss statements and balance sheets at a branch or tenant level. This MYOB ERP can deal with both multiple entities and consolidation of these. Find out more about how MYOB Advanced can streamline your financials here.
This is true Tier 2 software and requires an experienced finance team to get the best out of it. It is software as a service (SaaS), browser-based, and sold on a subscription model with a monthly fee per user. MYOB Advanced has the benefit of MYOB's heritage, localisation, backing and support and technical development. It is a strong contender for any larger company looking for a robust ERP or accounting solution.
MYOB Exo for medium to large companies
Having the vision to grow your business is one thing, but having the tools to do it is essential. If you are not ready for a cloud-based product or prefer to have your own system hosted, have a look at MYOB Exo, a highly configurable business management solution that allows you to centralise all your business processes in one place. MYOB Exo provides greater insight into all facets of your operations, along with more control. This MYOB ERP solution has the flexibility to grow with your business. You can view and analyse inventory management, job or projects costings, HR, Payroll and every other aspect of your operations, giving you the information required to make better business decisions.
Moving to MYOB ERP
As your company processes become more complex, you might feel as though your current accounting software is limiting your business. Moving from off-the-shelf software such as MYOB AccountRight or similar accounting products is a fundamental step to take your business to the next level.
MYOB Exo is an ERP software for growing businesses. Its flexibility and SQL back-end allow it to be seamlessly integrated with other solutions you might already have in your company. Your business can also connect with many Cloud-based MYOB add-on solutions. These products can easily expand the specific functionality your business need.
For more information, read the key differences between MYOB Exo and MYOB Advanced here.
If you want to know more about MYOB ERP, including MYOB Exo or MYOB Advanced and how it can help grow your business, call us or simply fill out the contact form below, and we will have one of our MYOB Specialists have a chat with you. To continue reading about the products, download the free PDF downloads below.
How can software solutions improve real businesses?
The Arcadia Corporation successfully transitioned into the cloud and achieved a single, efficient platform from which they now manage Accounts, Inventory Management and CRM. Moving from MYOB Exo to MYOB Advanced improved functionality and provided end-to-end management of its products. Additionally, integrations with their core business management system enhanced visibility and simplified reporting for the finance and sales teams.
Learn more about the real benefits of moving your organisation into the cloud by reading the case study here.
If you have any more enquiries, please email us at sales@kilimanjaro-consulting.com, or give us a call at 1300 857 464 (AU) or 0800 436 774 (NZ).