Arcadia
Arcadia future-proofed their systems with MYOB Advanced
The Arcadia Group was looking to achieve an efficient, single-platform solution for accounts, inventory management and CRM. As their trusted business partner, Kilimanjaro Consulting recommended and implemented MYOB Advanced. The solution was a good fit and assisted in setting Arcadia up for future growth.
Who is Arcadia?
Trading as EIZO Oceania, Arcadia is a leading global manufacturer of high-end monitors and visual technology solutions. Their products are designed for specialised use in medical imaging, creative arts, air traffic control, and other high-dependency applications. They are the exclusive full-service importers, distributors, and service agents for EIZO monitors and solutions across Australia, New Zealand, and Micronesia.
What catalysed the switch to MYOB Advanced?
Arcadia has been a long-standing user of MYOB Exo for over 15 years. At that time, Kilimanjaro Consulting was their trusted support partner. MYOB Exo Business worked well for Arcadia while operating from a single office. However, once the company opened a second office, the on-premise limitations, VPN connections, and expensive servers that MYOB Exo necessitated impacted their ability to grow. The system lacked the functionality to integrate with Arcadia's retail websites, CRM, and other applications.
Arcadia wanted end-to-end management of its products, and the lack of integration was affecting productivity. MYOB Advanced Business was an agile, integrated, fit-for-purpose business management system that would meet the company's goal of managing everything from one platform. Arcadia trusted our advice and followed our recommendation to move to MYOB Advanced.
Arcadia's Trusted Implementation partner
Kilimanjaro Consulting is ANZ's largest, most experienced, and most skilled team. When Arcadia decided to implement MYOB Advanced, they chose Kilimanjaro Consulting as their partner of choice. We worked to understand Arcadia's workflows and customise the software to meet their specific needs. Our team follows a structured implementation methodology. Combined with our skills, knowledge and support, we can guide you smoothly through the implementation process. At Kilimanjaro Consulting, we pride ourselves on being technology Sherpas, focused on building long-term relationships with clients and maintaining that partnership as their business grows. We take pride in Arcadia's success and look forward to our continued partnership.
What changes followed the decision?
Implementing MYOB Advanced Business enabled easy access for staff no matter what location they worked from. Arcadia embraced the power and flexibility of MYOB Advanced as a cloud-based system. They enjoyed managing the entire organisation from a single source of truth.
MYOB Advanced was also able to support Arcadia's integration requirements. Velixo, an add-on product that seamlessly connects your live MYOB Advanced database to Microsoft Excel, was integrated for easy financial reporting. Kilimanjaro Consulting worked with Arcadia to create custom reports in MYOB Advanced and Velixo.
MYOB Advanced Business enables comprehensive stock tracking and management for Arcadia and its third-party warehouses. The MYOB Advanced OnTheGo app also allows the Arcadia sales team to look up stock in real time, take notes, and access the CRM wherever they are in the field. This visibility and real-time data flow help the team to make critical decisions quickly and accurately.
How are they now?
Arcadia has achieved the integrated cloud-based platform it was looking for. By working with their trusted implementation partner Kilimanjaro Consulting, they could get all systems updated, seamlessly integrated, and accessible anywhere. This has delivered a smoother, more efficient work experience for the entire team.
Stock management is one of the critical pain points resolved by an MYOB Advanced Business implementation. Serially tracked stock items have enabled full-lifecycle management of every product. The system achieves this well and has proven helpful for maintaining warranty and repair information for every other product.
How do I achieve a successful MYOB Advanced implementation?
A successful MYOB Advanced Implementation depends on 3 critical risk:
Software Risk
Implementer risk
Self-Inflicted Risk
You can reduce your risk by selecting the right implementation partner. Although there are many different partners to choose from, you need the one that will work with you every step of the way. Managing risk is an important part of an implementation; selecting a low-risk partner is critical to a lifetime of success with your Business Management system.
Kilimanjaro Consulting ticks all the boxes when it comes to choosing the right partner:
Kilimanjaro Consulting is the largest and most experienced implementer of MYOB's Enterprise-level business management, accounting, payroll, and workforce management solutions: MYOB Advanced and MYOB Exo. We are experienced, low-risk implementers, helping organisations improve efficiency in their businesses through the use of clever, innovative, and proven technology.
Free resources to help you further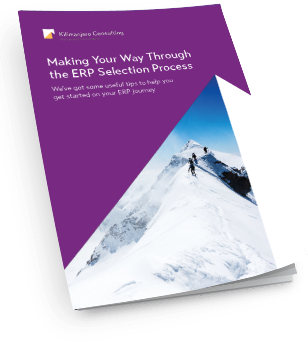 If you are ready to start your Business Management System journey, choose Kilimanjaro Consulting as your trusted implementation partner. If you don't know where to start, download our free E-Book that will take you through everything you need to consider and what to be wary of during this process.
Kilimanjaro Consulting is the largest implementer of MYOB's Business Management Software across Australia and New Zealand. We take the time to understand your business and only recommend the products that can meet your needs. To start a conversation about how MYOB Exo can improve efficiency in your organisation, email sales@kilimanjaro-consulting.com, or call 1300 857 464 (AU) or 0800 436 774 (NZ).