Arcadia
With Kilimanjaro as their MYOB Exo implementation partner Arcadia became more efficient and reliable
Arcadia was founded in 1996 and acts as both an IT Consultancy and sole distributor of EIZO LCD monitors.
Arcadia had previously run MYOB Premier, which provided a solid backbone to the business. However, it failed to address Arcadia's complex distribution needs. To compensate for information that was not accounted for in Premier, Arcadia also had a myriad of spreadsheets to track their variables.
Having experienced high growth in 2003 and struggling between Premier and multiple spreadsheets, it was time for Arcadia to source a new business management system. What won them over was MYOB Exo's customisable functionality.
They met with the Kilimanjaro Consulting team to begin the implementation process.
"The thing we had to focus on for Arcadia was customising MYOB Exo around a low product range that was distributed to a high number of clients. Critical to customising the system correctly was Kilimanjaro's understanding of Arcadia's requirements", said Director of Operations, Jason Fegan.
Kilimanjaro set about customising MYOB Exo to suit Arcadia's needs. Key to the implementation was Exo's strong Serial Number Tracking ability. Jason said "it worked really well for Arcadia because their serial numbers aren't known until after invoicing. Exo's flexibility allowed the serial numbers to be retrospectively updated to the system so the serial number tracking was correct."
Now running MYOB Exo, Arcadia has improved their internal efficiencies. Although MYOB Exo held the promise of a powerful, effective management system, the standout feature from Arcadia's perspective was Kilimanjaro's implementation approach and constant support.
Free resources to help you further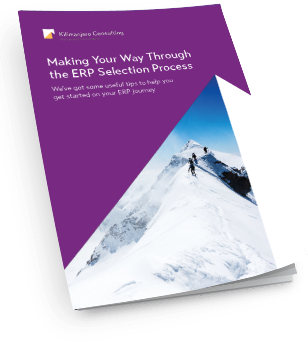 If you are ready to start your Business Management System journey, choose Kilimanjaro Consulting as your trusted implementation partner. If you don't know where to start, download our free E-Book that will take you through everything you need to consider and what to be wary of during this process.
Kilimanjaro Consulting is the largest implementer of MYOB's Business Management Software across Australia and New Zealand. We take the time to understand your business and only recommend the products that can meet your needs. To start a conversation about how MYOB Exo can improve efficiency in your organisation, email sales@kilimanjaro-consulting.com, or call 1300 857 464 (AU) or 0800 436 774 (NZ).