New support for TPAR payments in MYOB Advanced
Learn how to automate TPAR tracking
If your business makes payments to contractors or subcontractors, you may need to lodge a Taxable payments annual report (TPAR) with the ATO by 28 August each year. Innovative technological solutions help navigate payment challenges.
Once enabled in MYOB Advanced, TPAR can be tracked via the 'Track for TPAR' option in the Supplier Classes screen, any new suppliers that are created with this class will track payments for TPAR by default. You can also apply TPAR tracking for all suppliers by using the toolbar button at the top of the page.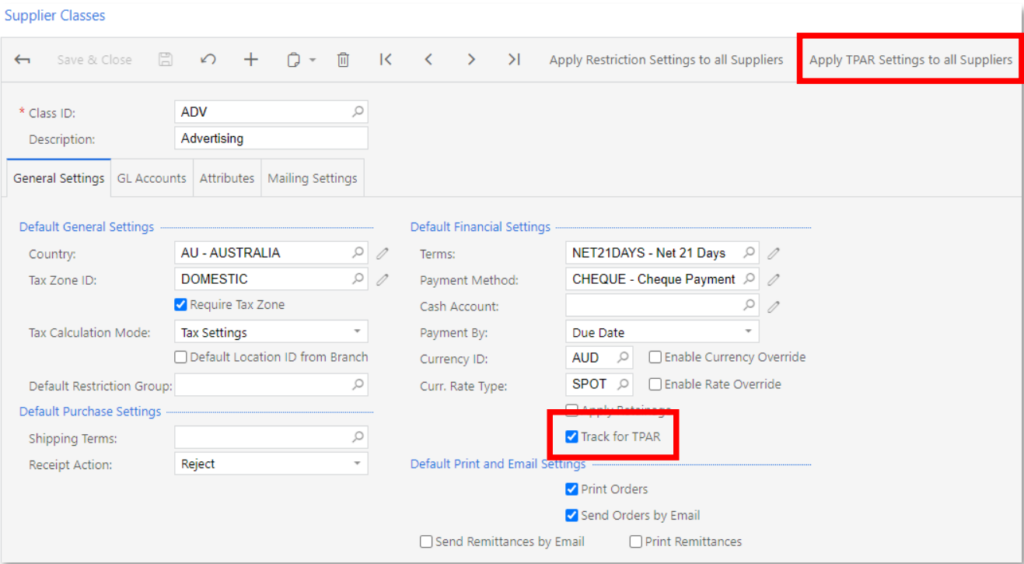 Tracking TPAR Payments
The "Track for TPAR" option can also be applied to a specific supplier. In this case, all new bills raised from this supplier will be tracked for TPAR payments. This can be deselected individual bills without affecting the overall supplier setting.
This also allows you to retroactively track your historical payments from the current financial year if these payments were released before the upgrade to 2020.4. Historical tracking is also available on the new TPAR Review Supplier Payments inquiry screen.
TPAR Summary Inquiry
The TPAR Summary inquiry (MBTX4010) displays data for a selected company and financial year and allows you to generate a TPAR file for submission to the ATO. It shows a summary of TPAR amounts for each supplier: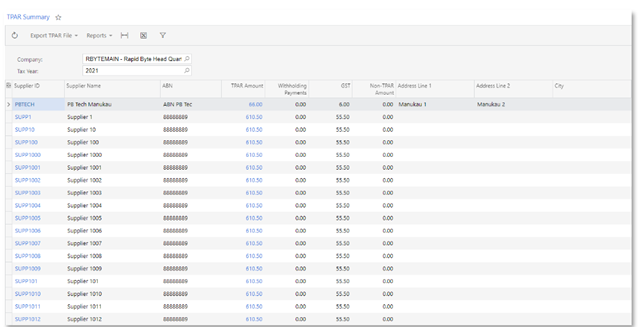 TPAR Review Supplier Payments
The TPAR Review Supplier Payments inquiry screen (MPTX4011) shows all payments for the selected company and supplier over the selected financial year. Individual transactions can be marked as tracked or not tracked for TPAR:

The Amount Paid column shows the amount that is eligible for TPAR, less any withholding payment amount.
TPAR Summary Report
The TPAR Summary Report provides a printable report that shows the same data that appears on the TPAR Summary inquiry screen: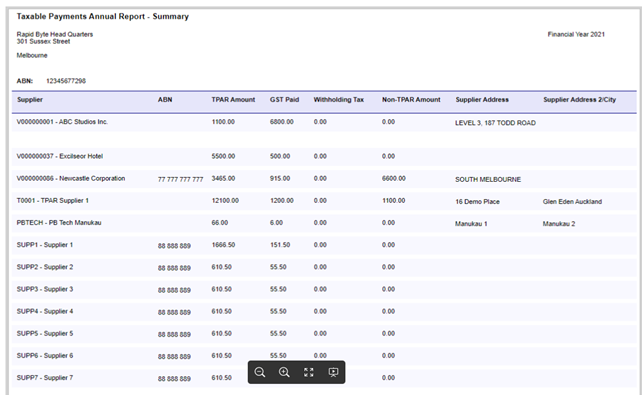 TPAR Details Report
The TPAR Details Report provides a printable report that shows the TPAR-tracked transactions for a specific supplier as they would appear on the TPAR Review Supplier Payment screen: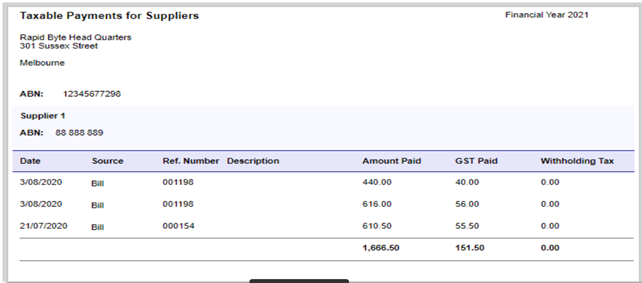 If you would like more information on how to leverage TPAR payments in MYOB Advanced, contact us on 1300 857 464 or 0800 436 774 (NZ) or email sales@kilimanjaro-consulting.com. To stay up to date on all the latest MYOB Advanced developments, visit our MYOB Advanced Version Release History page.