Careers at Kilimanjaro
What to expect from being part of the Kilimanjaro tribe
You don't need to actually climb Mount Kilimanjaro in Tanzania to experience a sense of satisfaction, achievement and empowerment. Joining Kilimanjaro Consulting will provide a friendly, supportive culture with tremendous opportunities for personal and professional development. Therefore, at Kilimanjaro Consulting we realise that one of our greatest assets is our people. Consequently, we have created a unique climate of inspiration, leadership, values and opportunity. As a result, our current team of MYOB experts and happy clients are proof of this.
Who is Kilimanjaro Consulting?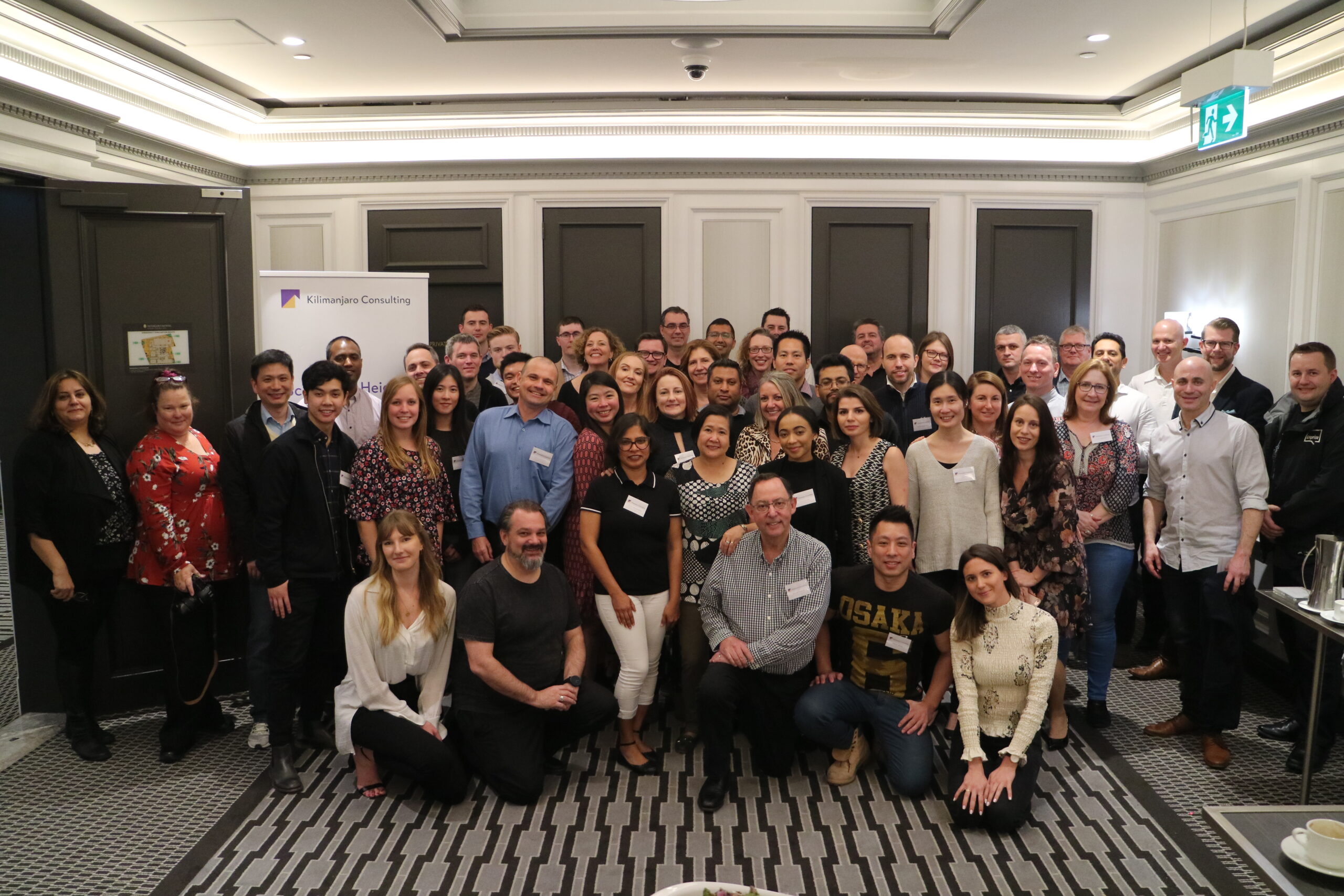 Kilimanjaro Consulting is Australasia's largest implementer of MYOB Advanced and MYOB Exo software, supporting clients that are innovative and successful in many fields and environments. In recent years, Kilimanjaro has achieved significant growth, expanding its team of MYOB experts to Melbourne and Perth, as our Canberra, Sydney and Paramatta Teams also continue to grow. It is also a very exciting time to join Kilimanjaro Consulting while we continue to achieve the highest accolades from MYOB as MYOB Diamond Partner and Number One Partner. Hence, we thrive on success.
Golden Rules at Kilimanjaro
At Kilimanjaro Consulting, we recruit talented and skilled people who are passionate about delivering outstanding client service. Once we have found them, we put just as much effort into keeping them. The tribal culture and values built around Kilimanjaro have produced a clever team that use technology to improve efficiency in their businesses. We encourage the idea that you should love your work. We believe in teamwork and our golden rules continue to inspire us. Some of these include:
"Our people are our greatest asset" – We nurture our people and create an environment where they can thrive
Leadership – If the leaders don't believe we can climb the mountain, they should not be leading
"1 + 1 = 3" – No matter who you are, no matter how clever you are, no matter how skilled you are, you will ALWAYS get a better outcome through collaboration with others than you will get on your own.
Recruitment in a Growing Business
Our CEO, Ronnie Baskind has written a 3-part series surrounding the Challenges of Recruitment in a Growing Business. In part 2, Ronnie delves into how important a new team member's first day really is and how we encourage success by creating an organised and welcoming culture from Day 1. We understand how overwhelming the first day at a new workplace can be, so we strive to have you finish your day feeling inspired and encouraged. For more information about how we believe a new team member's first day should go, follow the link here.
Current Job Opportunities
At Kilimanjaro Consulting, we recruit talented and positive people who are passionate about delivering outstanding client service. Then once we have found them, we put just as much effort into keeping them.
Kilimanjaro Consulting is a company in the listed Enprise Group [ENS]. We are Australia's largest implementer of the MYOB Enterprise suite of software solutions, including MYOB Advanced (Acumatica). We have a large Trans-Tasman team with opportunities for career advancement in both countries.
If you are an experienced ERP Support Consultant with significant experience and knowledge in mid-market ERP software, business processes and accounting, then this may be the opportunity for you. We offer an exciting career opportunity to join our young, dynamic, and highly successful consultancy and the opportunity to participate in the growth of MYOB Advanced software in Australia and New Zealand.
Currently looking for:
Assistant Accountant
The Assistant Accountant Is a part of the AU Finance Team which is responsible for licence renewals for our customers, banking and bank reconciliations, vendor accounts payable, monitoring and resolution of inbound emails including requests for licence upgrades and down-grades, and opening new jobs for the support and delivery teams.
The successful assistant accountant is an energetic professional who is happy to pitch in as part of a team, wearing multiple hats and helping out others on an ad-hoc basis. Experienced in handling a range of administrative duties and support-related tasks and able to work independently with moderate supervision.
Well organized, flexible, and enjoys the administrative challenges of supporting an office of diverse people as part of a close-knit team.
Read More
Experienced ERP Support Consultant
Are you a problem solver and strong communicator looking for a company to grow your skills with? Your opportunity exists within a well-established ERP solutions consultancy to deliver quality support services to a diverse client base across the MYOB Advanced suite of products. Kilimanjaro Consulting strives to be an Employer of Choice within this Industry sector, offering challenging and rewarding careers, strong and engaging team culture and flexible work practices.
To apply for the role please email careers@kilimanjaro-consulting.com
Read More
ERP Senior Implementation Consultant (SaaS)
Kilimanjaro follows a philosophy of creating teams for projects. This role is within an Implementation Team, as Project Lead, and taking responsibility for implementations of new client sites. You will be hands-on, drawing on resources in our company to deliver the solution, from design all the way through to go-live. Consequently, the candidate should feel confident to work autonomously as well as be able to work within a team.
To apply for the role please email careers@kilimanjaro-consulting.com
Read More
Other Job Opportunities
Kilimanjaro follows a philosophy of creating teams for projects. From time to time, opportunities arise in our MYOB Advanced Implementation Team.
MYOB Advanced is the localised edition of Acumatica.
If you have had experience with Acumatica, or with MYOB Advanced, you may be of interest to us for future projects as we grow our Advanced division.
The consultant will be expected to:
Have appropriate knowledge of the MYOB Advanced (Acumatica) product, practices, procedures, and methodologies as well as general IT knowledge relevant to the industry.
Demonstrate competence with the design of solutions based on user requirements.
Demonstrate the ability to work well with people and show the potential to work with other team members such as project managers, consultants and support staff.
Have a sense of urgency, be responsible, and have good preparation skills.
Demonstrate an ability to plan effectively, and manage the implementation of the plan
Have excellent time management and prioritisation skills
Let us know if you are an Acumatica evangelist. We will keep your details on file and contact you when an opportunity arises.
Therefore, if you seek to join a dynamic and professional consultancy, we are always searching for enthusiastic technology Sherpas to join our team.  If you have significant expertise in MYOB Exo, Employer Services, MYOB Advanced or other mid-tier SQL-based or SaaS ERP systems, we invite you to forward your CV to careers@kilimanjaro-consulting.com.
We would love to hear from you!
If you have any enquiries, please call us on 1300 857 464 (AU) 0800 436 774 (NZ) or email us at sales@kilimanjaro-consulting.com.