GDK Group
Building strong foundations for the future with MYOB Advanced
GDK were having issues with their current ERP system, but found that MYOB Advanced provided the high end functionality they were used to, but at a more competitive price. End of month consolidations have become simpler and the cloud-based functionality has had a significant impact on the group.
Who are GDK Group?
GDK Group are a multi-disciplined architectural construction and joinery manufacturer. They specialise in acoustic panelling, customised design finishes and the manufacture of timber wall and ceiling panels. They operate over the South East Asia and Oceanic region and have a 20-year history of excellence in their projects.
What catalysed the switch to MYOB Advanced?
GDK were previously using NetSuite, however, the cost proved to be too much of a burden, especially when trying to cater for the multiple companies in their group. Because of the inflexible licensing and the setup of the company structure within NetSuite, the software was actually adding work for the administration team – not the desired effect from your ERP system.
What changes followed the decision?
MYOB Advanced was chosen as it was cloud-based and could also handle all of their required functionality such as: multiple branches, projects, and job costing. MYOB Advanced was also at a better price point and had much more flexibility in the licensing setup.
How are they now?
GDK have benefited from the visibility of real time data across the group. They have also automated a number of previously manual tasks, which saves time and increases overall productivity. By redeploying these resources, they are able to better focus on what has made their business so successful in the past, and set the group up for increased success in the future.
How do I achieve a successful MYOB Advanced implementation?
A successful MYOB Advanced Implementation depends on 3 critical risk:
Software Risk
Implementer risk
Self-Inflicted Risk
You can reduce your risk by selecting the right implementation partner. Although there are many different partners to choose from, you need the one that will work with you every step of the way. Managing risk is an important part of an implementation; selecting a low-risk partner is critical to a lifetime of success with your Business Management system.
Kilimanjaro Consulting ticks all the boxes when it comes to choosing the right partner:
Kilimanjaro Consulting is the largest and most experienced implementer of MYOB's Enterprise-level business management, accounting, payroll, and workforce management solutions: MYOB Advanced and MYOB Exo. We are experienced, low-risk implementers, helping organisations improve efficiency in their businesses through the use of clever, innovative, and proven technology.
Free resources to help you further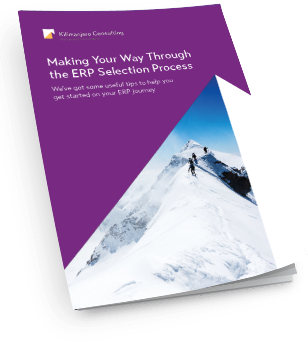 If you are ready to start your Business Management System journey, choose Kilimanjaro Consulting as your trusted implementation partner. If you don't know where to start, download our free E-Book that will take you through everything you need to consider and what to be wary of during this process.
Kilimanjaro Consulting is the largest implementer of MYOB's Business Management Software across Australia and New Zealand. We take the time to understand your business and only recommend the products that can meet your needs. To start a conversation about how MYOB Advanced can improve efficiency in your organisation, email sales@kilimanjaro-consulting.com, or call 1300 857 464 (AU) or 0800 436 774 (NZ).