Marsden Maritime
MYOB Advanced is a future proof, integrated system for the future
Marsden Maritime had data across several areas of the company stored in a very niche and unique software. MYOB Advanced brought this data together and gave them a robust and future-proof solution for the growth of the business.
Who is Marsden Maritime?
Marsden Maritime is a complex company that oversees a range of facilities. It manages tenants on their industrial land, runs a share-milking operation on its farmland, and operates a marina precinct. They used a custom-built software that only one person in New Zealand properly knew how to use.
What catalysed the switch to MYOB Advanced?
Marsden Maritime implemented MYOB Advanced contribute to its growth rather than holding it back. Report writing was limited in their old system and required manual work in Excel to produce anything customised or detailed. MYOB Advanced was the robust financial system that could improve reporting writing for Marsden Maritime.
Marsden Maratime's Trusted Implementation partner
Kilimanjaro Consulting is ANZ's largest, most experienced, and most skilled team. When Marsden Maratime decided to implement MYOB Advanced, they chose Kilimanjaro Consulting as their partner of choice. We worked to understand Marsden Maratime's workflows and customise the software to meet their specific needs. We follow a structured implementation methodology, and combined with the skills, knowledge and support of our team; we are able to guide you through the implementation process. At Kilimanjaro Consulting, we pride ourselves on being technology Sherpas, focused on building long-term relationships with clients and maintaining that partnership as their business grows. We take pride in Marsden Maratime's success and look forward to our continued partnership.
What changes followed the decision?
The cloud-based functionality of MYOB Advanced allowed Marsden to save on the large cost of server maintenance while also future-proofing the company. Real-time tracking of Marsden's project costs has made processing large developments faster and easier. Invoices go straight into the system to have timely information to make better costing decisions.
How are they now?
Marsden has enjoyed the flexibility that MYOB Advanced brings their business. They save approximately two working days a month in preparing reports and have found a lot more oversight due to better access to information. The integrated systems of MYOB Advanced have simplified the management of all aspects of the business, from inventory to payroll and managing tenants' rent payments. They do not have to pull in information from many different sources; it is all there in MYOB Advanced.
This implementation was completed before Enprise Solutions and Kilimanjaro Consulting merged. The original implementation team was, at that time, a part of Enprise Solutions. After the merger, Kilimanjaro Consulting has become the largest and most experienced implementer of MYOB's Enterprise Solutions across Australia and New Zealand. The Kilimanjaro Consulting team continues to support Marsden Maritime to improve efficiency with the clever use of innovative and proven technology.
How do I achieve a successful MYOB Advanced implementation?
A successful MYOB Advanced Implementation depends on 3 critical risk:
Software Risk
Implementer risk
Self-Inflicted Risk
You can reduce your risk by selecting the right implementation partner. Although there are many different partners to choose from, you need the one that will work with you every step of the way. Managing risk is an important part of an implementation; selecting a low-risk partner is critical to a lifetime of success with your Business Management system.
Kilimanjaro Consulting ticks all the boxes when it comes to choosing the right partner:
Kilimanjaro Consulting is the largest and most experienced implementer of MYOB's Enterprise-level business management, accounting, payroll, and workforce management solutions: MYOB Advanced and MYOB Exo. We are experienced, low-risk implementers, helping organisations improve efficiency in their businesses through the use of clever, innovative, and proven technology.
Free resources to help you further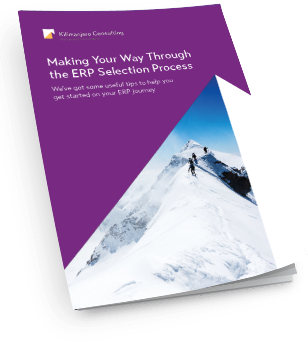 If you are ready to start your Business Management System journey, choose Kilimanjaro Consulting as your trusted implementation partner. If you don't know where to start, download our free E-Book that will take you through everything you need to consider and what to be wary of during this process.
Kilimanjaro Consulting is the largest implementer of MYOB's Business Management Software across Australia and New Zealand. We take the time to understand your business and only recommend the products that can meet your needs. To start a conversation about how MYOB Advanced can improve efficiency in your organisation, email sales@kilimanjaro-consulting.com or call 1300 857 464 (AU) or 0800 436 774 (NZ).