Pittella
Cloud-based ERP allows scalability, streamlined account management and online sales
Pittella believes in the beauty of design and the enhancement it brings to everyday life. Their core value is to produce high quality, Italian made bathroom and door fittings.
Pittella's Story
Four decades ago, Pitella started its journey in a hardware store in Italy. After migrating to Australia years later, they noticed a pocket in the market for luxury architectural door and bathroom fittings. In 2014, the company felt that the pressures of substantial growth and found their current accounting systems were beginning to set them back.
The need for an ERP – MYOB Advanced
Managing Director, Simone Pittella, explained he had been researching for an ERP that would be scalable and agile enough to manage product inventory and customer CRM, all under one umbrella.
Simone settled on MYOB Advanced finding the software innovative, scalable and in the Cloud. Shortly after, Kilimanjaro Consulting implemented the cloud-based system into his business.
Today, Pittella is able to scale more easily than ever before and has been able to move into the online sphere with an integrated e-commerce website. MYOB Advanced has streamlined processes, allowing them to focus on their goals of becoming an international seller.
To hear more about the Pitella story and how MYOB Advanced was able to automate their business, click the video below or give us a call to discuss your current requirements on 1300 857 464. For more success stories of how MYOB Advanced was able to streamline business, visit our case studies page. To learn more about the MYOB Advanced product, visit the page here.
Watch the Pittella's video case study below
How do I achieve a successful implementation?
A successful implementation depends on managing 3 critical risks:
Software Risk
Implementer risk
Self-Inflicted Risk
You can reduce your risk by selecting the right implementation partner. Although there are many different partners to choose from, you need the one that will work with you every step of the way. Managing risk is an important part of an implementation, selecting a low-risk partner is critical to a lifetime of success with your Business Management system.
Kilimanjaro Consulting ticks all the boxes when it comes to choosing the right partner:
Kilimanjaro Consulting is the largest and most experienced implementer of MYOB's Enterprise-level business management, accounting, payroll, and workforce management solutions: MYOB Advanced and MYOB Exo. We are experienced, low-risk implementers, helping organisations improve efficiency in their businesses through the use of clever, innovative, and proven technology.
Free resources to help you further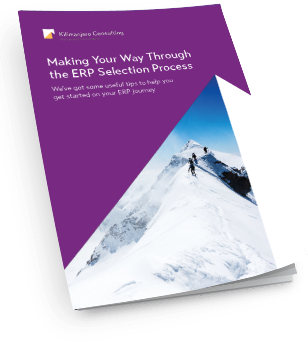 If you are ready to start your Business Management System journey, choose Kilimanjaro Consulting as your trusted implementation partner. If you don't know where to start, download our free E-Book that will take you through everything you need to consider and what to be wary of during this process.
Kilimanjaro Consulting is the largest implementer of MYOB's Business Management Software across Australia and New Zealand. We take the time to understand your business and only recommend the products that can meet your needs. To start a conversation about how MYOB Advanced can improve efficiency in your organisation, email sales@kilimanjaro-consulting.com, or call 1300 857 464 (AU) or 0800 436 774 (NZ).