RML Engineering
Enprise Solutions manufactures success by implementing MYOB Advanced with RML
Inefficient production process and slow reporting times motivated RML to consider an ERP solution to boost their productivity. With the help of Enprise Solutions, MYOB Advanced was chosen and implemented, achieving success and opening the business up for further growth.
Who are RML?
RML began producing small components for the pneumatics industry, and has grown to have operations across New Zealand, Australia, and India. However, their production line was not working efficiently, through a lack of control of some processes. Coupled with long delivery times for financial reports, RML was not working to their full potential.
What catalysed the switch to MYOB Advanced?
MYOB Advanced offered a robust, yet simple reporting system that could produce real time data to drive decision making at the highest level. The cloud-based functionality removed the need for on-site hardware and allowed the flexibility to integrate add-ons and customise the capability of the software.
What changes followed the decision?
Production became much more streamlined as a result of the implementation. They can pinpoint the stage of production of each part and see how long it takes before it is available for customers. This leads to accurate and reliable delivery dates for their customers.
How are they now?
Enprise Solutions' implementation of MYOB Advanced for RML has increased both their production efficiency and bottom line. They can receive accurate, real time data that drives critical business decisions. The regular updates, and flexibility of MYOB Advanced future proofs their processes, allowing room for continuous growth.
To learn more about the journey of RML and how MYOB Advanced met their individual business needs, watch the video below.
Kilimanjaro and Enprise Solutions operate as "One Company – Two Brands". Both are owned and operated by listed company Enprise Group (NZX:ENS). Enprise Solutions is MYOB's number one partner in New Zealand, Kilimanjaro is MYOB's number one partner in Australia. We are trusted local suppliers, offering licensing flexibility, easy in/easy out flexibility, upgrading flexibility, local support and local hosting. Choose us to remove risk from your project and ensure 'gold standard' support over the long haul.
How do I achieve a successful implementation?
A successful implementation depends on managing 3 critical risks:
Software Risk
Implementer risk
Self-Inflicted Risk
You can reduce your risk by selecting the right implementation partner. Although there are many different partners to choose from, you need the one that will work with you every step of the way. Managing risk is an important part of an implementation, selecting a low-risk partner is critical to a lifetime of success with your Business Management system.
Kilimanjaro Consulting ticks all the boxes when it comes to choosing the right partner:
Kilimanjaro Consulting is the largest and most experienced implementer of MYOB's Enterprise-level business management, accounting, payroll, and workforce management solutions: MYOB Advanced and MYOB Exo. We are experienced, low-risk implementers, helping organisations improve efficiency in their businesses through the use of clever, innovative, and proven technology.
Free resources to help you further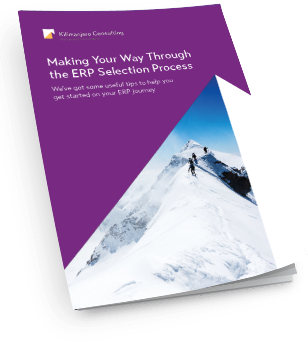 If you are ready to start your Business Management System journey, choose Kilimanjaro Consulting as your trusted implementation partner. If you don't know where to start, download our free E-Book that will take you through everything you need to consider and what to be wary of during this process.
Kilimanjaro Consulting is the largest implementer of MYOB's Business Management Software across Australia and New Zealand. We take the time to understand your business and only recommend the products that can meet your needs. To start a conversation about how MYOB Exo can improve efficiency in your organisation, email sales@kilimanjaro-consulting.com, or call 1300 857 464 (AU) or 0800 436 774 (NZ).