Royal Brisbane & Women's Hospital Foundation
This charity achieves absolute data transparency with MYOB Advanced
Transparency is key to any charity so that donors can see where their money is being spent, and the good that it achieves. MYOB Advanced helped the Royal Brisbane & Women's Hospital Foundation to achieve greater visibility of their data, and foster growth into the future.
Who is Royal Brisbane & Women's Hospital Foundation?
The Royal Brisbane & Women's Hospital Foundation (RBWHF) are a not-for-profit charity arm of Queensland's largest hospital. They raise and manage funds for a variety of different causes, from supporting new mothers and their babies to caring for cancer patients. In recent years the funds managed by the Foundation have doubled from $ 8 million to $16million per year.
What catalysed the switch?
Due to their growth, RBWHF needed software that could handle more complexity. Each cause that the foundation manages is like a smaller incorporated charity. They needed absolute transparency over where donations were being spent, but their old system meant they had to rely on Excel which did not give them the tracking they needed.
What changes followed the decision?
With the implementation of MYOB Advanced, RBWHF could now break down their income into sub-accounts that would be assigned to each of their supported causes, directly addressing their need for transparency. Reports could also be easily generated for each account, showing income and expenditure over time. Having cloud-based access to their data anywhere, anytime means that this information can be accessed directly at events – giving them even greater insight into their fundraising.
How are they now?
MYOB Advanced is saving RBWHF weeks of man-hours in a month, as they no longer manage 400 sub-accounts in Excel. The data is updated in real-time, and the subsequent reports are generated at the click of a button. Having a robust and transparent system has increased donor trust, as it is more visible than ever where the donations are being spent. RBWHF is looking to more digital avenues of fundraising and how they can leverage MYOB Advanced to achieve this.
How do I achieve a successful MYOB Advanced implementation?
A successful MYOB Advanced Implementation depends on 3 critical risk:
Software Risk
Implementer risk
Self-Inflicted Risk
You can reduce your risk by selecting the right implementation partner. Although there are many different partners to choose from, you need the one that will work with you every step of the way. Managing risk is an important part of an implementation; selecting a low-risk partner is critical to a lifetime of success with your Business Management system.
Kilimanjaro Consulting ticks all the boxes when it comes to choosing the right partner:
Kilimanjaro Consulting is the largest and most experienced implementer of MYOB's Enterprise-level business management, accounting, payroll, and workforce management solutions: MYOB Advanced and MYOB Exo. We are experienced, low-risk implementers, helping organisations improve efficiency in their businesses through the use of clever, innovative, and proven technology.
Free resources to help you further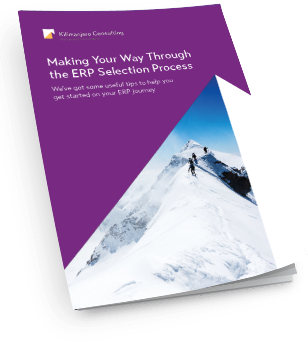 If you are ready to start your Business Management System journey, choose Kilimanjaro Consulting as your trusted implementation partner. If you don't know where to start, download our free E-Book that will take you through everything you need to consider and what to be wary of during this process.
Kilimanjaro Consulting is the largest implementer of MYOB's Business Management Software across Australia and New Zealand. We take the time to understand your business and only recommend the products that can meet your needs. To start a conversation about how MYOB Advanced can improve efficiency in your organisation, email sales@kilimanjaro-consulting.com, or call 1300 857 464 (AU) or 0800 436 774 (NZ).