Royce Cross Group
Implementing MYOB Advanced helped Royce Cross Group simplify the operations of three companies, into one.
Royce Cross Group (RCG) struggled with out-of-date processes that relied on time-consuming manual data entry, docket books, and spreadsheets. By implementing MYOB Advanced Business and MYOB Advanced Payroll, they saw the near-complete removal of manual entry and a step up in the levels of customer service they could provide.
Who is Royce Cross Group?
Royce Cross Group (RCG) comprises three complementary companies that import various motors, power and electrical accessories. Because the three companies were essentially separate (although sharing the same location), they had 3 different ways of doing things, along with 3 different and disparate systems.
What catalysed the switch?
RCG import a vast array of electrical and engineering products and distribute them Australia-wide. They need to constantly move stock between the two companies and spent a significant amount of time on intra-group purchase orders. Inventory management was often inaccurate, with staff often creating errors while working around creating purchase orders. They needed one holistic system to cover all three companies and reduce the amount of duplicated manual work.
What changes followed the decision?
MYOB Advanced was one of the few systems that could handle their requirements, having previously investigated Sybiz. They can now keep each company's accounts payable, receivable, expenses, and customers independent without compromising the big-picture view of the entire group. As RCG continued to evolve, the separate entities began selling each other's products. This led to a seamless customer experience and grew company sales.
How are they now?
MYOB Advanced has brought simplicity to the back office of RCG. All three entities can co-exist within one unified system. This lets them work as one team without compromising any individual aspect and improves RCG overall. The inter-company transactions are managed automatically and are easy to track, reducing inventory errors.
How do I achieve a successful MYOB Advanced implementation?
A successful MYOB Advanced Implementation depends on 3 critical risk:
Software Risk
Implementer risk
Self-Inflicted Risk
You can reduce your risk by selecting the right implementation partner. Although there are many different partners to choose from, you need the one that will work with you every step of the way. Managing risk is an important part of an implementation; selecting a low-risk partner is critical to a lifetime of success with your Business Management system.
Kilimanjaro Consulting ticks all the boxes when it comes to choosing the right partner:
Kilimanjaro Consulting is the largest and most experienced implementer of MYOB's Enterprise-level business management, accounting, payroll, and workforce management solutions: MYOB Advanced and MYOB Exo. We are experienced, low-risk implementers, helping organisations improve efficiency in their businesses through the use of clever, innovative, and proven technology.
Free resources to help you further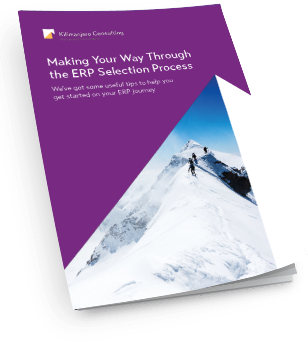 If you are ready to start your Business Management System journey, choose Kilimanjaro Consulting as your trusted implementation partner. If you don't know where to start, download our free E-Book that will take you through everything you need to consider and what to be wary of during this process.
Kilimanjaro Consulting is the largest implementer of MYOB's Business Management Software across Australia and New Zealand. We take the time to understand your business and only recommend the products that can meet your needs. To start a conversation about how MYOB Advanced can improve efficiency in your organisation, email sales@kilimanjaro-consulting.com or call 1300 857 464 (AU) or 0800 436 774 (NZ).