Vickery Holdings
The MYOB Advanced platform helped Vickery Holdings continue their path to growth.
Vickery Holdings needed a comprehensive Business management system to support its significant growth. Like many others, MYOB Advanced Business was the solution they were looking for.
Who are Vickery Holdings?
Vickery Holdings is a 20-year-old family-owned and operated organisation. They supply concrete reinforcing products to the building and construction industry. Their loyal customers enjoy superior customer service and quality products delivered on time, every time. Vickery Holdings has experienced astronomical growth during the pandemic. They needed a solution that could handle the added complexity of their growing workforce and distribution needs.
What catalysed the switch to MYOB Advanced Business?
The opening of a second branch increased Vickery Holdings' employee numbers to 20, including eight delivery vehicles. Management knew the benefits that a modern, cloud-based business management system could provide. Vickery Holdings had previously been using MYOB AccountRight to manage their accounts. However, the next step was to move to a system that could manage the entire organisation.
What changes followed the decision?
With MYOB Advanced Business, the team at Vickery Holdings produce high-level reports across both sites. These reports use real-time data and include cash flow, sales, and overdue accounts. They no longer wait until the end of the month to get visibility of their performance. Management has enjoyed the added functionality and long-term cost-effectiveness of their new system. The reporting dashboards saved hours of manual work for the team daily and made the transition even more valuable. The previous software also limited the pricing structure. But with no such limitation in MYOB Advanced, Vickery Holdings has all the customisation and functionality needed to maintain its premium customer service standards.
How are they now?
The scalability of MYOB advanced means that Vickery Holdings can focus on growth without future constraints. They immediately reaped the benefits of a comprehensive inventory management solution. They now have real-time visibility of stock on hand and can efficiently create purchase-order receipts. The entire team has access to up-to-date information no matter their location. They can also instantly provide customers with accurate stock numbers, improving their buying power and overall profitability.
How do I achieve a successful MYOB Advanced implementation?
A successful MYOB Advanced Implementation depends on 3 critical risk:
Software Risk
Implementer risk
Self-Inflicted Risk
You can reduce your risk by selecting the right implementation partner. Although there are many different partners to choose from, you need the one that will work with you every step of the way. Managing risk is an important part of an implementation; selecting a low-risk partner is critical to a lifetime of success with your Business Management system.
Kilimanjaro Consulting ticks all the boxes when it comes to choosing the right partner:
Kilimanjaro Consulting is the largest and most experienced implementer of MYOB's Enterprise-level business management, accounting, payroll, and workforce management solutions: MYOB Advanced and MYOB Exo. We are experienced, low-risk implementers, helping organisations improve efficiency in their businesses through the use of clever, innovative, and proven technology. MYOB Advanced Construction is built specifically to improve efficiency in the construction industry. It gives you complete visibility over your operations, from costing to time management, compliance, and more.
Free resources to help you further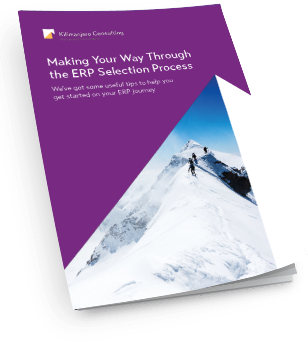 If you are ready to start your Business Management System journey, choose Kilimanjaro Consulting as your trusted implementation partner. If you don't know where to start, download our free E-Book that will take you through everything you need to consider and what to be wary of during this process.
Kilimanjaro Consulting is the largest implementer of MYOB's Business Management Software across Australia and New Zealand. We take the time to understand your business and only recommend the products that can meet your needs. To start a conversation about how MYOB Advanced can improve efficiency in your organisation, email sales@kilimanjaro-consulting.com or call 1300 857 464 (AU) or 0800 436 774 (NZ).