GoTransit
Flexibility, automation, and accessibility were the 3 greatest benefits of upgrading to MYOB Advanced.
GoTransit had seen success with their previous MYOB Enterprise system. However, they needed to upgrade to a platform that could handle their higher transactional volume and give them off-site access. Following a recommendation from their trusted MYOB Partner (Kilimanjaro Consulting), GoTransit moved to MYOB Advanced.
Who are GoTransit?
GoTransit is an Australian Media Group with assets across 6 capital cities and 400 regional communities. From humble beginnings on the Sunshine Coast of Queensland in 2010, they have grown to have a nationwide presence with an impressive client portfolio. They are recognised as the market leader in the Transit Advertising Sector, with a reputation for fast turnarounds in their creative work. They work across every stage in the advertising process: selling the space, designing the collateral, and printing and installing it across their network.
What catalysed the switch to MYOB Advanced?
GoTransit were happy with their current MYOB Exo system; however, they were having trouble inputting the large volume of transactional data. They also required out of office access to their system, something important for a company based around travel and mobility. While they conducted their own research, GoTransit were open to us, their current MYOB Partner, about their difficulties with MYOB Exo. After a thorough examination of all of their options, we recommended implementing MYOB Advanced.
"The team at KC [Kilimanjaro Consulting] stand out above the rest. Perfect partners for your ERP choice" – Caleb Harriott, GM Operations and Finance at GoTransit
GoTransit's Trusted Implementation partner
Kilimanjaro Consulting is ANZ's largest, most experienced, and most skilled team. When GoTransit decided to implement MYOB Advanced, they chose Kilimanjaro Consulting as their partner of choice. We worked to understand GoTransit's workflows and customise the software to meet their specific needs. We follow a structured implementation methodology, and combined with the skills, knowledge and support of our team; we are able to guide you through the implementation process. At Kilimanjaro Consulting, we pride ourselves on being technology Sherpas, focused on building long-term relationships with clients and maintaining that partnership as their business grows. We take pride in GoTransit's success and look forward to our continued partnership.
What changes followed the decision?
GoTransit have found huge increases in productivity and massive savings in team member time. They are a multi-million dollar company that can keep the staff costs of their finance team low, with MYOB Advanced's automations and streamlined integrations. This helps the entire business run more efficiently and focuses on more valuable tasks that drive growth.
How are they now?
We have continued to add benefits to GoTransit's ERP system over the years. With their added ezyCollect integration, they can take credit card payments automatically. This has saved their Accounts Receivable team countless hours managing payments and improves their customer experience by making it easier for clients to pay their invoices quickly. GoTransit has also done away with paper-based invoices, leveraging MYOB Advanced to keep track of customer and supplier emails. They are now working with Kilimanjaro Consulting to integrate a legacy project management system.
How do I achieve a successful MYOB Advanced implementation?
A successful MYOB Advanced Implementation depends on 3 critical risk:
Software Risk
Implementer risk
Self-Inflicted Risk
You can reduce your risk by selecting the right implementation partner. Although there are many different partners to choose from, you need the one that will work with you every step of the way. Managing risk is an important part of an implementation; selecting a low-risk partner is critical to a lifetime of success with your Business Management system.
Kilimanjaro Consulting ticks all the boxes when it comes to choosing the right partner:
Kilimanjaro Consulting is the largest and most experienced implementer of MYOB's Enterprise-level business management, accounting, payroll, and workforce management solutions: MYOB Advanced and MYOB Exo. We are experienced, low-risk implementers, helping organisations improve efficiency in their businesses through the use of clever, innovative, and proven technology.
Free resources to help you further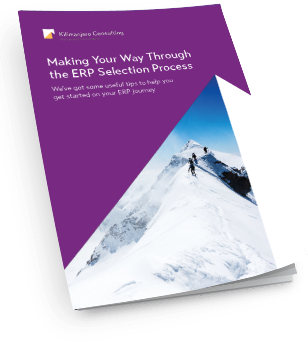 If you are ready to start your Business Management System journey, choose Kilimanjaro Consulting as your trusted implementation partner. If you don't know where to start, download our free E-Book that will take you through everything you need to consider and what to be wary of during this process.
Kilimanjaro Consulting is the largest implementer of MYOB's Business Management Software across Australia and New Zealand. We take the time to understand your business and only recommend the products that can meet your needs. To start a conversation about how MYOB Advanced can improve efficiency in your organisation, email sales@kilimanjaro-consulting.com, or call 1300 857 464 (AU) or 0800 436 774 (NZ).