MYOB Advanced Workforce Management
MYOB Advanced is the platform that combines ERP, Payroll, and now Workforce Management.
Eliminate headaches around managing your people with the new Workforce Management solution as part of the MYOB Advanced platform. Rostering, timesheets, recruitment, and onboarding are all part of the enhanced functionality of MYOB Advanced Payroll and MYOB Advanced Workforce Management.
The Workforce Management module is an extension of MYOB Advanced Payroll. It is directly integrated into your payroll and ERP system. MYOB Advanced is the first and only product on the market that covers all of these aspects of your organisation.
What are the key functions of MYOB Advanced Workforce Management?
Dashboards
MYOB Advanced Workforce Management provides easy to view dashboards, so you are always aware of how your people are performing. You can visually track metrics such as rostered vs actual hours, compare timesheets across working weeks, and break down staff attendance based on their clock-in behaviour.
Onboarding
By pre-configuring your onboarding process, you can consistently and automatically send all the important information to your new staff. The onboarding forms can be personalised, and the settings chosen in onboarding can flow through to other applications such as MYOB Advanced Payroll. This simplifies the management of award rates and other information – it is always coming from a single source of truth.
Your new team members can complete their onboarding process from various devices, and the virtual signatures captured meet the legal requirements in both Australia and New Zealand. Through the onboarding process, new team members can enter their personal information, attach supporting documents, view their standard working hours, complete TFN and Medicare Levy declarations, and provide payment and superannuation details. All this information is maintained securely in your system and synchronises where necessary across the MYOB Advanced platform. A notification is sent to managers when the employee has completed the onboarding process. This means that you can create rosters and process their first pay on time.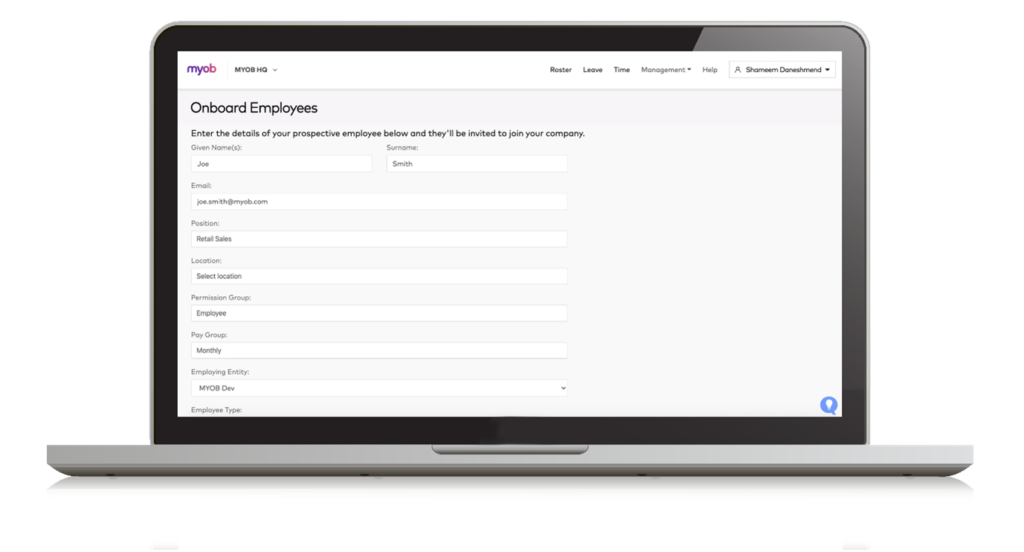 Rostering
The rostering information can be viewed with respect to different locations, per employee, and time range. Key information can be highlighted in different colours, so that important details stand out. The system is highly flexible when scheduling employees for different shifts. Employee schedules can be updated in bulk, or by single shifts. By taking information from the employee master file, rosters can be set up based on a team member's standard hours. Smart Rostering has been developed to make rostering simple. MYOB Advanced Workforce Management will intelligently create rosters based on pre-configured templates and staff information. These Smart Rosters can then be fine-tuned manually. Smart Roster automation fills shifts with available staff who have the right skills, while also following all employee agreements and legislative requirements.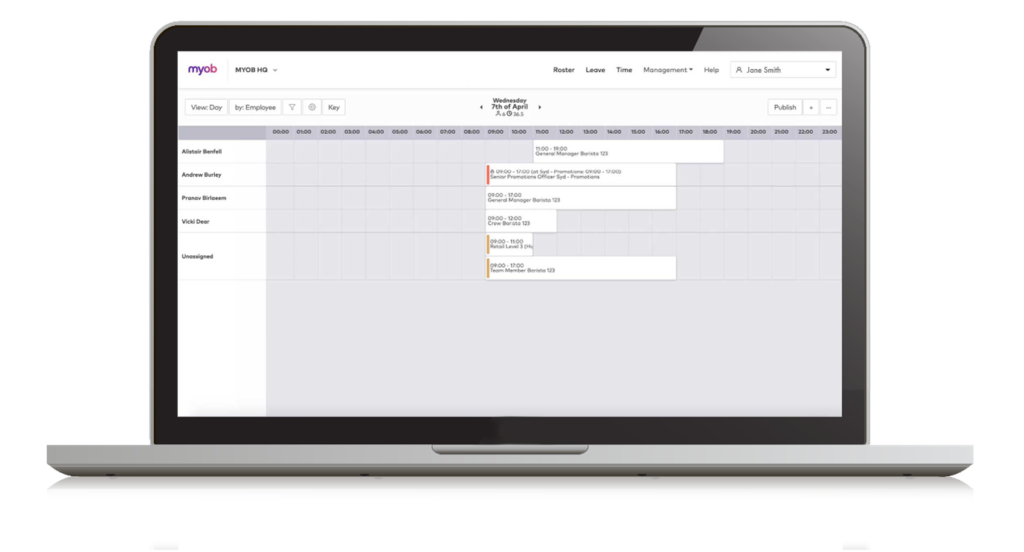 MYOB Advanced Workforce Management can send push notifications to alert you to overlapping shifts, conflicts and rules breaches (before any hours have been worked), and notify employees of any roster changes.
Managing Leave
Managers can edit, approve, or reject leave in MYOB Advanced Workforce Management. This information will flow through to rosters and timesheets automatically.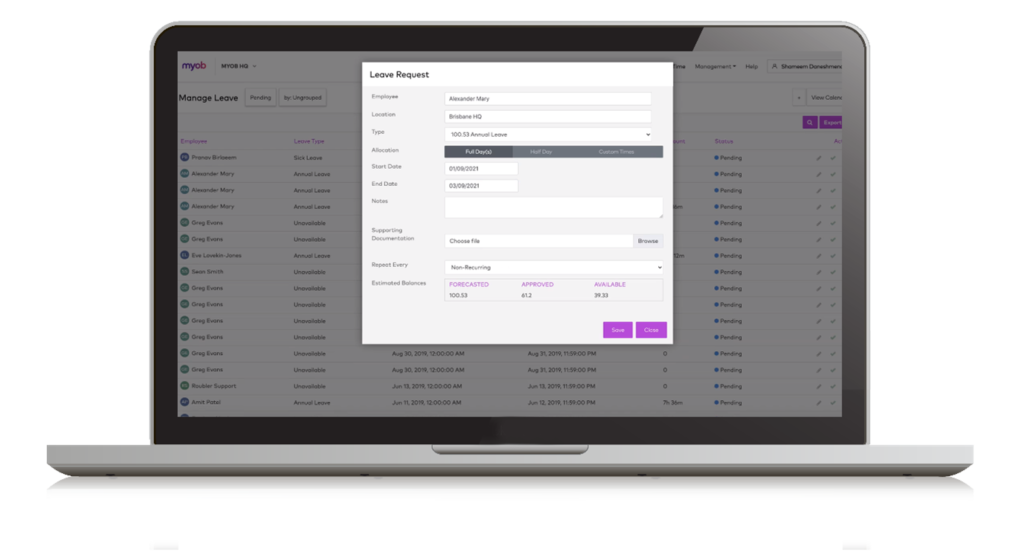 Timesheets
Managers can also edit, approve, or reject submitted timesheets. These timesheets are automatically generated when employees clock-in and out. These timesheets can be managed in bulk and committed to payroll for higher level approval. Whenever a time entry is created for an employee the pay rules assigned to the employee master file are applied automatically. This information can be uploaded directly to MYOB Advanced Payroll to manage accurate payment and reporting, without complex processes or data duplication.
MYOB Advanced Workforce Management App
The MYOB Advanced Workforce management App gives your team the ability to view upcoming rosters, view payslips, announce their availability for shifts and manage leave, clock-in and clock-out, and upload any necessary supporting documents. Clock-in can be configured to require a photo or have the team member answer clock-in questions. This clock-in time is updated across MYOB Advanced Workforce Management and all the information collected during clock-in can be viewed later, or when the shift requires approval.
MYOB Advanced Workforce Management is your integrated people management system. It covers all aspects of your team management from onboarding to rostering and timesheets.
Please note that MYOB Advanced Workforce Management has been designed to meet the requirements of specific industries. Reach out to our expert consultants to see if this solution is a good fit for your organisation.
To start a conversation about how MYOB Advanced Workforce Management can improve efficiency in your organisation, email sales@kilimanjaro-consulting.com, or call 1300 857 464 (AU) or 0800 436 774 (NZ).