MYOB Advanced Workforce Management – one seamless solution for onboarding, rostering, and timesheets
A seamless, integrated onboarding, rostering, timesheets, and payroll solution.
Learn more about the power of your software
The MYOB User Groups sessions are a great opportunity to meet, connect, and share experiences with fellow MYOB users and experts. This September, the half-day events are happening in Melbourne, Sydney, Auckland, and Online for MYOB Advanced and MYOB Exo. The theme of these events is Analyse! Uncover Insights. Discover how to leverage hidden insights in your MYOB system, use data to make better decisions, and stand apart from your competition.
Eliminate headaches around managing your people with the MYOB Advanced Workforce Management solution. Rostering, timesheets, recruitment, leave requests, compliance, reporting, and onboarding are all part of the enhanced functionality of MYOB Advanced Workforce Management.
The MYOB Advanced Workforce Management module is an extension of MYOB Advanced Payroll. It is directly integrated into your payroll and ERP system. This makes the MYOB Advanced platform the first and only system available to midmarket ANZ organisations that lets you manage your entire organisation from one place.
Key functions of MYOB Advanced Workforce Management?
MYOB Advanced Workforce Management automates many manual Human Resources (HR) processes. This frees up time and resources to focus on more important tasks. It also provides employees with self-service access to key information. This reduces the administrative burden on HR staff, improving employee satisfaction.
MYOB Advanced Workforce Management includes a range of features and tools that enable businesses to manage their workforce more effectively. With MYOB Advanced Workforce Management, you can efficiently onboard, roster, track, and pay your staff using a cloud platform:
Cloud-based dashboard reporting,
Automated onboarding,
Collaborative rostering and scheduling,
Intuitive leave management and approvals,
Sophisticated time capture and attendance management,
The MYOB Advanced Workforce Management app,
Built-in compliance and reporting, and
Integration with MYOB Advanced Payroll.
Detailed cloud-based dashboard reporting
MYOB Advanced Workforce Management provides easy-to-view dashboards, so you always have the best possible view of how your team is performing. You can visually track metrics such as rostered vs. actual hours, compare timesheets across working weeks, and break down staff attendance based on their clock-in behaviour. All this employee information is presented in role-specific dashboards, helping to improve visibility and leading to better data flow and decision-making. MYOB Advanced Workforce Management is cloud-based, so your entire team is up to date every step of the way with live and correct data.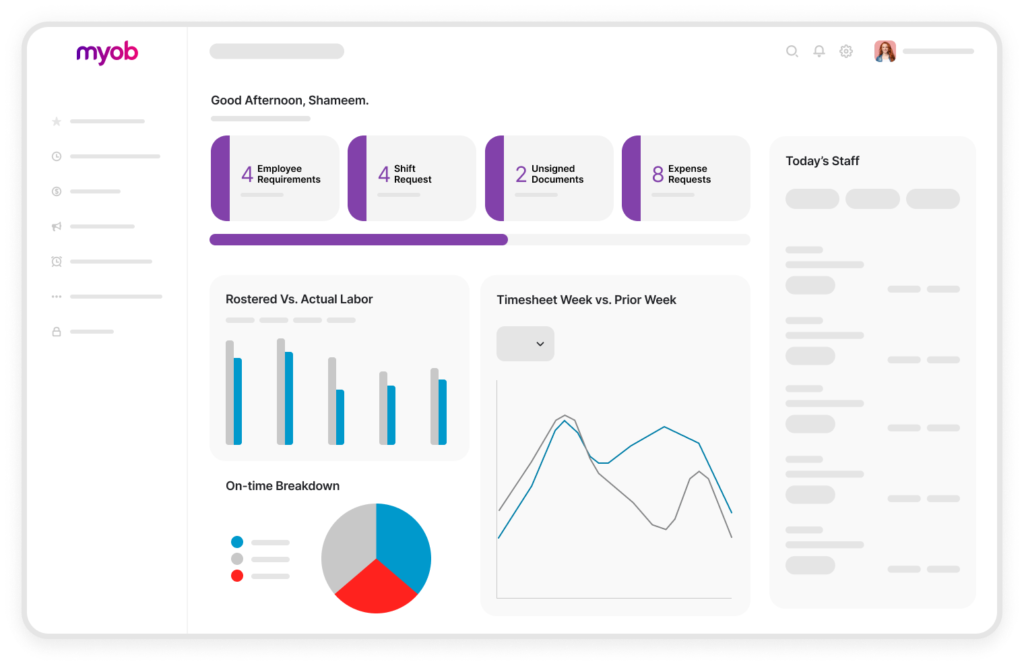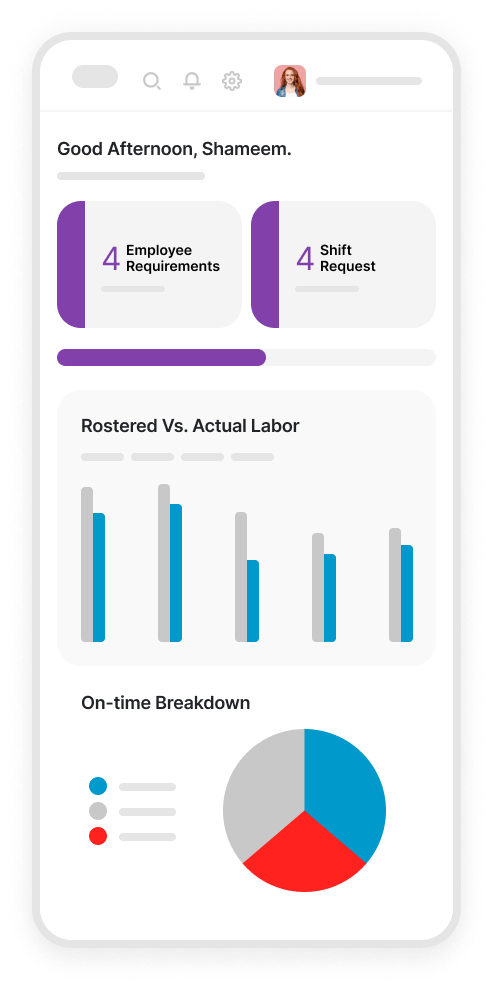 Automated Onboarding
MYOB Advanced Workforce Management includes an automated onboarding process that streamlines the hiring and onboarding process for new employees. By pre-configuring your onboarding process, you can consistently and automatically send all the essential information to your new staff. The onboarding forms can be personalised, and the settings chosen in onboarding can flow through to other applications, such as MYOB Advanced Payroll. The system automatically generates contracts and agreements, collects, and verifies employee information, and creates employee profiles. Managing award rates and other information for payroll purposes becomes simple – it is always coming from a single source of truth.
Onboarding can be completed from various devices,
Virtual signatures meet the compliance requirements of both Australia and New Zealand.
New team members can enter personal information, attach supporting documents, complete Tax File Number (TFN) and Medicare Levy declarations, and provide payment and superannuation details directly into the system.
Managers receive notifications when onboarding is complete, so the first shifts and pay runs can proceed on time.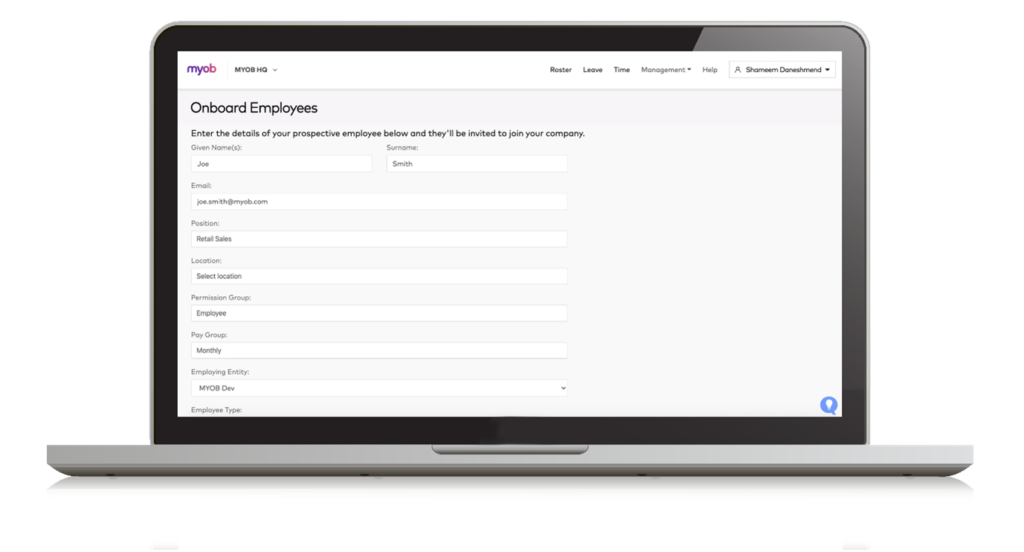 Streamlined and collaborative rostering and scheduling tools
MYOB Advanced Workforce Management has a built-in advanced rostering and scheduling system. Create and manage employee schedules, assign shifts, and manage shift and labour costs. The system is highly flexible when scheduling employees for different shifts.
View rostering information per location, per employee, and time range.
Highlight key information in distinct colours so that important details stand out.
Update employee schedules in bulk or by single shifts,
Create rosters automatically based on pre-built templates. This considers role requirements per shift, employee hours, agreements, and availability, legislative requirements, and budget constraints.
Support for shift swapping between different team members,
Push notifications to keep your team in the loop with changing shifts, new rosters, conflicts, and more – before any hours have been worked.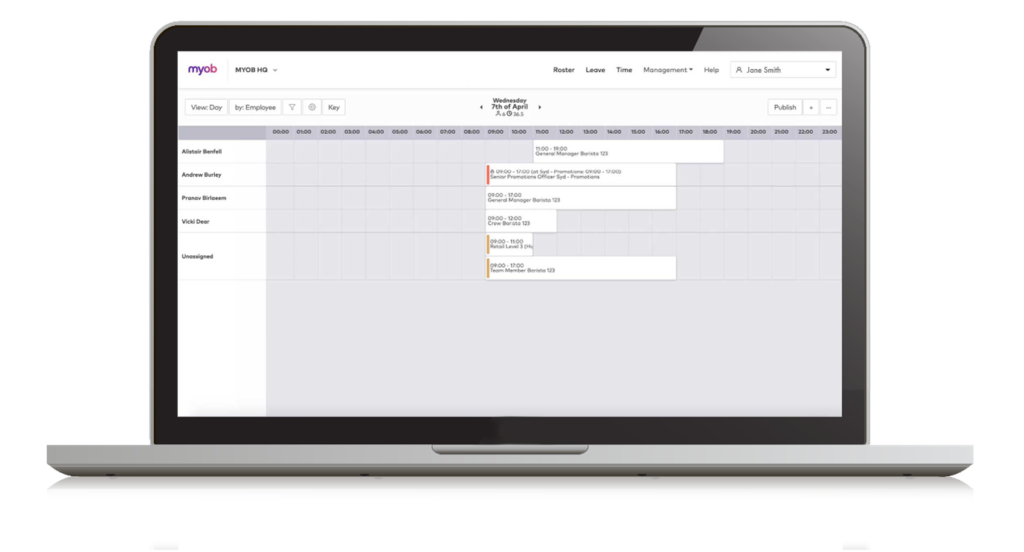 Intuitive and integrated leave management
MYOB Advanced Workforce Management includes leave management functionality to manage employee leave requests, track leave balances, and enforce leave policies. Automatically ensure compliance with labour laws based on specific employee awards and individual scenarios.
Managers can edit, approve, or reject leave in MYOB Advanced Workforce Management. This information will flow through to rosters and timesheets automatically.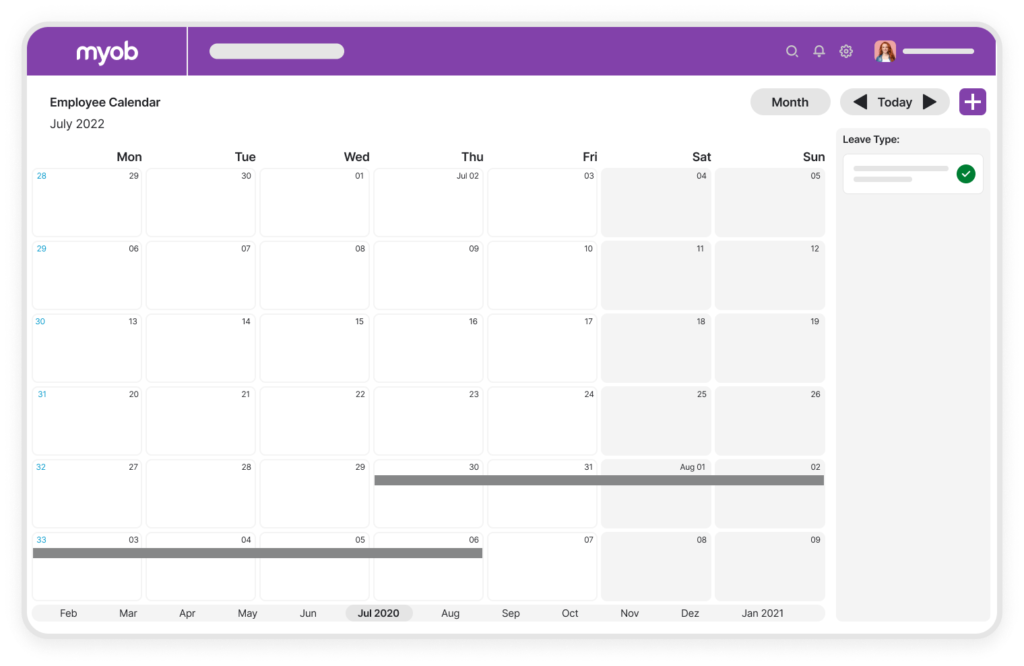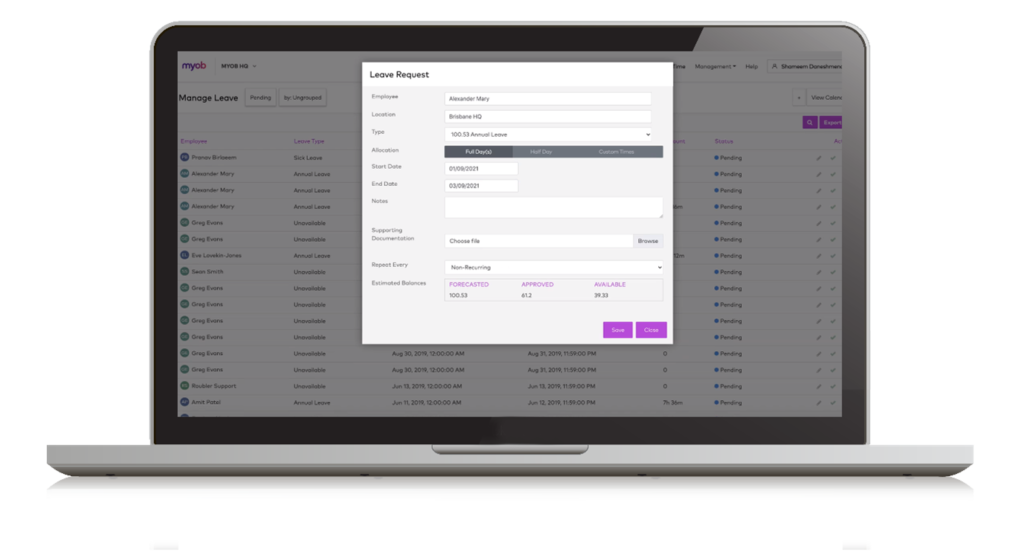 Timesheets and Attendance Management
MYOB Advanced Workforce Management provides businesses with a comprehensive time and attendance management system. Track employee hours, manage overtime and exceptions, and enforce attendance policies with all payroll data integrated into MYOB Advanced Payroll. This helps businesses to reduce time theft, ensure award compliance, and accurately track shift and labour costs.
Managers can edit, approve, or reject submitted timesheets.
Automatically generated timesheets based on clock-in and clock-out behaviour,
Manage timesheets in bulk, approving and submitting to payroll in batches for higher-level approval,
Apply Master File pay rules to employees automatically based on their time entries,
No complex processes or data duplication is required to manage accurate reporting.
MYOB Advanced Workforce Management App
MYOB Advanced Workforce Management includes a mobile app that enables employees to manage their information from anywhere and at any time. For businesses with mobile workforces, this greatly improves employee flexibility and site management.
Use the MYOB Advanced Workforce Management app too:
View upcoming rosters,
View payslips,
Announce availability for shifts,
Submit and manage formal leave requests,
Clock-in and clock-out,
Upload necessary supporting documents or photos,
Clock-in can be configured to require a photo or have the team member answer clock-in questions. All the information collected during clock-in can be viewed later or when the shift requires approval.
Built-in compliance and reporting
MYOB Advanced Workforce Management provides businesses with a range of compliance and reporting tools. This includes compliance reporting, payroll reporting, and custom reporting. Ensure your team remain compliant with labour laws, reduce administrative burdens, and make informed decisions based on accurate data.
Built-in award management so everyone on your team is working correctly and paid the right amount.
Manage labour costs with detailed reports, so you can identify areas for improvement and make informed decisions.
Is MYOB Advanced Workforce Management the right fit for my organisation?
Please note that MYOB Advanced Workforce Management meets the requirements of specific industries. Reach out to our expert consultants to see if this solution is a good fit for your organisation.
MYOB Advanced Workforce Management is particularly valuable for organisations with large or complex workforces. It saves time, reduces errors, improves compliance, and reduces labour costs when implemented correctly and for the right organisations.
Service-based organisations – Accurately track time and integrate the data into payroll and project billings,
Mobile workforces – take advantage of the MYOB Advanced app to manage timesheets with clock-in/out functionality,
Growing workforces – streamline your onboarding process with automated data capture and compliance,
Retail or other shift-based organisations – automated rostering makes sure you have the right staff in the right place at the right time. Manage your complex payroll requirements with support for multiple pay rates, different shift requirements, and overtime rules.
How important is MYOB Advanced Integration
MYOB Advanced Workforce Management integrates seamlessly with other MYOB ERP products, including MYOB Advanced Payroll and MYOB Advanced Business. This ensures a comprehensive and streamlined solution for managing all aspects of a business's operations. Take advantage of a single business management platform to manage your entire organisation with MYOB Advanced.
By integrating with MYOB Advanced Business, MYOB Advanced Workforce Management can help businesses manage their finances, inventory, sales, and customer relationships. This also provides powerful reporting and analytics tools to help businesses make data-driven decisions. Organisations that rely on Membership services for revenue will benefit from an integrated ERP, Payroll, and Workforce Management system.
By integrating with MYOB Advanced Payroll, MYOB Advanced Workforce Management can provide businesses with a complete payroll and workforce management solution. The system can automatically calculate and process payroll, manage employee leave and entitlements, and ensure compliance with tax and superannuation regulations. This can save businesses time and reduce administrative burdens while improving the accuracy and efficiency of their payroll processes. MYOB Advanced Workforce Management is an extension of MYOB Advanced Payroll – so you will always be able to benefit from this integration.
Single Sign-On
MYOB Advanced supports Single Sign-On (SSO) and Two-Factor Authentication (2FA) across the entire platform for improved security and usability. SSO eliminates the need to remember multiple usernames and passwords by allowing secure logins to many applications with just one set of credentials. It creates a centralised authentication code, which authenticates a user once and then entrusts the information to other applications. This enhances security, saves time, and improves the user experience by reducing the number of passwords that need to be stored, managed, and remembered across multiple portals and systems and by reducing the number of login attempts. By combining SSO and 2FA, organisations can provide their users with a convenient and secure authentication experience across their business management platform.
What does MYOB Advanced Workforce Management cost?
MYOB Advanced Workforce Management is a part of the much larger and more complex MYOB Advanced platform; how much it costs will depend on how much of the platform you wish to use. The entire MYOB Advanced platform is a cloud-based Software as a Service (SaaS) product. That means your ongoing costs are billed monthly based on the number of licences you require to access the software. Different licences can access different areas of the system and cost a different amount. So, the more of the MYOB Advanced platform that you use, the higher your monthly costs will be. However, you can add or subtract licences at any time; you will only pay for what you use. SaaS systems are very flexible, supporting scaling requirements and your organisation's growth.
MYOB Advanced Workforce Management supports different licences based on how many employees are in your organisation. These different tiers attempt to address the complexity that comes with larger organisations.
MYOB Advanced Workforce Management also requires a dedicated implementation so that it can be customised to suit your workflows and processes. This is a once-off project, typically completed by an expert implementation provider. It is important to get your MYOB implementation right the first time. For an implementation project, you pay for the consultant's time and expertise to customise and optimise the system. The complexity of your organisation will affect the project duration and, therefore, the overall cost. Contact us for an estimate based on your specific requirements.
We also recommend that you choose a partner that provides ongoing MYOB Training and Support so that you are not left alone after the implementation. Kilimanjaro Consulting offers various MYOB Support Services and Plans to meet your requirements, from Pay-as-you-Go (PAYG) to Premium support plans.
MYOB Advanced Payroll integration
MYOB Advanced Workforce Management is a module of MYOB Advanced Payroll. MYOB Advanced Payroll can be operated separately from MYOB Advanced Business as a standalone platform. One of the greatest benefits of MYOB Advanced Workforce Management is the direct integration of your employee and payroll data into your payroll solution. This is not possible to achieve with any platform other than MYOB Advanced Payroll.
Contact us to discuss the benefit of MYOB Advanced integration in your organisation.
Features of MYOB Advanced Payroll
Important features of MYOB Advanced Payroll are:
The online tax engine, so you are always using the latest tax rates and thresholds,
Powerful configuration options that cater to many different employee scenarios,
Allowing for multiple employee pay groups across several pay frequencies,
(AU Only) Single Touch Payroll automatically updates the ATO with all information and compliance requirements,
Advanced payroll software reporting, transaction history and audit tracking,
Specific functions to streamline your end-of-year processes, and
The direct integration of your payroll data to MYOB Advanced Business.
MYOB Advanced Workforce Management Training
Training is essential to get the most out of your MYOB Software. At Kilimanjaro Consulting, we have several available MYOB training options for MYOB Advanced Workforce Management.
Training at Implementation
Our expert team will provide MYOB Advanced Workforce Management training as part of the implementation process. This ensures that you are self-sufficient when you go live.
Training Post-Implementation
Whether you have new staff that require system training or just need a refresher on what was covered during implementation, we can also provide ad-hoc, bespoke training to suit your specific requirements.
For more information or to sign up for free, visit the Kilimanjaro Consulting Training Portal AU or Training Portal NZ or email training@kilimanjaro-consulting.com.
Take advantage of our experience to help your business
Contact us to organise a free, no-obligation assessment of your organisation to determine whether MYOB Advanced Workforce Management is right for you. MYOB Advanced Workforce Management is designed to meet the needs of larger, more complex organisations. This requires a skilled implementation partner to support you through all stages of the implementation: design, build, User Acceptance Testing, and Go-Live.
There are many challenges and risks in moving your organisation to the cloud. Ensure you are partnered with a skilled and experienced implementer who can help guide you through the process with minimal risk. Kilimanjaro Consulting is the premiere implementer of MYOB Advanced Workforce Management. We work to understand your organisation's requirements and have the expertise to configure the system to best meet your needs. We provide trusted, honest advice about the MYOB Advanced platform and whether it will be a good fit for your organisation. Our expert team can help you discover if MYOB Advanced Workforce Management is an appropriate solution to improve your efficiency.
To start a conversation about how MYOB Advanced Workforce Management can improve efficiency in your organisation, email sales@kilimanjaro-consulting.com or call 1300 857 464 (AU) or 0800 436 774 (NZ).