MYOB Advanced – Important features of reporting dashboards
MYOB Advanced Tips and Tricks #11
MYOB Advanced is built to consolidate your data and reports, simplifying your decision-making process by giving you the best view of your data. When you can see all the important information in one place, you do not need to waste time gathering data and manipulating it into a readable format. The dashboard page in MYOB Advanced presents all the information you need in easy-to-digest graphs, tables, and charts. These dashboards can be customised based on your specific role so that you are only seeing the data that you really need. From the dashboards, you are able to drill through quickly and easily to find more detailed information.
Dashboards allow users to monitor financial, operational, and organisational information while analysing real-time trends that relate to their role in the company. You can now create and use personalised business dashboards to display different information types related to job functions, roles, or responsibilities to give you an overview of your current financial, organisational, and operational information.
There are three things to consider when designing your dashboard:
What are you trying to accomplish?
How do you want to display it?
Who is going to be seeing it?
Hint: MYOB Advanced comes with sample dashboards. Always check the out-of-the-box dashboards before you build a new one. 
By understanding these three questions, you can better design a necessary and purposeful dashboard rather than one that shows superfluous information.
Here is an example of a Sales Managers' dashboard. It shows various information such as Opportunities by Stage, Year-to-date (YTD) Sales, Sales by Salesperson, and the Value of each Opportunity. This detailed and specifically relevant information is available at a glance to the user upon signing into MYOB Advanced.
Each small component on the MYOB Advanced Dashboard is called a Widget. With the appropriate permissions, you can modify these widgets to display the needed information depending on your role and responsibilities. Each one of the widgets gives you visibility into critical data and allows you to drill down on that data to make informed decisions and to act on those items that require your action.
There are several different types of dashboard widgets supported by MYOB Advanced, including charts, data tables or listings of information, embedded pages from other websites or applications, header tiles, Power BI tiles, key performance indicators through scorecards and trend cards as well as wiki pages. These widgets are based on information sourced from generic inquiries within MYOB Advanced.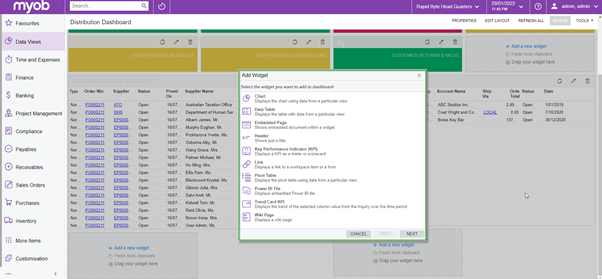 Configuration – some examples of Dashboards
Displaying Invoice Amounts
This example will demonstrate how to display invoice amounts for the last 10 periods in descending order of months.
Read More
Use Dashboards to show a list of invoices
This next example shows how to create a Data Table widget to show a list of invoices. In this example, you will use the same data source to display data, however, in a different way.
Read More
Creating a Score Card widget to highlight invoices of a certain level
You can also create a Score Card widget to highlight invoices greater than or lower than a certain set level.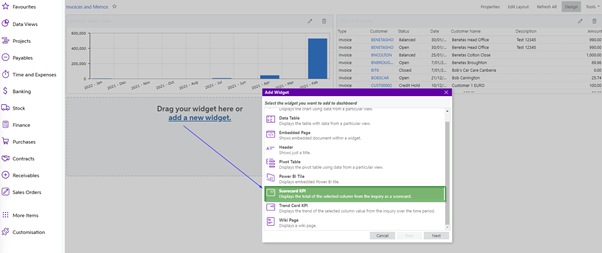 Read More
Create a Trend Card widget to display invoice trends
Trend Cards can be created as a dashboard to display invoice trends across time periods, for example, this year vs last year.
Read More
Parameter Search by customer within Invoice Sales Data
Creating the 'Parameter to search by customers within the Invoice Sales Data' dashboard allows the end-user to make selections and quickly display that information.
Read More
Phocas Software – a Business Intelligence add-on solution
Phocas Software's Analytics module is helping thousands of companies across the globe make better decisions faster.
With its drag-and-drop interface, Phocas makes it easy to create beautiful reports and visualizations from your data. Ad-hoc analysis lets you follow your train of thought to answer your own questions and uncover far-reaching business opportunities.
The ad-hoc analysis layer, or "Grid", allows you to follow your train of thought to answer your own questions and uncover business opportunities.
Phocas allows you to drill down from high-level dashboards into the underlying transactions so you can get to the truth faster and drive results.
Phocas' visualizations make it easy to track your company's progress with scorecards and live dashboards that give you a full picture at a glance
Database Designer lets administrators bring in new data sources and configure Phocas to their business needs with drag-and-drop functionality, reducing ongoing costs.
Interested in other ways to optimise MYOB Advanced?
Check out our handy MYOB Advanced Tips and Tricks blogs here:
Important features of reporting dashboards
We hope these tips and tricks were helpful to you! If you have any questions about Dashboards in MYOB Advanced, our friendly team is here to help. Call us on 1300 857 464 (AU) or 0800 436 774 (NZ), or send us an email.