Restricted use of Control Accounts in MYOB Advanced
MYOB Advanced Tips and Tricks #7
Having reconciled and balanced accounts is vital to accurate financial reporting. Posting directly to the General Ledger Control Accounts can cause imbalances between sub-ledgers and their respective balance sheets accounts. Introduced in Release 2020.3 MYOB Advanced (powered by Acumatica) now provides the ability to restrict direct postings of transactions such as journal entries to control accounts.
Impacts of restricting control accounts
By enabling the use of the restrictions, control accounts can be set against the following subledgers: Accounts Payable, Accounts Receivable, Fixed Assets, Inventory, Taxes (GST), Purchase Orders (Receipts), Sales Orders (Shipments).
Establishing a control account has two impacts:
Removes the opportunity for manual data entry directly into the account, and reduces error rates.
Prevents using the account as a default for fields related to sub ledgers. For example, the Sales or Expense accounts set in the Accounts Receivable or Accounts Payable master record.
Two new columns are added to the Chart of accounts Screen to further display and customize the account restrictions.
Alongside each General Ledger account, you can select the related sub-ledger Module, marking it as a control account. As per the example below, we have selected the "AR" control, to align with the Accounts Receivable General Ledger Account.

The "Allow Manual Entry" check box determines if users are able to post entries directly to this account. Clearing the box will prevent users from creating entries to this account.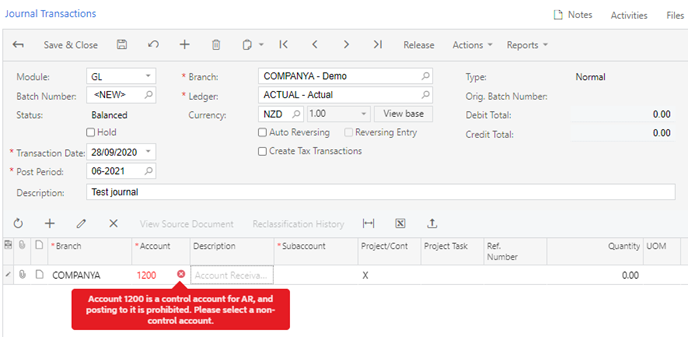 Checking this box will allow users to post transactions, although they will still receive a warning. It is recommended to uncheck this box once any necessary adjustments have been made.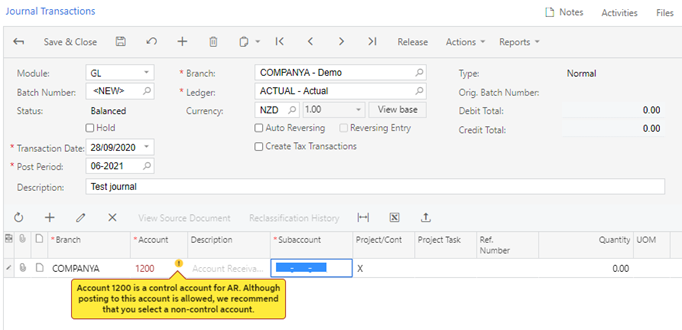 We recommended enabling the use of ledger control accounts to help prevent sub ledger imbalances.
Interested in other ways to optimise MYOB Advanced?
Check out our handy MYOB Advanced Tips and Tricks blogs here:
We hope these tips and tricks were helpful to you! Remember, if you have any questions about the new User Interface or in general our friendly MYOB Advanced team is always here to help. Call us on 1300 857 464 (AU) or 0800 436 774 (NZ) or send us an email.
Alternatively, for a comprehensive overview of all of our best MYOB Advanced 'hacks' in one place, you can download our PDF from the panel on the right – The Ultimate Compilations of Tips and Tricks!