Company Groups – Restricted Visibility of Customer and Supplier Records
MYOB Advanced Tips and Tricks #10
Managing multiple companies in a single tenant comes with several advantages including the sharing of master records such as customers, suppliers, and inventory items. However, there may be a requirement to separate customers and suppliers from different companies and users. This feature is now available as of MYOB Advanced version 2021.1.1, where the visibility of customers and supplier data can be restricted, without the use of Restriction Groups.
What does Visibility Restriction do?
Visibility Restriction Groups allows you to:
Ensure users of a particular company can only view those customer and supplier records that belong to the branches they have access to.
Align the selected customer or supplier to the branch the transaction document relates to. This is especially useful for users with access to multiple companies.
How does it work?
User Branch Access Roles should be created
The 'Customer and Supplier visibility restriction' option on the Enable/Disable Features screen, should be enabled
Setting up the Visibility Restriction for Company Groups
On the Customer and Supplier Classes screens, you can specify the default settings to be applied for new entities belonging to that Class.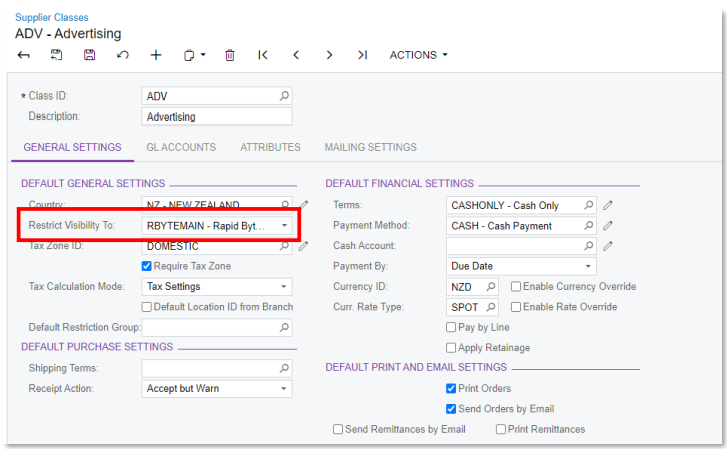 The Customer and Supplier record screens also has an added 'Restrict Visibility to' field. This means that you can only use this Customer/Supplier record exclusively with the specified Company or Branch.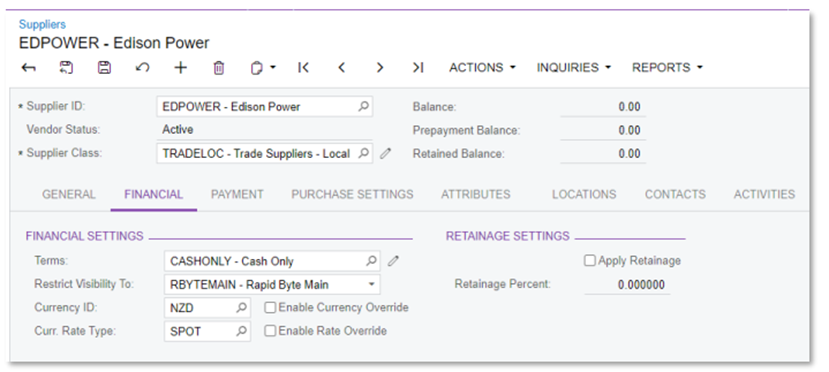 There may be instances where some companies may require access to the same customer and supplier records, yet other companies should be prevented. Company Groups are now available, where in the scenario below, entities belong to the same operational group. For reporting purposes, a company may belong to multiple groups.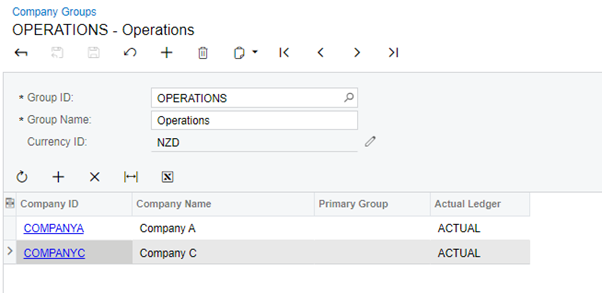 If Company Groups are used, then the Company/Branch selector box will be modified to display not only the company and branch, but also the Company Group. In this case, Company A and Company C are grouped together in the Operations group.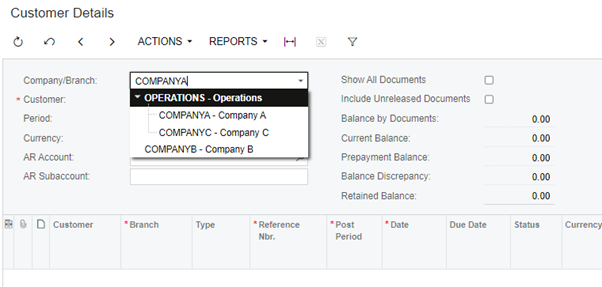 By using Company Groups, you retain control of your entire organisation for visibility and reporting purposes, but without compromising data security and privacy.
Interested in other ways to optimise MYOB Advanced?
Check out our handy MYOB Advanced Tips and Tricks blogs here:
Restricted Visibility of Customer and Supplier Records
We hope these tips and tricks were helpful to you! If you have any questions about Company Groups in MYOB Advanced, our friendly team is here to help. Call us on 1300 857 464 (AU) or 0800 436 774 (NZ), or send us an email.