CashFlow Reporting in MYOB Exo
Coming in version 2020.3 of MYOB Exo, Cash Flow Reporting adds valuable functionality to help you keep track of your business.
Cashflow is the lifeblood of any business. To accurately project a company's future bank balance, an effective cashflow forecast must use intelligent analytics, comparative period analysis, moving ledger balances, and much more. MYOB is introducing basic cashflow analysis into MYOB Exo in the latest update, version 2020.3 to help give you better insight and control over your business' finances.
How can cashflow help your business?
Cashflow analysis can provide a picture of a business's performance and potential by analysing activity from a cash movement perspective. This allows you to have focus on both short, and long-term expectations. Smart cashflow management means you can make smarter purchasing decisions and improve your bottom line.
Cashflow in MYOB Exo
MYOB Exo will break down your classifications into 3 main categories: Operating, Investing, and Financing. However, this can be customised further and broken down into additional classifications if required. This basic set up will allow you to generate a Statement of Cashflow and gain instant perspective of the current cashflow situation in your business.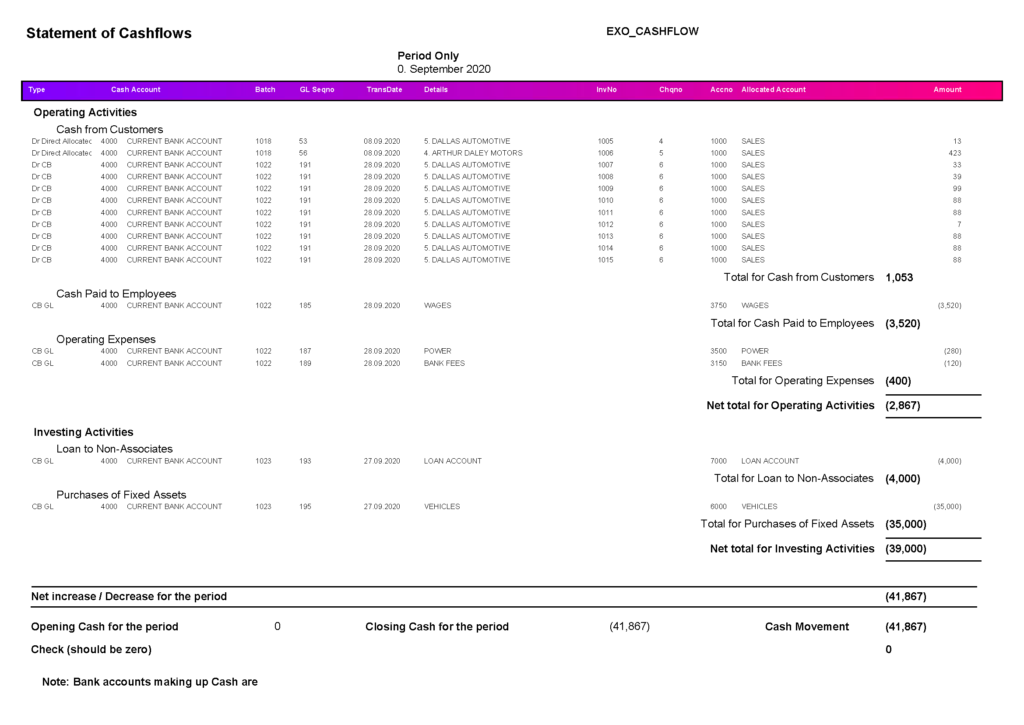 Although useful and powerful, this statement cannot be solely relied on for cashflow forecasting. However, when used in conjunction with other tools and Connected Services, you can begin to see a better picture and accurately forecast future cashflow. MYOB Exo will also be able to generate a Cash Flow Classification Report that can be used as a quick and easy way to double check that your customer accounts have been configured correctly.
This much requested feature will be easily useable straight out of the box, with limited investment in configuration. MYOB Exo will automatically tag transactions that typically effect cashflow and use that data to generate reports. It is simple and low risk to implement, providing value with only minor account customisation required.
The version 2020.3 update of MYOB Exo will also feature user interface and aesthetic upgrades, allowing the new Cashflow analysis to fit seamlessly and elegantly into your MYOB Exo setup.
If you have any questions about the future updates of MYOB Exo, Cash Flow Management, or anything ERP related please do not hesitate to call us on 1300 857 464 (AU) or 0800 436 774 (NZ), or send an email to sales@kilimanjaro-consulting.com.