MYOB Advanced provides the right foundation for Construction companies
Build a better future for your construction business in the cloud
The Construction Industry has unique requirements. It is all about using the right tools for the job. Using the wrong business management tools can lead to cumbersome processes and undesirable outcomes. Business and industry leaders typically have years of experience in their field and trust in their old processes. It can be difficult to imagine how significant the increase in efficiency can be from using an industry-specific purpose-built solution when you have only ever been using out of date, or manual processes.
The benefits of cloud construction software
There are many benefits to shifting your construction company into the cloud:
Real time visibility of your projects and data
Complete control
Enhanced productivity
Collaboration and communication
MYOB Advanced Construction edition is the purpose-built solution the construction industry needs to push itself into the future. 80% of all construction businesses rely on non-specific software, free applications, and paper-based records. Implementing a cloud-based solution like MYOB Advanced can increase collaboration, streamline operations, and get the visibility you need to keep projects, budgets, and timelines on track.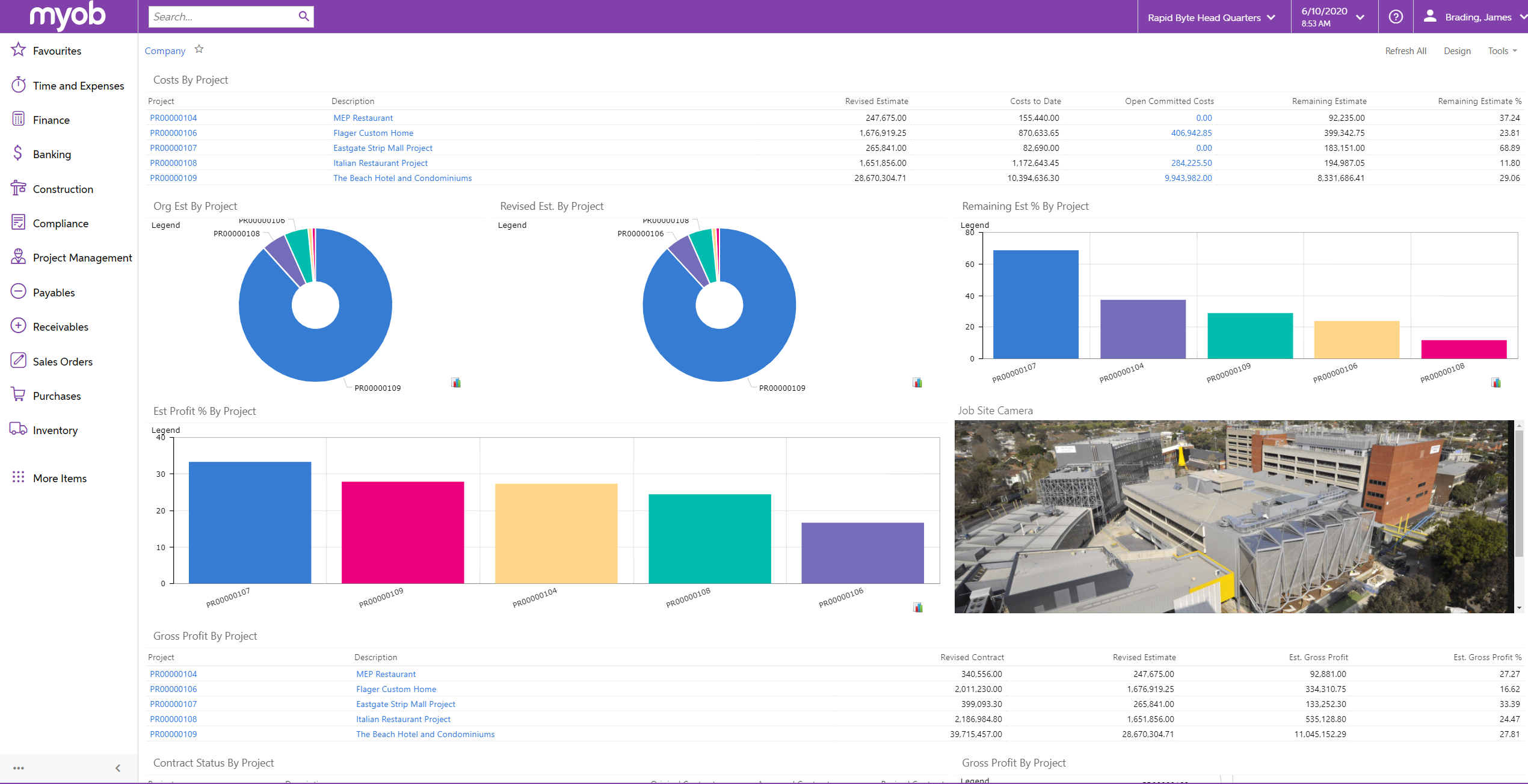 Real Time Visibility
When you have the most accurate and up to date information from past and current projects you can make better decisions on your future. Quoting for future projects becomes much more accurate when you have this data from your past work. Internal work and communication also becomes much more efficient when project information stays up to date.
Complete Control
Instead of switching between different sheets and systems, you can have the ability to manage workers, sub-contractors, billing, payroll, and all of your project information whilst onsite and on your mobile phone. This gives you unprecedented control over all aspects of your project and helps to keep everything moving forwards efficiently.
Enhanced Productivity
As MYOB Advanced is fully integrated across all of its systems, double-handling of data, and time-consuming entries can be eliminated. Saving time on manual work means that more can be invested into working directly on projects resulting in a boost to productivity.
Collaboration and Communication
Your company can avoid errors and miscommunications when using MYOB Advanced to work from a single source of truth. Keeping office staff and onsite workers on the same page throughout the day means that you can share accurate project information (such as timelines) with clients, keeping them happy.
The construction industry is growing rapidly and becoming more complex. Companies must take advantage of the opportunity to implement cloud-based ERPs like MYOB Advanced Construction as early as possible to gain an advantage over their competitors and see increased success. Maintaining dependence on paper-based and disparate processes will only heighten errors and make it hard to compete with constantly evolving and growing businesses.
There are many signs that your business is ready for the transition to a cloud-based ERP. To learn the 6 signs that it is time to upgrade your system, download the PDF below.
Learn more about MYOB Advanced in construction by watching the video below. For more interesting content, check out our YouTube channel here.
For more information about MYOB Advanced and whether it is suitable for your business requirements, please email sales@kilimanjaro-consulting.com or call us on 1300 857 464 (AU) or 0800 436 774 (NZ). Our sales team are happy to answer any questions you might have.