MYOB Advanced Construction – sure foundations for your organisation in the cloud
Find improved efficiency, profitability, and productivity when you manage your construction organisation with a specialised cloud-based business management platform.
MYOB Advanced Construction is designed to meet the needs of complex construction organisations. It gives you complete visibility over your entire operations, from costing to time management, and more. MYOB Advanced Construction is a dedicated edition of the MYOB Advanced platform – built for the construction industry to manage projects effectively in the cloud.
What is MYOB Advanced Construction?
MYOB Advanced is cloud-based enterprise resource planning (ERP) software developed by MYOB and powered by Acumatica – the world's fastest growing ERP system. It provides organisations with a comprehensive set of tools for financial management, supply chain management, project management, and more. The software is designed to streamline business processes, automate tasks and other business events, and provide real-time insights into key performance indicators (KPIs). It is suitable for large, complex organisations and can be customised to suit your specific requirements.
MYOB Advanced Construction is a purpose-built edition of MYOB Advanced. It has the focused functionality to meet the specific needs of the construction industry. It gathers data across your entire operation. Whether it is reduced administration time, greater control of costs, or real-time reporting, MYOB Advanced Construction will improve efficiency in your organisation. Its integrated, modular design means that it can become one advanced platform to manage your entire organisation.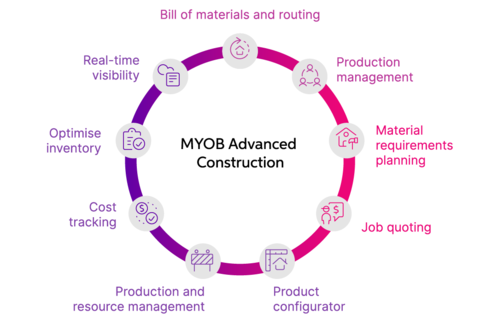 Key industry benefits of MYOB Advanced Construction
MYOB Advanced Construction offers several benefits for construction companies:
Integrated Project Management
MYOB Advanced Construction is an end-to-end project management platform. You can efficiently plan, schedule, and track construction projects all from one integrated system. Manage budgets, allocate resources, track costs, and monitor project progress in real-time. Platform-wide integration streamlines execution and enhances control and visibility of your projects.
Financial Control and Visibility
MYOB Advanced Construction offers robust financial management features. This includes all the powerful functionality you would expect from an ERP system such as a flexible General Ledger, Accounts Payable/Receivable, budgeting, and job costing. Gain a comprehensive view of project costs, track profitability, and make informed financial decisions with your financial data integrated across various projects.
Document Management and Collaboration
Construction projects involve extensive documentation and collaboration with clients, subcontractors, and your team. MYOB Advanced Construction provides a centralised document management system, so you can store, track, and share project-related documents securely. Real-time communication and cloud-based document visibility means that everyone is working with the same information at the same time.
Streamlined Estimating and Bidding
MYOB Advanced Construction simplifies the project estimating and bidding process. Because all the data from previous projects is readily available in the system you can use this data to support accurate cost estimates. Build trust with your clients and prospects by delivering accurate proposals and estimates. MYOB Advanced Construction can track your different pending proposals and automate manual task and job generation upon acceptance.
Top MYOB Advanced Construction features
In addition to the powerful financial features of MYOB Advanced Business, the system can support your end-to-end construction management operations.
Project Management
Efficient project management is essential for construction companies. MYOB Advanced Construction offers comprehensive project management features, including:
Project planning and scheduling
Resource allocation and management
Cost tracking and budget management
Real-time project progress monitoring
Change order management
Subcontractor management
Time and expense tracking
Document Management and Collaboration
Efficient document management and collaboration are critical for construction projects. MYOB Advanced Construction offers features such as:
Centralised document storage and version control
Document sharing and real-time collaboration
RFI (Request for Information) management
Submission management
Drawing management
Contract and document tracking
Estimating and Bidding
MYOB Advanced Construction simplifies the estimating and bidding process with features such as:
Accurate cost estimations
Bidding and proposal generation
Bid tracking and reporting
Historical data analysis for improved estimates
Integration with estimating tools
Reporting and Analytics
The software provides comprehensive reporting and analytics capabilities, enabling you to gain valuable insights into project performance, financials, and resource utilisation. Key features include:
Customisable dashboards and KPIs
Project profitability analysis
Financial reporting and analysis
Resource utilisation tracking
Real-time project status updates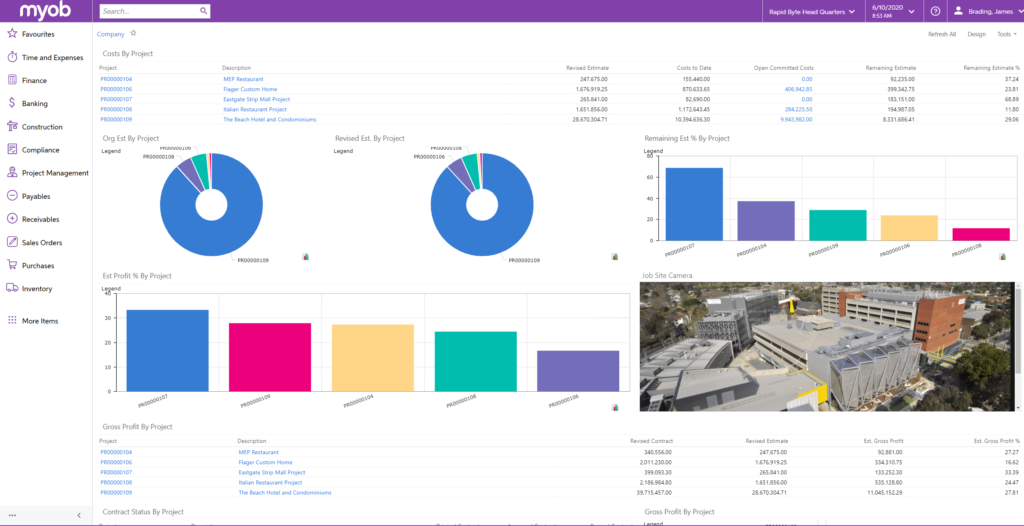 MYOB Advanced Mobile App
MYOB Advanced Construction offers mobile access, allowing users to access critical project information, update timesheets, and collaborate on the go. Mobile capabilities enhance productivity and enable real-time decision-making from anywhere and at any time.
Who will benefit from MYOB Advanced Construction
MYOB Advanced Construction offers robust project management capabilities, catering to the unique needs of the construction industry. MYOB Advanced Construction can make a significant impact and improve efficiency in your construction projects. Organisations that require the below functionality will benefit from implementing MYOB Advanced Construction:
Project Planning and Scheduling: Create project timelines, allocate resources, and define dependencies to ensure smooth project execution. Real-time project visibility allows you to identify bottlenecks, mitigate risks, and make informed decisions to keep projects on track.
Cost Tracking and Budget Management: Monitor expenses, track labour and material costs, and compare actual costs against estimated budgets in real-time. Maintain financial control, identify cost-saving opportunities, and ensure projects remain profitable.
Change Order Management: MYOB Advanced Construction streamlines the change order process. Capture change requests, assess their impact on schedules and budgets, and ensure proper documentation and approval workflows. This minimises disputes, improves project transparency, and enhances client satisfaction.
Job Costing and Profitability Analysis: MYOB Advanced Construction accurately tracks project costs. Allocate expenses to specific jobs to improve accuracy and streamline reconciliations. Gain detailed insights into labour, material, and overhead costs, enabling you to identify profitable projects and make data-driven decisions. Optimise resource allocation and enhance overall profitability.
Subcontractor Management: Track subcontractor contracts, monitor payments, and streamline communication and collaboration with subcontractors. This detailed tracking and communication reduces payment disputes, strengthens relationships, and takes the headaches out of managing subcontractors.
Reporting and Analytics: Generate customisable reports, visualise key performance indicators (KPIs), and monitor project metrics in real-time. Data-driven decision-making is the key to responding to changes in the market and staying ahead of your competition.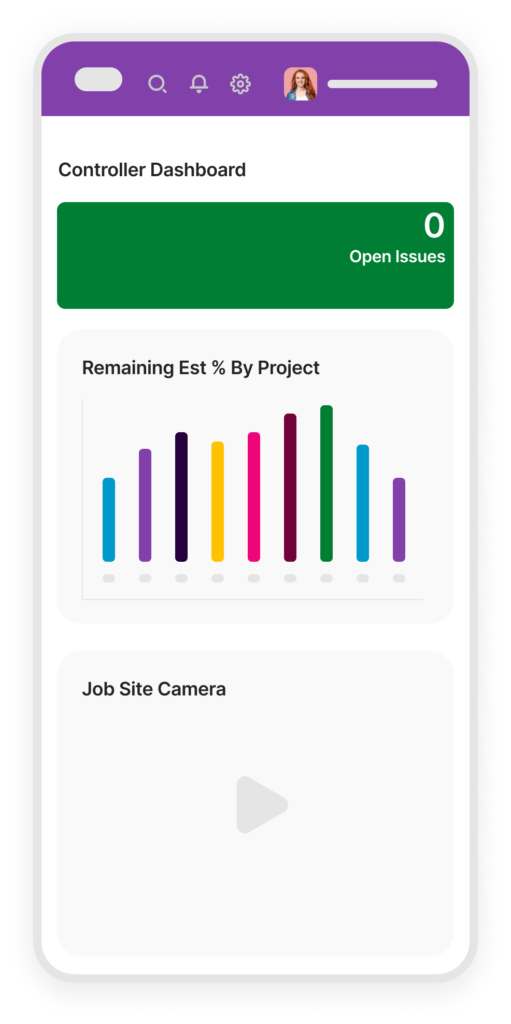 The building blocks of MYOB Advanced Construction
MYOB Advanced is a modular business management system made up of integrated tools to improve efficiency. The MYOB Advanced Construction solution enhances these modules with specific functionality for the construction industry:
Contracts
Budgets
Job costing
Change orders
Daily field reports
Project billing
Compliance
Payroll
Retentions
Mobile app
In addition to the scope of these different modules, MYOB Advanced has many cutting-edge features:
A customisable, flexible and segmented General Ledger configuration with Enterprise level financial and budgeting features,
Strong organisational configurable workflows so that you can define actions and approval requests,
Automatic emails to users, customers, and suppliers,
Full customisation of fields and screens to match your unique processes,
Customisable dashboards give you an immediate view of all the data relevant to you on sign-in,
Automate transactions and costs from other Advanced modules directly into Projects or the General Ledger,
An integrated CRM to maintain a database of prospects, customers, and contacts, manages your pipelines and converts leads to sales orders,
Cloud ERP integration through an API so that you can bolster your system's functionality with best-of-breed add-on products.
Keys to a successful MYOB Advanced implementation
Choosing the right implementation partner is as important as choosing the right software. The partner's role is critical to the long-term success of the software in your organisation. It is important to get your MYOB implementation right the first time.
Kilimanjaro Consulting has developed a structured, low-risk methodology for MYOB Advanced implementations. The process combines your understanding of your business with our understanding of the software to ensure that your investment gives you the anticipated and best outcome. Following a structured implementation methodology ensures we get everything right for your organisation the first time. Our methodology is the culmination of years of experience. It is refined with lessons learned from previous implementations and the evolution of our processes.
Risk Benefit-Assessment: Understand and mitigate the software, implementer, and non-implementer risks.
System Design: Our expert team gets an in-depth understanding of your organisation and plans out the entire build. You must sign off before we continue. This ensures all your needs are met, and every workflow and process is accounted for.
System Construction: Our product expertise and technical skill configure the system to meet your requirements.
User Acceptance Testing (UAT) and Training: A fully functional sandbox is used for training and testing without impacting the final system. Once your wider team is comfortable with each function, you can begin in-depth testing to ensure the system meets your every need and works properly.
Go-Live: Final data migration and go-live. Any issues that were flagged in UAT have been resolved.
Post-Go-Live Support: Implementing MYOB Advanced is a lifetime partnership. Our team will guide you through your first month and then step back to let you operate as normal. We will always be available to support you and your changing requirements in the future.
Case Study: Thompson Group built their company foundations with MYOB Advanced
Thompson Group is a New Zealand-based construction and engineering business. They take on the entire construction process from 3D design, steel fabrication, precast and construction to property management.
Their old system lacked visibility across all facets of their organisation. Every year, the projects they secured were getting bigger and more complex, which meant more machinery and more staff needed. Thompson Group needed an all-in-one software solution that could grow as the organisation changed and connect project management to financial performance. Following the advice of their trusted business partner, Kilimanjaro Consulting, Thompson Group selected MYOB Advanced as their new, future-focused, cloud-based business management platform.
Watch the video case study to discover how they benefitted from the implementation.
Why should you choose MYOB Advanced Construction?
Choose MYOB Advanced Construction if you require:
A modern technology solution specific to the construction industry,
Modern cloud ERP software solutions to improve efficiency in your organisation,
A flexible and configurable system to support you now and in the future,
A fully connected system to leverage real-time data and make better decisions,
To save time and reduce errors by automating manual processes within your business.
You should consult an expert consultancy and take their advice as to whether MYOB Advanced will be a good fit for your organisation. The consultancy should consider your current and future state to determine an MYOB Advanced implementation's efficacy. To get a head start on this process, consider the pain points you are feeling in your current processes:
Are you spending too much time generating reports?
Do you lack visibility over important areas of your business?
Are you limited by poor system accessibility and on-premise servers?
Is your team getting too large to manage efficiently? Do you need a smarter payroll and workforce management solution?
Do you work across a complicated ecosystem of disconnected products to manage your business?
Has your business grown to multiple locations?
These can be the signs that you are ready for a sophisticated cloud-based business management platform like MYOB Advanced.
The true value of modern cloud ERP solutions
Embracing cloud technology has become a crucial differentiator that empowers progressive organisations to drive innovation, deliver superior customer experiences, and improve efficiency. As the construction industry evolves, it is imperative for organisations to adapt and harness the power of technology.
By leveraging advanced solutions like MYOB Advanced Construction, companies across Australia and New Zealand can transform their operations, streamline processes, and gain a competitive edge. Embracing technology enhances productivity and cost-effectiveness, enabling greater collaboration, improved supply chain management, and real-time decision-making.
By embracing the digital transformation journey, you can take your place as an industry leader, delivering exceptional outcomes for your clients and team. In this fast-paced environment, those who embrace technology and leverage its capabilities will stand out from the competition, seize new opportunities, and thrive in the ever-evolving market landscape.
Why should you not choose MYOB Advanced Construction?
MYOB Advanced Construction is a complex, sophisticated business and construction management platform. It requires in-depth solution design and configuration to meet your requirements and to add the most value to your organisation.
To get the full benefits of MYOB Advanced Construction, you will need to engage with an experienced implementation partner. An MYOB Advanced implementation is a significant, detailed project requiring time for in-depth design and configuration. It is not well suited to organisations looking for "out of the box" functionality or a low-cost entry point when upgrading from Accounting Software to ERP software.
As an indicative number, MYOB Advanced implementation will cost between $50k and $100k, depending on the individual requirements. More complex organisations could fit outside this range. Ongoing licence fees range between $2k to $5k per month.
MYOB Advanced is best suited to larger, more complex construction organisations managing substantial projects, custom workflows, and intricate processes.
A Payroll and Workforce Management solution to complement your Construction Solution
MYOB Advanced Payroll is a module of the MYOB Advanced Platform. It is a modern, cloud-based payroll and HR solution that can be fully integrated into MYOB Advanced Construction. Process your payroll and other administrative tasks remotely, update tax rates and information in real-time, and let your employees manage their own information and leave applications on-line with the Employee Self-Service module. MYOB Advanced People is Single Touch Payroll (STP) compliant and brings enhanced flexibility to your pay cycles, allowing customisable pay groups and pay frequencies.
New onboarding functionality for MYOB Advanced Payroll
MYOB Advanced Employee Onboarding is a new, dedicated onboarding solution in the MYOB Advanced Payroll suite. Take advantage of the strong first impression created by a digital-first onboarding experience and the efficiency improvements gained by collecting this information in MYOB Advanced Payroll. Reduce the administrative workload on your payroll administration team, who would typically chase paper forms and manually enter details. MYOB Advanced Employee Onboarding prevents employers from defaulting new starters into the employer super fund. It is mandatory for new employees to choose a new fund or select their existing fund.
Human Resource Management is becoming increasingly important for modern businesses. Maintaining appropriate compliance and governance is paramount, and payroll is one area of your business at risk of fraud. It is imperative to upgrade your payroll software.
The MYOB Advanced Workforce Management module is an extension of MYOB Advanced Payroll. It is directly integrated into your payroll and ERP system. This makes the MYOB Advanced platform the first and only system available to midmarket ANZ organisations that lets you manage your entire organisation from one place.
MYOB Advanced Construction Training
Training is essential to get the most out of MYOB Advanced Construction. Our expert implementation team will provide face-to-face training during the implementation process. This is to help you become self-sufficient on your system when you go live.
However, we can also provide ad-hoc training to suit your specific requirements, whether you have new staff that require system training or a refresher on what was covered during implementation. This customised training gives you flexibility on time and areas that you wish to cover.
For more information or to sign up for your training experience, visit the Kilimanjaro Consulting Training Portal or email training@kilimanjro-consulting.com.
MYOB Advanced Support
Our goal in providing MYOB support services is to ensure your continued success using the MYOB Enterprise suite of products. We want to get you back to working in your system as quickly as possible. We follow a structured methodology for any MYOB Support case to minimise risk and solve your problem efficiently. Our MYOB Advanced Support team has developed a robust knowledge base grounded in their real experiences finding a solution for our clients. Knowing more about your issue allows the team to provide multiple resolutions. No matter if the query is small or large, our team will always endeavour to provide a satisfactory solution.
Recognising that clients have unique needs and priorities, Kilimanjaro Consulting offers clients a range of MYOB Support Services. These options enable our support Sherpas to deliver support tailored to your preferred engagement model efficiently and cost-effectively.
Version History
Each new version of MYOB Advanced adds new features and functions to the already powerful system. Minor upgrades for MYOB Advanced happen automatically; however, major upgrades involve a sandbox testing environment so that you can become familiar with all the new features before they impact the live system. There are two major updates to MYOB Advanced per year. Your trusted implementation partner will guide you through this process.
Acumatica – the engine behind MYOB Advanced
Acumatica is a leading cloud-based innovator in the ERP space. With customers worldwide, it has become the fastest-growing provider of cloud-based Business Management Software to mid-sized organisations worldwide. It boasts adaptable mobile technology to enable a complete, real-time view of businesses anywhere and anytime.
In August 2013, MYOB sealed a multi-million-dollar deal with Acumatica. As part of the deal, MYOB received exclusive rights to market Acumatica under a new name within the Australian and New Zealand markets. The cloud-based Business Management system is now known as MYOB Advanced Business.
MYOB Advanced Tips & Tricks
Having the right help, tools, and knowledge can be the difference between a good and a bad day. We hope that this bank of MYOB Advanced Tips and Tricks provides that helping hand to guide you and your business through minimising errors, saving time, and improving business efficiency.
MYOB Advanced FAQ
MYOB Advanced is a detailed and complex software built for complex Businesses. For more information, our MYOB Advanced Frequently Asked Questions are a good place to start. This section also covers Cloud Accounting and other Software packages.
Take advantage of our experience to help your organisation
Contact us to organise a free, no-obligation assessment of your organisation and whether MYOB Advanced Construction is right for you.
To start a conversation about how MYOB Advanced Construction can improve efficiency in your organisation, email sales@kilimanjaro-consulting.com or call 1300 857 464 (AU) or 0800 436 774 (NZ).