Pathways to the Cloud
We provide you with a clear and easy path to the cloud, if and when you need it.
Being connected is more important than ever before. The impact of COVID-19 means that businesses will forever be working differently; and require different methods of accessing their systems and solutions from outside of the office. The combination of a single source of truth and access from anywhere is a powerful argument for any business to shift to a cloud-based solution. But there are also options to enhance your existing MYOB Exo system and reap the benefits of the cloud. With the rapid adoption and development of technology in 2020, the perspective of the cloud has shifted to that of a reliable and secure platform in which you can manage your business.
For a smaller business, the move to the cloud is relatively simple as there is less to consider. However, for the larger more complex business, the transition is more complicated, as existing data may be stored across many different platforms. It is important to make the right decision for your company and take full advantage of the benefits from having your systems in the cloud.
From the simple and easily deployed systems, to the more complex and costly solutions, you can explore the different pathways to take your business into the cloud.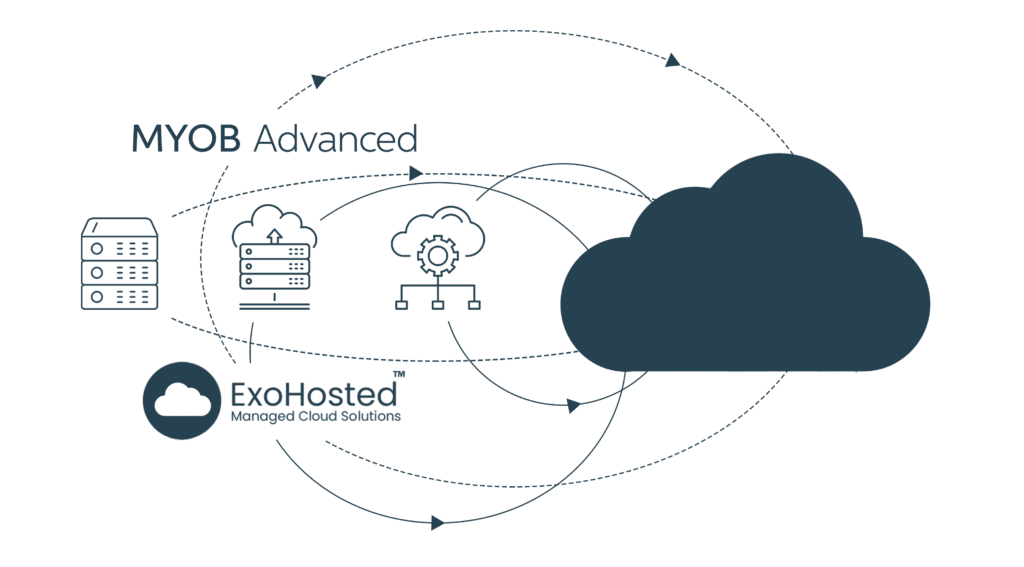 Connect Remotely with an RDP session
Modern improvements in internet speeds have made connecting via an RDP session to be a viable option for smaller companies. By using a Remote Desktop Protocol (RDP) you can connect to another computer over a network connection, allowing you to access your on-premise system from outside the office. The RDP client is a part of the standard functionality of Windows but requires some initial setup.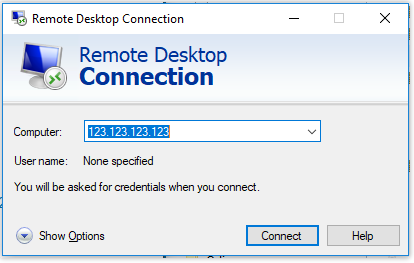 You can add another layer of security to this connection by operating within a Virtual Private Network (VPN). A VPN masks your IP address so that your online actions are virtually untraceable and gives your privacy and anonymity inside this private network. Some VPN's can provide data encryption for additional security. Team Viewer is another way to access to computers and networks remotely and is primarily used by Kilimanjaro Consulting for training and support.
A Terminal Server
In larger companies, RDP sessions may be too slow because of the large volume of data being constantly transmitted. A terminal server instead processes the data at the server level, and only the results get transmitted via the connection. This makes the computer you are remotely connecting to, essentially a dumb terminal. A VPN is still recommended with a terminal server, to ensure security of your sensitive data.
Distributed Computing Protocol
A Distributed Computing Environment (DCE) is a system that allows programmers to write distributed software as if it were all working on the same computer, without having to worry about the underlying network code. Using DCE, the actual program could be run locally, while the database was somewhere else. The technology was so fast that it could work over a dial-up connection, which was more relevant when it launched with Exonet 6000 in 2002. MYOB have kept DCE compatible with the latest versions of MYOB Exo, and in 2019 our development team connected MYOB Exo to Microsoft Azure using the DCE Protocol. This resulted in a fast and stable way to allow multiple users to access their database in the cloud.
Private Cloud – Fully Hosted Environment
If you are using MYOB Exo ERP the good news is that it can be fully hosted in the cloud. Companies like QBT provide all the benefits of a "Private Cloud" hosted environment:
The server is built for you by your host provider as a dedicated virtual file server on server infrastructure owned by your host provider located in a specialist secure data centre. The capital cost is the host providers. You pay a monthly subscription or pay per usage.
Each server is custom built for each client exactly the same as if the file server was in-house on your own equipment. Microsoft licensing is provided on a monthly subscription model. Additional software such as Office 365 licences can also be bundled into the cost.
The server is fully warrantied, managed and administered by the provider as part of the hosting agreement.
The server should be fully backed up on-site and off-site as part of the hosting agreement but may require you to select this option when signing up. (be sure to do this)
Shared Cloud – Fully Hosted Environment
Until recently it was difficult to host MYOB Exo in a shared environment. A shared environment is different to a private environment as the file servers are not dedicated to one client but are instead shared resources – this keeps the costs down.
ExoHosted for MYOB Exo
Born out of a constant struggle of dealing with 3rd party hosting suppliers, this new environment provides a holistic, single-sourced service platform to support your needs. In essence, ExoHosted is an innovative solution that combines the classic MYOB Exo Business software with our cloud-based technology, allowing you to take advantage of uninterrupted, 24/7 service. This is managed by the same people who know your software like the back of their hand. ExoHosted represents the next step in accelerating your business at a reasonable cost and to heights previously unimaginable.
ExoHosted for MYOB Exo lets us take care of the things that are not part of your core business and can, therefore, be outsourced. You will gain all the benefits of having your software in the Cloud:
Access from anywhere at any time
Fixed monthly costs
Scalable computing resource as your business grows
Security of data and data sovereignty
No maintenance of on-premise server equipment.
No capital costs of servers
Simplified I.T. networks and services
You will avoid the regular pitfalls that divert time and money away from making your business more efficient.
You will never again need to think about:
Server downtime
System maintenance
Virus protection
Processing power
Backups
Connected Services
Instead of migrating your entire system to the cloud, or configuring remote desktop access, there are cloud-based add-on products that can be deeply integrated to your MYOB Exo system. By using these external services, you create an integrated environment based on MYOB Exo but accessed through the cloud. The power of these add-on services can fill gaps or enhance the capability of your native MYOB Exo system.
Having access to a robust Application Programming Interface (API) or a synchronisation tool such as SynKit means that your data flows seamlessly between your current on-premise system and the cloud-based add-ons. Synkit is a connector for MYOB Exo, developed by Kilimanjaro Consulting, that updates data between your system and popular Add-On products like HubSpot, SmartFreight, Shopify, and many others. This reduces the duplication of work to maintain up-to-date data in both systems.
Software as a Service
If none of these other options can suitably take you to the cloud, then perhaps you should consider implementing a fully cloud-based Software as a Service (SaaS) solution – like MYOB Advanced. MYOB Advanced (powered by Acumatica) is the fastest growing ERP system in the world and is a great example of a SaaS platform that can transform your business. It is a scalable solution with many available modules and a simple user-based licensing model. Although they are independent pieces of software and the transition between them does require a full implementation, the migration from MYOB Exo to MYOB Advanced is much simpler than coming from a completely different system. Some benefits of MYOB Advanced compared to MYOB Exo are:
Improved data visibility, with personalised dashboards immediately visible on login and native drill-down functionality
Improved audit and governance through a security module with increased, roles, permissions, and authorities
The ability to handle more complex inventory
A more flexible General Ledger structure
Mutli-dimensional approval processes that support document and transaction-based approval
Access anytime and anywhere via a web-browser or the MYOB Advanced app.
With added requirements to work outside the office, many businesses are looking to the best way to take their company into the cloud. Your individual requirements will determine the best solution for you.
There are many benefit of moving your business to the cloud. Delve into the comparison of Hosted vs SaaS and determine the best solution for your organisation.
How can software solutions improve real businesses?
The Arcadia Corporation successfully transitioned into the cloud and achieved a single, efficient platform from which they now manage Accounts, Inventory Management and CRM. Moving from MYOB Exo to MYOB Advanced improved functionality and provided end-to-end management of its products. Additionally, integrations with their core business management system enhanced visibility and simplified reporting for the finance and sales teams.
Learn more about the real benefits of moving your organisation into the cloud by reading the case study here.
As trusted partners, Kilimanjaro Consulting can offer you a clear and easy path to the cloud, when and if you need it. If you would like to learn more about taking your business into the future with the cloud, talk to our team by emailing sales@kilimanjaro-consulting.com or by calling 1300 857 464 (AU) or 0800 436 774 (NZ).