Velixo and Excel Together Enable Efficiency
Velixo builds on the power of Microsoft Excel™ to make your reporting and data analysis more efficient.
Fundamental changes to Microsoft Excel™ have provided rich ecosystems for developers to create solutions. In 2010 Excel was expanded to support a million rows on a single worksheet. The introduction and subsequent upgrading of Dynamic Arrays in Excel 365 was a ground-breaking move in working with data.
The Dynamic Array formulas return multiple results to a range of cells on the worksheet based on a single formula entered in one cell. This provides endless opportunities for Excel users to access and return datasets for use in the analysis. However, it is still complex and requires advanced Excel skills to use effectively and, more particularly, efficiently.
Velixo and Excel together
Velixo is an add-on solution to MYOB Advanced and Excel that has taken the upgraded power of Dynamic Arrays and used them to create a set of functions. These new functions enable the end user to simply and successfully leverage these arrays without being an advanced Excel user.
Generic Inquiries Functions Reference
Introduction to Generic Inquiries:
GI function
GIFILTER function
GILOOKUP function
GILOOKUPF function
The introduction of List functions in Velixo allows any user of Velixo to extract and use data efficiently and effectively. These functions have been followed by the powerful Generic Inquiry Function (GI) and its related Generic Inquiry Filter Function (GIFILTER).
The GI function allows you to extract a set of data from any Generic Inquiry within MYOB Advanced. This data can then be used with standard Excel tools, functions, and formulas to create reports for analysis.
While this is possible to do natively in Excel with an Odata connection, Velixo is better suited and more efficient for experienced users.. The add-on brings a level of security and filtering on extract from MYOB Advanced, as opposed to only once the data is returned into the workbook.
Additionally, the GIFILTER function allows you to return a valid Odata filter from your GI in MYOB Advanced. GIFILTER filters the data during the extraction process, so there is no superfluous data to remove in Excel. This means that the function will only return the data you require for your reports and analysis, making the process more efficient.
A basic introduction to these functions can be accessed here.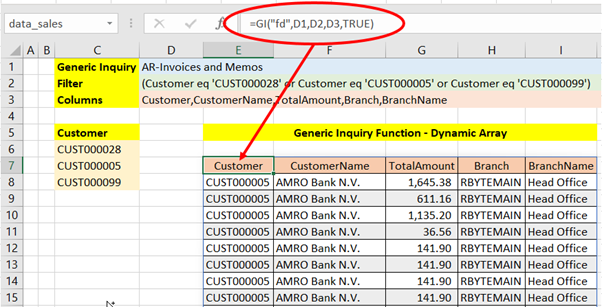 What does this mean for me?
Given that it is possible to write a Generic Inquiry on any set of data within MYOB Advanced, you can use Velixo to analyse your data simply and efficiently across your entire system.
With the power to pull data from anywhere in MYOB Advanced, data security may become a concern. However, Velixo takes the security settings in MYOB Advanced into account. If you do not have the right to access data in MYOB Advanced, you will not have access to it in Velixo. This keeps your sensitive information safe, while also only giving your team access to the data that they need.
Harness the Power of Velixo Functions
Catch up on our MYOB Advanced Deep Dive webinar where we explored how to better harness the power of Velixo functions for report building. Watch the full webinar below or find more interesting content on our Youtube channel.
To start a conversation about how Velixo could improve efficiency in your business, contact us by emailing sales@kilimanjaro-consulting.com or call 1300 857 464 (AU) or 0800 436 774 (NZ).