Allure Bathrooms
Allure Bathrooms grow into the future with MYOB Advanced
Allure Bathrooms' rapid expansion and multiple stores necessitated the implementation of a connected ERP solution – MYOB Advanced. The added automation, visibility, and control has allowed the opportunity for growth into the future.
Who are Allure Bathrooms?
Allure Bathrooms is a successful and growing importer, retailer, and distributor of bathroom supplies. They are passionate about supplying the best quality bathroom products at an affordable price. They currently have four retail showrooms and a distribution centre across Melbourne, with plans to expand in the future.
What catalysed the switch to MYOB Advanced?
Allure required an ERP system that could handle the inter-branch mapping, and seamlessly move stock between their stores.
An initial, albeit temporary, option was to use TradeGecko© with a Xero integration. However, the data only flowed one way through that system which was not ideal. Couple that with a reliance on Excel spreadsheets to manually enter and manage purchase orders, and Allure were spending far too long being hands on with these processes.
What changes followed the decision?
MYOB Advanced brought a customised, automated solution to Allure bathrooms. Their implementation included simple adjustments to quote and sales order screens, and the addition of low stock level warning signs. Restricted user access was also deployed for default unit prices, shipment confirmations and credit memos, allowing greater control from behind the scenes and better accessibility to their data in real-time on the sales floor.
How are they now?
Having MYOB Advanced at Allure Bathrooms has laid the foundations for the future growth of the company. They save time when creating purchase orders directly from quotes, keeping track of partial shipments, and how much a customer has paid. Restrictions on pricing mean that staff can no longer jeopardise margins by overriding the set prices.
How do I achieve a successful MYOB Advanced implementation?
A successful MYOB Advanced Implementation depends on 3 critical risk:
Software Risk
Implementer risk
Self-Inflicted Risk
You can reduce your risk by selecting the right implementation partner. Although there are many different partners to choose from, you need the one that will work with you every step of the way. Managing risk is an important part of an implementation; selecting a low-risk partner is critical to a lifetime of success with your Business Management system.
Kilimanjaro Consulting ticks all the boxes when it comes to choosing the right partner:
Kilimanjaro Consulting is the largest and most experienced implementer of MYOB's Enterprise-level business management, accounting, payroll, and workforce management solutions: MYOB Advanced and MYOB Exo. We are experienced, low-risk implementers, helping organisations improve efficiency in their businesses through the use of clever, innovative, and proven technology.
Free resources to help you further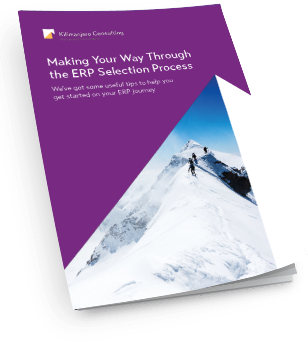 If you are ready to start your Business Management System journey, choose Kilimanjaro Consulting as your trusted implementation partner. If you don't know where to start, download our free E-Book that will take you through everything you need to consider and what to be wary of during this process.
Kilimanjaro Consulting is the largest implementer of MYOB's Business Management Software across Australia and New Zealand. We take the time to understand your business and only recommend the products that can meet your needs. To start a conversation about how MYOB Exo can improve efficiency in your organisation, email sales@kilimanjaro-consulting.com, or call 1300 857 464 (AU) or 0800 436 774 (NZ).