Auckland Rugby Union
Get ahead of the pack with MYOB Advanced
Auckland Rugby Union oversees all developmental and club rugby unions across Auckland, New Zealand. They needed to hang up the boots of their old system and upgrade to a more modern solution. MYOB Advanced was recommended to them, and they have seen an immediate increase in efficiency since their implementation.
Who is Auckland Rugby Union?
The Auckland Rugby Union (ARU) is the driving force behind all rugby union competitions in Auckland, New Zealand. This encompasses school, club, and representative rugby as well as crucial development pathways like the Auckland Rugby Academy and the Pro-Sport Programme.
What catalysed the switch to MYOB Advanced Business?
Their previous system's access to data, running reports, and data entry were slow and labour intensive. This was affecting their accountability and transparency. They needed a modern solution that could support them in the future. The solution recommended to them by fellow Rugby enthusiasts, Auckland's professional rugby union team The Blues, was MYOB Advanced.
What changes followed the decision?
MYOB Advanced met all of the ARU's requirements. It automated the approval of accounts-payable transactions, they could set up the general ledger how they wanted, and it helped them go paperless with e-invoicing. Thanks to the customised general ledger set-up, ARU can pull down more detailed and robust reports that are specific to what they want to see.
How are they now?
The ARU found immediate data efficiencies from implementing MYOB Advanced. End-of-month reporting can now be put together in a matter of hours instead of days, and the time spent on manual work such as uploading invoices and journals has dramatically reduced. They also enjoy having real-time access to data and the general ledger's flexible set-up. They have gained increased insight into their expenditure and can look at spending based on the type of cost – which they could not do with their old system. MYOB Advanced has allowed the ARU to make the best use of a modern ERP to increase their business' efficiency.
How do I achieve a successful MYOB Advanced implementation?
A successful MYOB Advanced Implementation depends on 3 critical risk:
Software Risk
Implementer risk
Self-Inflicted Risk
You can reduce your risk by selecting the right implementation partner. Although there are many different partners to choose from, you need the one that will work with you every step of the way. Managing risk is an important part of an implementation; selecting a low-risk partner is critical to a lifetime of success with your Business Management system.
Kilimanjaro Consulting ticks all the boxes when it comes to choosing the right partner:
Kilimanjaro Consulting is the largest and most experienced implementer of MYOB's Enterprise-level business management, accounting, payroll, and workforce management solutions: MYOB Advanced and MYOB Exo. We are experienced, low-risk implementers, helping organisations improve efficiency in their businesses through the use of clever, innovative, and proven technology.
Free resources to help you further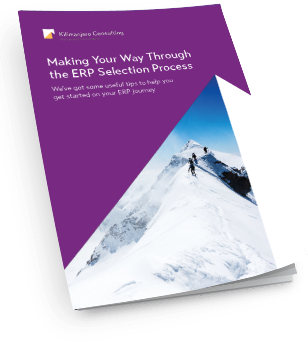 If you are ready to start your Business Management System journey, choose Kilimanjaro Consulting as your trusted implementation partner. If you don't know where to start, download our free E-Book that will take you through everything you need to consider and what to be wary of during this process.
Kilimanjaro Consulting is the largest implementer of MYOB's Business Management Software across Australia and New Zealand. We take the time to understand your business and only recommend the products that can meet your needs. To start a conversation about how MYOB Advanced can improve efficiency in your organisation, email sales@kilimanjaro–consulting.com, or call 1300 857 464 (AU) or 0800 436 774 (NZ).