Beaucare
Beaucare embraced a fully integrated MYOB Advanced Business and MYOB Advanced Payroll platform to better support their growing community.
To keep up with rising demand and a growing client base, Beaucare needed a new system that would help generate reports and boost the team's efficiency to focus on the growth of the business. The implementation of MYOB Advanced Business and MYOB Advanced Payroll has streamlined their operations and continued their growth without compromising the needs of their clients.
Who are Beaucare?
Established in the late 1980s, the community-based, not-for-profit organisation offers a vast range of services that strengthen communities and provides opportunities for people to maximise their quality of life. When Beaucare first started, it focused mainly on community support and aged care services. Today, the organisation's list of support services is extensive: disability, in-home and family day-care and childcare, counselling, youth development, family and domestic violence, homelessness, as well as aged care and community support. Growing rural communities means more people who need support, alongside ever-evolving demands and changing funding models, meaning that Beaucare has grown into quite a complex organisation.
What catalysed the switch to MYOB Advanced Business and MYOB Advanced Payroll?
With growing populations and ever-increasing demand, Beaucare were dealing with high volumes of data and transactions. Their current system required manual workarounds, particularly management reporting, as data would have to be extrapolated and synthesised. Their process took hours, meaning that data was not updated in real-time. Beaucare required a system that would allow it to consolidate reports in minutes but also develop both basic and high-level reports. Most importantly, Beaucare wanted to capture information, track, and manage their workflows to create better efficiencies in the business.
What changes followed the decision?
After using MYOB Advanced, Beaucare found the streamlined workflows and easily accessible data extremely beneficial. The platform eliminated unnecessary double-handling of files and saved significant time when creating reports. This gave the team the flexibility to focus on more important tasks and to grow the organisation instead of being bogged down in manual work. With the implementation of MYOB Advanced Payroll, processing pay runs became more efficient due to the elimination of manual processes. Beaucare can leverage functionality to pay different groups at different times and best support the staff that their clients depend on.
How are they now?
After implementation, Beaucare saw increased efficiencies in its workflow, eliminating duplicated files and automated processes. The new system allows for reports to be consolidated at the push of a button without compromising data accuracy, saving the team up to 75% of their workload. The software allows for more room to expand, with modules to adjust to the need of the business as it continues to grow and Beaucare are confident that the MYOB Advanced platform will be able to support their organisation into the future. Payslips show more of the information the team wants to see, and the payment data is synced directly into the General Ledger – saving time across the organisation.
How do I achieve a successful MYOB Advanced implementation?
A successful MYOB Advanced Implementation depends on 3 critical risk:
Software Risk
Implementer risk
Self-Inflicted Risk
You can reduce your risk by selecting the right implementation partner. Although there are many different partners to choose from, you need the one that will work with you every step of the way. Managing risk is an important part of an implementation; selecting a low-risk partner is critical to a lifetime of success with your Business Management system.
Kilimanjaro Consulting ticks all the boxes when it comes to choosing the right partner:
Kilimanjaro Consulting is the largest and most experienced implementer of MYOB's Enterprise-level business management, accounting, payroll, and workforce management solutions: MYOB Advanced and MYOB Exo. We are experienced, low-risk implementers, helping organisations improve efficiency in their businesses through the use of clever, innovative, and proven technology.
Free resources to help you further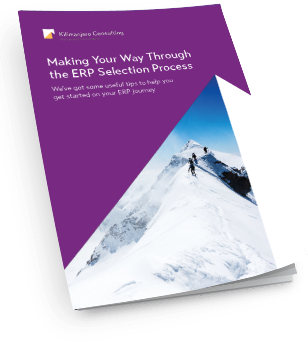 If you are ready to start your Business Management System journey, choose Kilimanjaro Consulting as your trusted implementation partner. If you don't know where to start, download our free E-Book that will take you through everything you need to consider and what to be wary of during this process.
Kilimanjaro Consulting is the largest implementer of MYOB's Business Management Software across Australia and New Zealand. We take the time to understand your business and only recommend the products that can meet your needs. To start a conversation about how MYOB Advanced can improve efficiency in your organisation, email sales@kilimanjaro-consulting.com or call 1300 857 464 (AU) or 0800 436 774 (NZ).