Booster
MYOB Advanced Payroll brings Booster into the cloud and into the future, supporting their payroll team during a time of growth.
Booster needed a new system to streamline their payroll processes and better support their organisation's growth. Their implementation partner, Kilimanjaro Consulting, was able to offer early access to New Zealand's newest payroll specific module of MYOB Advanced – MYOB Advanced Payroll.
Who is Booster?
Booster is a Wellington-based financial services company, who has been helping Kiwi's achieve their financial goals since 1998. They are one of the six Government appointed default KiwiSaver scheme providers and manage over 130,000 investors across KiwiSaver, Superannuation, and Investment Schemes.
What catalysed the switch to MYOB Advanced?
Booster's old, server-based payroll system lacked the functionality and flexibility that they needed to manage their team. The payroll team had to rely on slow, manual processes – inefficiencies that were especially apparent when the overall Booster team began to grow. The payroll system needed to be manually reconciled against the General Ledger which was both time consuming and error-prone. The team could not see their own leave balances, inundating the payroll team with requests and taking up time on both sides of the team.
Booster's Trusted Implementation partner
Kilimanjaro Consulting is ANZ's largest, most experienced, and most skilled team. When Booster decided to implement MYOB Advanced, they chose Kilimanjaro Consulting as their partner of choice. We worked to understand Booster's workflows and customise the software to meet their specific needs. We follow a structured implementation methodology, and combined with the skills, knowledge and support of our team; we are able to guide you through the implementation process. At Kilimanjaro Consulting, we pride ourselves on being technology Sherpas, focused on building long-term relationships with clients and maintaining that partnership as their business grows. We take pride in Booster's success and look forward to our continued partnership.
What changes followed the decision?
Booster was already familiar with the Kilimanjaro Consulting implementation team, as Kilimanjaro had previously implemented MYOB Advanced Business; improving Booster's reporting and automating manual processes. As MYOB Advanced Payroll was being introduced to the New Zealand market for the first time, Kilimanjaro Consulting's strong relationship with MYOB and track record of successful payroll implementations in Australia allowed them to give Booster early access to MYOB Advanced Payroll.
Booster knew that they were already in the best hands with Kilimanjaro Consulting for their MYOB Advanced Payroll implementation. Since the successful implementation, payroll administration time has been cut by up to 50%, a significant saving of both time and cost.
How are they now?
Now, Booster's 120 strong team can view their leave balances, and make requests without directly affecting the payroll staff. Removing this bottleneck, along with the direct integration to their General Ledger and automations built into the system, has made the payroll team much more efficient. They now have a highly secure (thanks to Two-Factor Authentication) view of the entire organisation – from their core finances all the way across to their people – made possible by MYOB Advanced Business, MYOB Advanced Payroll, and Kilimanjaro.
This implementation was completed before Enprise Solutions and Kilimanjaro Consulting merged. The original implementation team was, at that time, a part of Enprise Solutions. After the merger, Kilimanjaro Consulting has become the largest and most experienced implementer of MYOB's Enterprise Solutions across Australia and New Zealand. The Kilimanjaro Consulting team continues to support Booster in improving efficiency with the clever use of innovative and proven technology.
How do I achieve a successful implementation?
A successful MYOB Advanced Implementation depends on 3 critical risk:
Software Risk
Implementer risk
Self-Inflicted Risk
You can reduce your risk by selecting the right implementation partner. Although there are many different partners to choose from, you need the one that will work with you every step of the way. Managing risk is an important part of an implementation, selecting a low-risk partner is critical to a lifetime of success with your Business Management system.
Kilimanjaro Consulting ticks all the boxes when it comes to choosing the right partner:
Kilimanjaro Consulting is the largest and most experienced implementer of MYOB's Enterprise-level business management, accounting, payroll, and workforce management solutions: MYOB Advanced and MYOB Exo. We are experienced, low-risk implementers, helping organisations improve efficiency in their businesses through the use of clever, innovative, and proven technology.
Free resources to help you further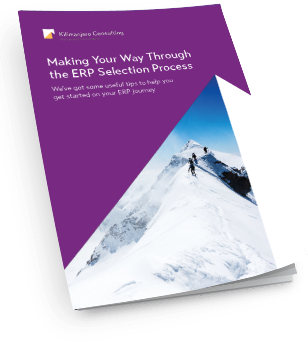 If you are ready to start your Business Management System journey, choose Kilimanjaro Consulting as your trusted implementation partner. If you don't know where to start, download our free E-Book that will take you through everything you need to consider and what to be wary of during this process.
Kilimanjaro Consulting is the largest implementer of MYOB's Business Management Software across Australia and New Zealand. We take the time to understand your business and only recommend the products that can meet your needs. To start a conversation about how MYOB Advanced can improve efficiency in your organisation, email sales@kilimanjaro-consulting.com, or call 1300 857 464 (AU) or 0800 436 774 (NZ).