MYOB Advanced Business Implementation
We pride ourselves on our proven implementation methodology and will configure MYOB Advanced to meet all your requirements.
With over 15 years of experience with MYOB software, we are the leading implementer of MYOB Enterprise Solutions and pride ourselves on our implementation methodology for MYOB Advanced. We have a wide experience catering to the needs of different sized companies. However, unlike many other partners, we specialise in implementations for larger, more complex organisations.
Why do we use an MYOB Advanced implementation methodology?
Kilimanjaro Consulting has developed a unique MYOB Advanced implementation methodology to ensure you will not go live until you are satisfied that your new system is working as expected. Our goal is to improve efficiencies in your business through the use of clever, innovative and proven technology. Our unique methodology ensures that no step is missed and our past experiences in your industry are taken into account. This clever use of technology leads to improvements in productivity. The journey begins with us developing an understanding of exactly what you are doing now (the current state) and then exploring what you want to do differently in the future (the future state). Our purpose is to follow the implementation methodology and configure MYOB Advanced (powered by Acumatica) as closely as possible to the ideal state.
What is our MYOB Advanced implementation methodology?
We follow the same structured process (pictured below) for every single implementation to ensure that all of your business needs are accounted for and that no vital steps are missed along the way. It is important to get your MYOB implementation right the first time.
Before commencing an implementation, we conduct a risk/benefit assessment to ensure that the solution you have chosen will meet the requirements of your business, with a balance between budget and risk. The implementation process itself contains 4 distinct phases: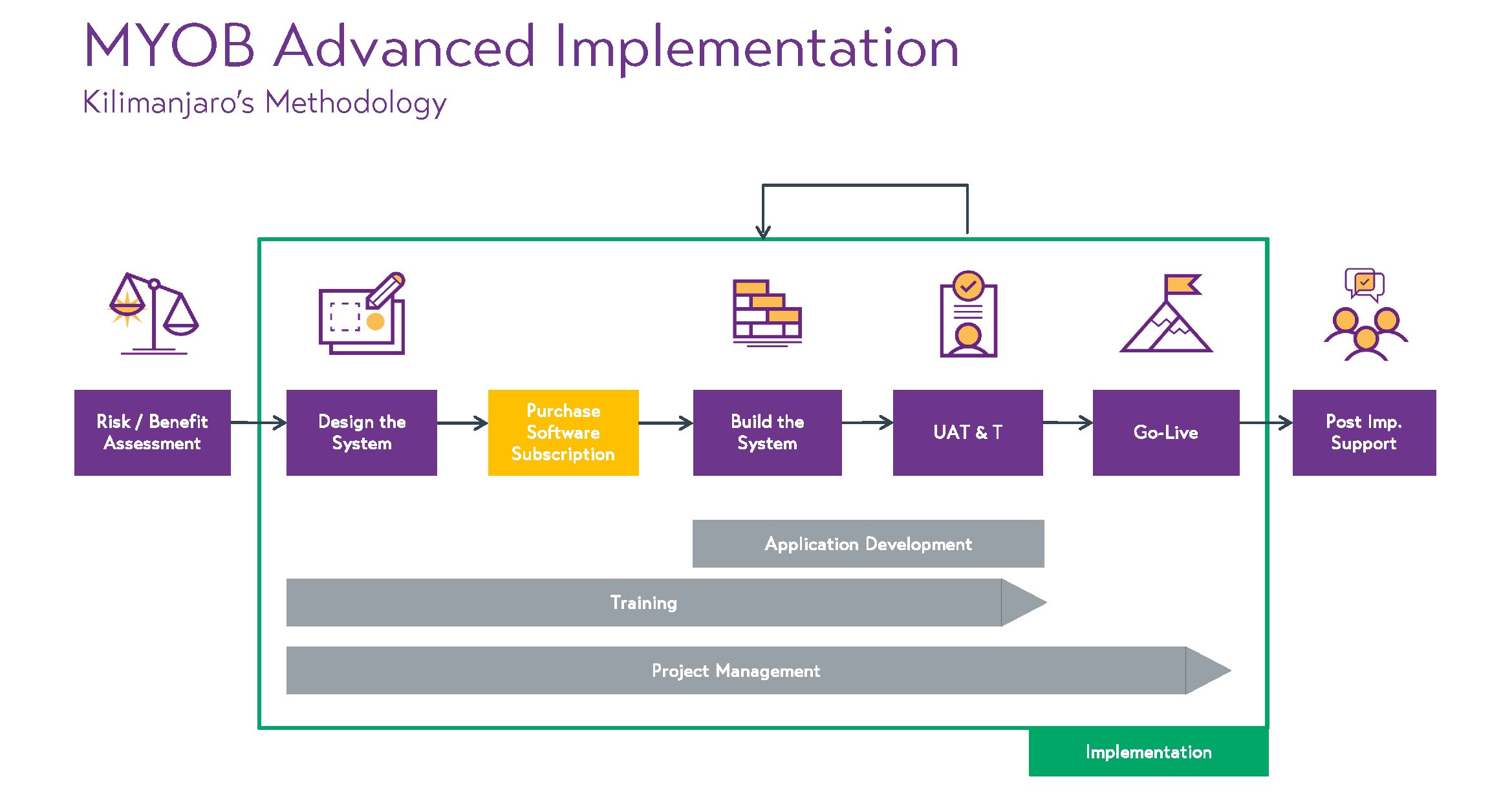 Design the System
This is the most important part of the MYOB Advanced implementation process, as it will dictate each subsequent phase. We will sit down with you to understand your business processes in-depth. This information, combined with our years of experience, creates a 'blueprint' or foundation for your new system. It is critical that we understand your requirements from the beginning, as every task after this will have direction and a clear goal. We are prepared to spend a significant amount of time in this phase to clearly understand what needs to be built and how the system can overcome the challenges your organisation faces. The design phase also documents the scope of the project so there are no disputes later about what is or is not included.
Build the System
After we have worked together to design the MYOB Advanced system, we can begin building it. At this stage, we translate all of the knowledge gained into a project plan for building the Advanced system. We conduct a series of workshops with you, to determine the relevant information that needs to be extracted from your current system.
UAT (User Acceptance Testing and Training)
We provide you with a fully simulated "Go-Live" of the MYOB Advanced software environment for testing. This gives you a chance to test the system and make sure it behaves as expected and achieves the outcomes you identified in the Design phase. If you experience any issues, this is the time where they are identified and rectified. The UAT Phase also provides an opportunity to train your team prior to go-live.
Go-Live
By the time you reach Go-Live of your new Advanced software, you would have already gone through the motions with your new system during the UAT phase. This means that you will be familiar with the look and feel of the system, and will know what to expect. At this stage, you won't encounter any surprises because they would have been dealt with during UAT. We will do a final conversion of your data on a specified date, and you will commence processing in your new system.
After the Go-Live phase of your implementation journey, the Kilimanjaro Client Services (linked) team will be available to provide you with MYOB Advanced post-implementation support. This means that the Kilimanjaro team guides you from start to finish, so you always feel confident and in control of your system. The team that implemented your system is on hand to assist in the event that your request for support needs to be escalated.
Why the MYOB Advanced implementation methodology works for our clients
A guiding principle at Kilimanjaro is "seek first to understand". This means that we listen to your thoughts, concerns and requirements before applying our business and technical knowledge to deliver the right solution for you. We want to eliminate uncertainty and make sure that you feel supported throughout the entire process of implementing MYOB Advanced in your business.
We feel strongly about coaching you through the implementation rather than completing all of the work for you. The more involved you are in the process from start to finish, the better equipped you will be to become self-sufficient.
The fact that we have a structured, formal MYOB Advanced implementation methodology process means that clients can feel confident that they will get the most out of their MYOB Advanced system. Our methodology sets clients up with high expectations for a low-risk implementation. By the time our clients Go Live, there should be no surprises or unexpected changes.
Why the MYOB Advanced implementation methodology works for our team
A structured MYOB Advanced implementation methodology means that all tribe members know exactly what steps need to be taken for a successful implementation. The Advanced implementation methodology gives clear goals and milestones to be achieved both internally and externally, and makes the process efficient and transparent for everyone involved.
We know our methodology works. The MYOB Advanced implementation methodology is based on the MYOB Exo Business implementation methodology, which has been used successfully for over 900 client sites. We have learned from our experience and "sharpened our spears". As of today (2020), we have completed over 28,000 hours on MYOB Advanced implementations alone.
To start a conversation about how MYOB Advanced can improve efficiency in your organisation, email sales@kilimanjaro-consulting.com, or call 1300 857 464 (AU) or 0800 436 774 (NZ).